Why Does Skip Bayless Hate Aaron Rodgers and the Green Bay Packers?
December 28, 2011
Jonathan Daniel/Getty Images
One would think in order to be a successful journalist, you must possess an air of objectivity, which in turn would lead to credibility. It seems like it is the most singularly important trait when developing a craft such as sportswriting. Your readership depends on it.
That theory goes out the door when it comes to Skip "Clueless" Bayless, the self-promoted "star" of ESPN's First Take show that airs weekday mornings for two hours.
The premise is simple. Ten topics are discussed in a hosted format and debated by Skip Bayless and celebrity guests. In the past, Woody Paige, a columnist from Denver, was the only one that debated Clueless. Although he claims health issues of his family, I'm sure Woody grew tired of the nonsense that routinely comes out of Bayless' mouth and his ego. Paige moved onto a slot on ESPN's Around the Horn.
The debaters that now sit across from Bayless are mostly former NFL players, columnists, coaches and members of the world of entertainment. They give Bayless a run for his money much of the time, but the problem is once Clueless has a strong conviction of a certain subject, he never relents. Such is the case with Bayless and Tim Tebow, and also Bayless and Aaron Rodgers and the Green Bay Packers.
Bayless has a love for Tebow that has actually earned him the nickname "Skip Tebow." No matter what Tebow does, or how he plays, Clueless praises him if the Denver Broncos win and blames the defense, the coaches, the game plan, etc., if they lose. It truly doesn't matter what his debating opponent says; Clueless continues with his nonsensical rant supporting Tebow like he is his long-lost son. For whatever reason, it is the opposite for Aaron Rodgers and the Green Bay Packers.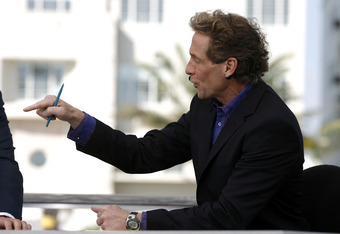 Allen Kee/Getty Images
When Rodgers and Company made their run at the championship last year, Bayless was less than impressed. He picked them to lose in every playoff game except against Atlanta. He also picked them to lose against Pittsburgh in the Super Bowl. Only when the Packers won and Rodgers was named MVP did Clueless give them any credit.
It turned out to be a backhanded compliment when he stated the Packers would have lost if Steelers safety Troy Polamalu wasn't playing hurt, or if running back Rashard Mendenhall didn't fumble, or if the Steelers had scored more points.
Bayless must have a deep hatred for the Green Bay Packers. He grew up in Oklahoma and must have become a Dallas fan when the Cowboys entered the league in 1960. He must have been very disappointed when the Packers beat the Cowboys in championship games in 1966 and 1967. Apparently, those memories must still haunt him, and therefore, he can't let it go.
Last week, the Packers were named the true "America's Team" in a poll. Bayless disputed the results of the poll and claimed the Cowboys still were rightful owners of that title. He also claimed the Cowboys to be the most polarizing and most-watched team in the NFL. Unfortunately, his credibility was again shot after just a little research.
It turns out the Cowboys only played in one of the 10 top-rated NFL games this season. The Packers played in three of them, including ranking No. 2 and No. 3 when they played against the Detroit Lions and New York Giants.
When the subject turns to Rodgers, Clueless again becomes bitter and foolish. According to Bayless, Rodgers isn't even MVP of the league. That honor belongs to Tom Brady, whom Bayless loves almost as much as he loves Tebow. He went so far as to say "it would be an outrage" if Rodgers wins the award over Brady.
When Rodgers carved up the Giants en route to a game-winning field goal a few weeks ago, Clueless again discounted it because the Packers were tied and not behind by four points.
Bayless continues to get national exposure for his opinions about the NFL and all sports in general. With the format he has been given, he has carte blanche when dictating his rants. He is wrong much of the time, but like a spoiled child, he will never admit it. There will always be an excuse.
Fortunately, he is in the minority when it comes to Rodgers and the Green Bay Packers. They are loved, and I'm sure that makes Bayless even more agitated and even more delusional—if that were even possible.