2011-12 NBA Awards: The Very Best of the Atlantic Division
May 27, 2012

Drew Hallowell/Getty Images
Given that two teams battled for a spot in the Eastern Conference finals and three of five teams made playoff appearances, the Atlantic Division has had its fair share of success in the shortened 2011-12 NBA season.
With season awards being announced by the league, I thought it would be appropriate to give out awards as well, with an Atlantic Division twist.
Here's the best of the best from the Atlantic Division this season.
2011-12 All-NBA Atlantic Division First Team
Rajon Rondo, PG (Boston Celtics)
You can just about credit all the success the Boston Celtics have had this season (and postseason) to Rajon Rondo.
It's become pretty simple: When Rondo plays well, the Celtics play well.
His case to be admitted into the "Big Three" society has been proven time and time again. His ability to get his teammates open, not to mention his season averages of 11.9 points and 11.7 assists per game, give him the easy nod for point guard in the All-NBA Atlantic Division First Team.
DeMar DeRozan, SG (Toronto Raptors)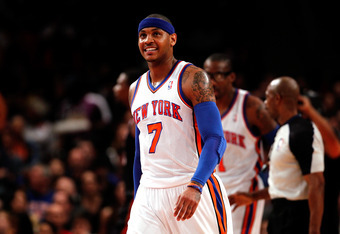 Jeff Zelevansky/Getty Images
We don't hear much from the team north of the border, but the homie DeMar DeRozan does work! Averaging 16.7 points and 3.3 rebounds per game, the third-year guard out of USC has shown he's ready to lead the Raptors (if he really wants to).
It's tough playing on the team I call "The NBA's International Try-Out Team," but DeRozan has certainly taken advantage of the opportunity. It's tough to think the recognition this kid deserves will only come if he plays in the States, but never underestimate DeRozan's skill set.
And yes, he's more than just a dunker.
Carmelo Anthony, SF (New York Knicks)
Despite temporarily taking a backseat with the New York media during Jeremy Lin's escapade, Carmelo Anthony showed his true colors throughout the typical tumultuous New York Knicks season—no more evident than in the latter part of the season especially.
Personally, I never thought there was any issue regarding the leader of this team, as Carmelo has proved time and time again he's New York's go-to guy. Although under his career average, his 22.6 points and 6.3 rebounds per game were solid enough to land the Knicks a playoff spot and, more importantly, a playoff win to avoid the sweep by Miami in the first round.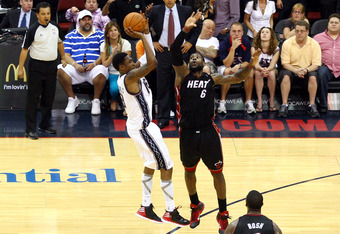 Chris Chambers/Getty Images
Amar'e Stoudemire, PF (New York Knicks)
A quick reminder that this selection is purely based off Amar'e Stoudemire's skill on the court—not on his way to the locker room.
That being said, Stoudemire was the foundation of the Knicks, both offensively and defensively. The Knicks racked up wins when both he and Carmelo were on the same page. Throw in a healthy point guard and a healthy Tyson Chandler, and this team has the potential to be lethal.
Despite the fairly decent-size chunk of the season he missed, Stoudemire was nonetheless vital to his team's playoff berth.
Kevin Garnett, C (Boston Celtics)
We should probably expect a weak 10-point game from Kevin Garnett at this point in his career, although if you see him play, you'll know he'll never let himself let up.
Say what you want about Garnett, but he leaves absolutely everything on the court and continually sends the Garden into delirium. Dropping 15.8 points and grabbing 8.2 rebounds on average still gets the job done at the age of 36. And if we also based these awards on postseason play, he'd be close to MVP.
2011-12 All-NBA Atlantic Division Second Team
Jeremy Lin, PG (New York Knicks)/Deron Williams, PG (Brooklyn Nets)
Slap yourself if you seriously thought this was a hard decision. 
Jeremy Lin virtually came out of nowhere. As an avid Jamario Moon fan, I have a soft spot for players who truly grind their way to the top, and Lin's story is just that.
Seeming like a fluke after dropping 25 points on the poor Nets, Lin continued his dominance, capped off by an absolutely absurd 38 points against Kobe Bryant and the Los Angeles Lakers in front of the Garden faithful.
As journalists, you felt yourself rooting for the kid every game. It was truly reminiscent of Tebowmania, where we were all waiting for him to fall back to earth. But it never really panned out that way. It would have been something to see Lin in the playoffs, and hopefully that torn meniscus will be completely healed for next season, giving the Knicks a legitimate point guard.
On the other hand, Deron Williams did his thing for the Nets in what was a terrible season in New Jersey. The Nets faced more injuries than a first grade dodgeball game, and had a different starting lineup just about every night.
Although it appeared he mentally checked out of some of those last games, Williams finished the season averaging 21 points and 8.7 assists per contest, which is remarkable given the players with whom he was trotting up the court. The Nets would do themselves a favor by convincing him to join them in Brooklyn—without Williams, fuhgeddaboudit!
Avery Bradley, SG (Boston Celtics)
Really? Over Ray Allen, you say?
Yeah. I'm not sure how much more underrated Avery Bradley's play could be this season.
Troubled by injuries and decaying players, Bradley truly lifted the Celtics from mediocrity to legitimacy in spurts. He took over the starting shooting guard spot in March, stepping in for the injured Allen. (Again, another player who would have truly impacted his team if not for injury.)
The Celtics are in decent hands if Allen decides to bounce in free agency.
Andre Iguodala, SF (Philadelphia 76ers)
Looking over his game log, it's amazing Andre Iguodala averaged just 12.4 points this regular season. His presence for the 76ers was crucial this year.
Remember in the beginning of the season when Philly was dominating?
Yeah, thanks Iggy. He finally gave the 76ers a positive look since Allen Iverson was sending defenders to the hospital. It's also crazy to think the Lakers almost sealed a deal to take Iggy away from Philadelphia.
Although his shooting is average, Iguodala's driving ability appears to improve every season. If he can knock down free throws like he did against Chicago in the playoffs and continue to take defenders off the dribble, Philadelphia has a bright future.
They just need to find a closer—so, why not bring Ivo back?
Andrea Bargnani, PF (Toronto Raptors)
I've now hit every Atlantic Division team on this second team. Cute, right?
Really, though, Andrea Bargnani did his thing this season for the Raptors. He still isn't putting up first-overall pick numbers yet (and probably never will), but they're enough to get some recognition here . Dropping 19.5 points per game and only playing half of the season, the Raptors can only hope their big man, who can also drop threes, stays healthy and in Toronto.
Typically, I have an issue with foreign big men because of their hesitancy to drive. Bargnani is one of the few I respect because he has a clutch shot and isn't afraid to hit the deck.
Tyson Chandler, C (New York Knicks)
I literally spit up coffee I wasn't drinking when I found out the 2011-12 Defensive Player of the Year was only voted to the NBA's All-Defensive Second Team.
Really, guys?
I'd have to imagine something would have to budge, but that's the NBA for you. I'm also tired of writing about players who would have affected their teams even more despite injury, so you can just fill in the blanks for Chandler, too.
This was a terrific pickup for James Dolan and the troubled organization, plus a good heads-up for bouncing out of Dallas on Chandler's part. I'll revoke that previous statement if Deron Williams leaves for Dallas, but as of right now, the Knicks' future is relatively bright. Averaging just shy of a double-double with 11.3 points and 9.9 rebounds per game, Chandler truly was the defense for the Knicks.
Atlantic Division 2011-12 MVP: Carmelo Anthony, New York Knicks
No single player led his team more than Carmelo did for the Knicks.
Surrounded by controversy and superfluous attention, Anthony proved he is—and will be—the leader in New York. He single-handedly took over late in the season, when a playoff spot wasn't assured. Personally, I have issues pondering if it's possible for the Knicks to ever win a championship with the responsibility on Anthony's shoulders, but we'll just keep watching him play like this until the Knicks are surrounded with a better surrounding cast.
2011-12 Atlantic Division Defensive Player of the Year: Tyson Chandler, New York Knicks
I promise this isn't going to be a Broadway show with only Knicks picks, but the field is pretty bleak defensively in the Atlantic Division.
I won't reiterate why Chandler was placed on the All-Defensive Second Team, but as far as the Atlantic Division goes, Chandler did his thang. He averaged 1.4 blocks per game, not to mention several games concluding with multiple blocks.
Chandler was the piece of the puzzle that kept the Knicks in the game during close encounters.
2011-12 Atlantic Division Rookie of the Year: MarShon Brooks, Brooklyn Nets
Truly unexpectedly, rookie MarShon Brooks filled a huge role for the now-Brooklyn Nets this season. It helped the No. 25 overall pick last draft was one of the few players who remained healthy, but Brooks' 12.6 points and 3.6 rebounds per game helped the Nets in more games than none.
(Side Note: Philadelphia 76ers Featured Writer Zach Trombly was in a math class with Brooks at Providence College.)
2011-12 Atlantic Division Sixth Man of the Year: Lou Williams, Philadelphia 76ers
I hope I'm not breaking news with this selection.
Lou Williams could probably start on most NBA teams, but for the 76ers, he became the go-to man on their bench. Dropping 14.9 points per game is starter-worthy, but Williams is in a similar position as James Harden: He's just enough to lead the second squad while the starters get a breather.
With Williams healthy, the 76ers will continue to rise in the East.
2011-12 Atlantic Division Coach of the Year: Doug Collins, Philadelphia 76ers
I feel like Doc Rivers would be the obvious choice every season in the Atlantic Division, but the Celtics truly were vulnerable this year. The 76ers came out with a bang and managed to hang on into the postseason, nearly making it to the Eastern Conference finals.
Posting a record of 35-31, the 76ers became respectable again. I can't counter in his postseason excellence by default, but you get the picture.
This article was first featured on Atlantic Twine.