Arsenal vs. Swansea City: Arsene Wenger Still Has Work to Do
September 11, 2011
Michael Regan/Getty Images
"3 ugly points = 3 pretty points = 3 points.  Breathe."  
That was my first tweet after Arsenal's hard-fought 1-0 win over Swansea City yesterday.
And now that the dust has settled, the importance of Andrei Arshavin's well-taken goal—thanks to the otherwise-excellent Michael Vorm's generous gift—for Arsene Wenger's season cannot be underestimated.
Quite incredibly, there seems to have been another outpouring of criticism and negativity from some sections of Arsenal's fan base. If such so-called "fans" are so hard to please, I'd be thrilled if they jumped ship and started supporting Manchester City.
It wasn't a Rolls Royce performance, it wasn't vintage Arsenal and there was no avalanche of goals as I had predicted. Yet, there were a number of positives to take from this performance.
First and foremost, we kept a clean sheet, thanks mainly to the continued excellence of Wojciech Szczesny in goal (barring one moment in injury time) and the welcome generosity of Danny Graham with seconds to go.
We were well organized defensively, with outstanding performances by Laurent Koscielny and Bacary Sagna in particular.
Per Mertesacker, Mikel Arteta and Yossi Benayoun all made encouraging debuts.
Arteta had a standout first half, and I am convinced that in the weeks ahead, he will look a far superior player to when he was at Everton, mainly because he is now playing with better teammates in a more attack-minded team.
Benayoun showed his experience when he came on, eschewing flair for possession and importantly, tracking back to cover the indisciplined Gibbs.
Mertesacker will only get better with time as he gets accustomed to the pace of the Premier League.
Robin van Persie and Theo Walcott had their moments, and with a bit more luck, may have had a goal apiece. Arshavin had a good first half, and took his goal extremely well. Frimpong was solid and energetic in midfield, as was Coquelin when he came on for his brief cameo.
For me, the most encouraging performance came from Marouane Chamakh. He played with energy and confidence. He held the ball up well and didn't give away possession—a welcome change from the rest of 2011. If only he had scored off Gibbs's wonderful cross, it would have been a deserved reward for a good game.
All in all, solid contributions from pretty much everyone, without being spectacular. It was evident that the team was playing with the hand brake on, a legacy of six months of under-performance and under-confidence.
But enough to get all three points. And that, happily, is the bottom line.
There's obviously a lot to work on, and as the sensible reports suggest, it will take time. The team's morale needs to be rebuilt bit by bit. And as Arsene Wenger suggested post-match, only victories will restore confidence. 
This may be a throwback to the George Graham era, but victories must be built on clean sheets. And I have a lot of faith in this Arsenal defensive unit.  
In Szczesny, we have a goalkeeper of world class. Vermaelen, Koscielny, Mertesacker and Sagna are top defenders.
I'm a bit worried about Gibbs, based on yesterday's performance. As good as he was against Newcastle, he was irresponsible yesterday. I counted at least four occasions in the last 30 minutes (a time when Arsenal were hanging on to a vital 1-0 lead) when he indicated to Benayoun to track back and cover his defensive duties. Not good enough, in my book. It's a matter of time before Andre Santos supplants him in the team.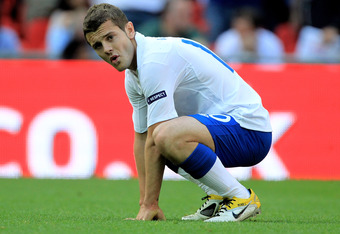 David Cannon/Getty Images
I think we will also miss Jack Wilshere immensely. Arteta and Aaron Ramsey are fantastic players, but Wilshere brings that much-needed spark, that X-factor that we have been lacking.   I've heard a number of theories on this matter, but there is only one real successor to Cesc Fabregas, and his name is Wilshere. Get well soon, Jack.
I read a fantastic piece by Paul Hayward in the Guardian, earlier today. He makes a number of intelligent points, but he definitely saved the best for last. His closing salvo is, "Above all, you wish this (Arsenal) team could restore its sense of fun, of identity, and stop looking so beleaguered."
And he is absolutely right.
Arsenal's normal game is all about goals, about flair, fun and fantasy. At fast-forward pace. And while "it's only a game" is a theory that doesn't normally appeal to me, this may be the right time to be preaching this mantra at London Colney. 
Enjoy yourselves, lads. And we can all have a laugh.