Arsenal vs Swansea City: Preview, Stats, Analysis, Team News, Prediction
September 8, 2011
Jasper Juinen/Getty Images
If Arsenal had a penny for each time Arsene Wenger has said, "We are only focused, right now, on winning the next game," we'd have bought Kaka, Gary Cahill, Franck Ribery and Wesley Sneijder in this transfer window!
But on the eve of Arsenal's fourth league game of the season against Premiership new boys Swansea City, never have the Frenchman's words rung more true.  After the worst start to a season in the Club's recent history, after conceding eight goals in a most pathetic display at Old Trafford, after being forced to sell two of its most creative players and after making five signings in an unprecedented deadline day splurge, this is one game Arsenal must win.
Victory would mean three points, yes.  It would improve our disastrous goal difference (minus-8).  It would move us up the table from unfamiliar 17th.  But more than these statistical enhancements, the psychological effects of a victory would be manifold.  It would, temporarily at least, stem the rot of negativity, give the manager a slight breather, bring a few fans back on side and take us into our opening Champions League group game against Borussia Dortmund in good spirits.
The Opposition
Swansea are the first ever Welsh team to play in the Premier League—a fitting achievement to mark the club's centenary year.  They have not started too badly.  In their first game, an away trip to Manchester City, they held on, incredibly, for 57 goalless minutes, thanks largely to the heroics of 'keeper Michael Vorm. City's depth in class eventually told, though, and they ran out 4-0 winners. Swansea's next two games were home fixtures against Wigan and Sunderland, both of them ending 0-0.  Decent results, but the Swans would have been hoping for at least one win from these two games.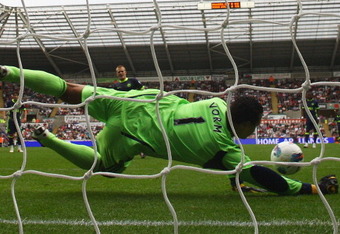 Matthew Lewis/Getty Images
Evidently, goal scoring is a problem.  Swansea have failed to find the target in the league this season. They went out in the League Cup, too, losing 1-3 at League Two high fliers Shrewsbury Town.  Fair to say they are not the form team in England at the moment.  
In terms of head to head clashes, Arsenal and Swansea have met only four times before this, with each side registering two wins apiece.  The last meeting was a 2-1 victory for the Gunners at Highbury on New Year's Day, 1983.  Not much insight to be obtained from that game, unfortunately.  Looking at the form of both teams heading into this fixture, Swansea have the better stats, not surprising considering the wretched time Arsenal have had since that Obafemi Martins goal at Wembley.
Arsenal
Normally, a home game against Swansea would represent a hiding to nothing for Arsenal.  Win,and everyone says "what's the big deal, it's only Swansea."  Draw or lose, and the floodgates of criticism would burst open.
But this season is anything but "normal."  A win on Saturday would definitely mean something—and yes, that does partially indicate how low Arsenal have fallen this season.  It's a massive opportunity for the Gunners, not just to win, but to win big.  And to keep a clean sheet and restore some defensive confidence too.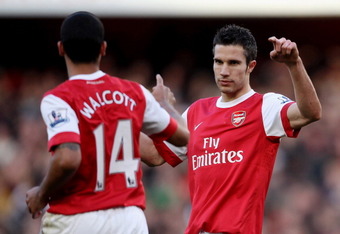 Scott Heavey/Getty Images
Arsenal have played five games this season in all competitions, winning and losing two each, and drawing the other.  Theo Walcott and Robin van Persie have scored Arsenal's five goals between them.  The Gunners have conceded 11 goals in all, which is why a clean sheet is almost as important as all three points.  Discipline has also been an issue—there has been one red card in each of Arsenal's three league games this season, and it is important for Wenger's team to stem the rot.  With injuries mounting by the day, it would be suicidal to have more players miss out due to suspension.
Team News
Arsene Wenger might be thinking of picking his team by a process of elimination. 
Missing out due to suspension are Gervinho, Alex Song and Carl Jenkinson.  The never-ending injury list (in order of jersey numbers, * indicates doubts) is finally reducing and now reads as follows:   Abou Diaby, Thomas Vermaelen, Tomas Rosicky,* Theo Walcott,* Jack Wilshere.  Not bad at all, given our recent run of luck, but Wilshere and Vermaelen will be huge misses.  
In my opinion, the first 11 will line up in a 4-2-3-1 formation:  Szczesny; Sagna, Mertesacker, Koscielny, Gibbs; Frimpong, Ramsey; Walcott, Arteta, Arshavin; van Persie.  The bench, showing a massive improvement from Old Trafford, will be Fabianski, Djourou, Santos, Benayoun, Oxlade-Chamberlain, Park and Chamakh.
Not our strongest side by any means, but on paper at least, more than enough to take care of Swansea City.
"Stick your neck out" time
I will obviously go with Arsenal to win this one.  I am sure there will be lots of goals, and I predict that Arsenal will get most (wish I could say all) of them.  5-1 to Arsenal is my call, with Park scoring off the bench.  There will also be a penalty for Arsenal, and I back RvP to retain his duties in spite of the Arteta acquisition, and hammer home to the 'keeper's left.
Listen up, Arsenal.  Forget the sweet talk.  We've messed up, so far, in the league.  We're eight points behind the two Manchesters.  Expect both of them to win this weekend, with City at home against Wigan and United away at Bolton.  Three points isn't an option, it's a necessity.
We've had our bad luck, but drop the self-pity.  There are no points awarded for luck.  When Mr Wenger troops out for his press conference on Friday morning and says "We are only focused, right now, on winning the next game," take the hint.
And win the next game.  Please.