Liverpool's form started to look up as they had won away against Aston Villa. They played another away match against Wigan Athletic at the DW in a cold December night.
This game was the start of a nightmare for penalty takers for Liverpool. Charlie Adam missed from the spot five minutes after the second half started after Gary Caldwell was judged to have handled the ball.
Wigan's goalkeeper Al-Habsi stood firm against the barrage of shots that peppered his goal.
It was the same on the other end, where Pepe Reina made some fantastic saves.
Unfortunately for the Reds, the game ended level, adding some uncertainty (and perhaps foreshadowing) to the beginning of a run that all fans want to forget.
December 21: Wigan Athletic (H)
Liverpool Lineup:
Goalkeeper: Reina
Defense: Johnson (yellow 79'), Skrtel, Agger, Enrique
Midfield: Kuyt (off 72'), Henderson, Rodriguez (off 72'), Adam, Downing
Attack: Suarez (off 87')
Substitutes: Coates, Doni, Kelly, Carroll (on 87'), Shelvey (on 72'), Carragher, Bellamy (on 72', yellow 90+1')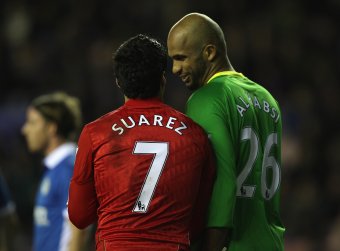 Michael Steele/Getty Images
Wigan Lineup:
Goalkeeper: Al-Habsi
Defense: Alcaraz, Caldwell (yellow 66'), Figueroa, Stam
Midfield: Diamé, McCarthy, Jones (off 74'), Moses
Attack: Sammon (off 62'), Gómez (off 74')
Substitutes: Rodallega (on 74'), Di Santo (on 62'), Politt, Crusat, Watson (on 62'), Pisou, McArthur
You can read the full match report here.
Match Stats: (Home | Away)
Total shots: 19 | 21
Shots on target: 6 | 9
Shot accuracy: 54.5% | 52.9%
Possession: 44.7% | 55.3%
Offsides: 0 | 1
Corners: 7 | 14
Total passes: 359 | 442
Passing accuracy: 78.8% | 81.3%
Total crosses: 19 | 29
Successful crosses: 31.6% | 10.3%
Tackles: 31 | 20
Tackles won: 71.0% | 65.0%
Fouls conceded: 17 | 12
Yellow cards: 1 | 2
Red cards: 0 | 0
Liverpool Stats for the Season:
Goals: 20
Conceded: 13
Shots: 303
Shots on target: 97
Offsides: 61
Corners: 156
Passes: 8045
Crosses: 459
Tackles: 328
Fouls conceded: 184
Yellow cards: 26
Red cards: 3
Liverpool Form: W, D, L (H) / w, d, l (A)
w-d-l-W-w-d
Stay tuned for tomorrow's game recap: Liverpool: Remembering the 2011-12 EPL Season (Game 18/38)
Liverpool: Remembering the 2011-12 EPL Season (Game 13/38)
Liverpool: Remembering the 2011-12 EPL Season (Game 14/38)
Liverpool: Remembering the 2011-12 EPL Season (Game 15/38)
Liverpool: Remembering the 2011-12 EPL Season (Game 16/38)