Liverpool: Remembering the 2011-12 EPL Season (Game 15/38)
May 31, 2012

Clive Brunskill/Getty Images
Liverpool, after a torrid run of form, found a win against Queens Park Rangers at home in front of 45,017 spectators.
The Reds, picking themselves up after a late game-winning goal against them from Fulham's Clint Dempsey, tried to turn their fortunes around.
Determined to find winning ways again, Liverpool tightened up at the back and Dirk Kuyt was brought up to the starting XI, as his sheer athleticism was missed in the game against Fulham. 
With Kuyt in the wings, Jordan Henderson was moved to a central role to replace the injured Lucas and the suspended Jay Spearing. 
The Reds began strong, resulting in three corners within three minutes of the starting whistle. 
Unfortunately, Liverpool's poor finishing bit them in the rear as they could have gone three goals up within 15 minutes, but all were squandered by Luis Suarez.
Liverpool played some fantastic football, but could not find the net to prove their dominance.
The first half ended 0-0 with Liverpool players and fans wondering when the first goal would be scored.
Two minutes into the second half, their questions were answered by Suarez who, after a myriad of chances, finally scored for the Reds with a header. The Uruguayan, left unmarked by the QPR defenders, headed a Charlie Adam cross for the only goal of the match.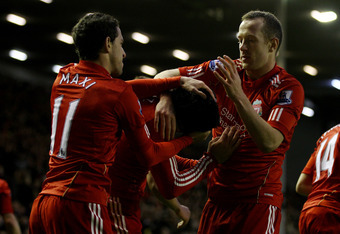 Clive Brunskill/Getty Images
The game was played—for the majority—in the QPR half, as Pepe Reina was mostly a spectator watching the battle ensue by QPR goalkeeper Radek Cerny. 
Liverpool should have scored more than one goal, but a win, as they say, is a win.
December 10: Queens Park Rangers (H)
Liverpool Lineup
 Goalkeeper: Reina
Defense: Johnson, Skrtel, Agger (yellow 22'), Enrique
Midfield: Downing (off 87'), Henderson, Adam, Rodriguez (off 79'), Kuyt
Attack: Suarez (goal 47')
Substitutes: Carroll, Bellamy (on 79'), Shelvey (on' 87'), Coates, Carragher, Kelly, Doni
QPR Lineup
 Goalkeeper: Cerny
Defense: Young, Ferdinand (off 50'), Gabbidon, Traore
Midfield: Mackie (off 78'), Barton, Faurlin, Smith (off 66'), Wright-Phillips
Attack: Bothroyd
Substitutes: Putnins, Derry, Orr (on 50'), Connolly, Hill (on 78'), Buzsaky, Campbell (on 66')
You can read the full match report here.
Match Stats: (Home | Away)
 Total shots: 25 | 7
Shots on target: 8 | 1
Shot accuracy: 53.3% | 20%
Possession: 61.9% | 38.1%
Offsides: 3 | 0
Corners: 17 | 5
Total passes: 530 | 329
Passing accuracy: 81.7% | 70.5%
Total crosses: 30 | 14
Successful crosses: 13.3% | 14.3%
Tackles: 6 | 22
Tackles won: 83.3% | 72.7%
Fouls conceded: 14 | 7
Yellow cards: 2 | 0
Red cards: 0 | 0
Liverpool Stats for the Season
 Goals: 18
Conceded: 13
Shots: 265
Shots on target: 81
Offsides: 53
Corners: 132
Passes: 7089
Crosses: 411
Tackles: 289
Fouls conceded: 157
Yellow cards: 22
Red cards: 3

Liverpool Form: W, D, L (H) / w, d, l (A)
 w-D-w-d-l-W
Stay tuned for tomorrow's game recap: Liverpool: Remembering the 2011-12 EPL Season (Game 16/38).

Liverpool: Remembering the 2011-12 EPL Season (Game 9/38)
Liverpool: Remembering the 2011-12 EPL Season (Game 10/38)
Liverpool: Remembering the 2011-12 EPL Season (Game 11/38)
Liverpool: Remembering the 2011-12 EPL Season (Game 12/38)  
Liverpool: Remembering the 2011-12 EPL Season (Game 13/38)