'This Is Not Normal': Markelle Fultz Injury, Reasons Behind It Confound the NBA
November 3, 2017
Mitchell Leff/Getty Images
Professional basketball players don't often go on vacation for a few weeks and forget how to shoot. Nor do they have to come out of the lineup and miss weeks at a time with something that may or may not be technically classified as an injury.
This series of mysterious events would seem to be even more rare for a player whose talent was worthy of making him the No. 1 pick in the NBA draft. Yet this is what has happened to the Philadelphia 76ers' Markelle Fultz.
Quite simply, it's baffling.
"This is not normal," an Eastern Conference general manager told Bleacher Report. "It's perplexing."
From Nerlens Noel to Joel Embiid, to Jahlil Okafor and Ben Simmons, the Sixers have had more than their share of experience when it comes to injured lottery picks. But the situation with Fultz, the sharpshooter-turned-medical mystery out of the University of Washington, is in many ways the most bizarre.
"He shot it pretty well in college," an Eastern Conference scout told B/R. "He never looked like this before."
"This" is the suddenly hesitant, herky-jerky shooting mechanics Fultz mysteriously unveiled during the Sixers' training camp in September. Here's the timeline as we know it:
At summer league and at legendary coach Tim Grgurich's camp in July in Las Vegas, Fultz was shooting the ball fine. He was never an outstanding free-throw shooter (64.9 percent in his one season at Washington), but he'd never looked like a blindfolded, free-throw-shooting Shaquille O'Neal before.
That is, until he rejoined the Sixers in September for training camp. Practice observers noticed right away Fultz had lowered his release point considerably, as he was launching the ball precariously toward the rim from below his chin. The cringe-worthy approach evoked comparisons to Charles Barkley's golf swing.
In early October, head coach Brett Brown revealed Fultz had purposely altered his shooting mechanics over the summer in an effort to improve.
About a week later, Fultz told The Ringer's Kevin O'Connor that soreness in his right (shooting) shoulder was the reason he changed his mechanics. Chickens and eggs the world over collectively shrugged.
In the Sixers' season opener against Washington on Oct. 18, Fultz appeared reincarnated as a lefty who was attempting to shoot right-handed free throws in a game of "horse." His shooting motion began at shoulder height, and the release point had moved to the right side of his head.
He played in three more contests, going 6-of-12 from the line and 9-of-27 from the field in the four-game span while turning down open three-point shots along the way.
On Oct. 24, Fultz's agent, Raymond Brothers, told ESPN's Adrian Wojnarowski that Fultz had fluid drained from his right shoulder before the season. "He literally cannot raise up his arms to shoot the basketball," Brothers said. Hours later, that story went down the drain when Brothers told 

Wojnarowski

 a different tale: Fultz actually had a cortisone shot in the shoulder Oct. 5, not fluid drained from it.
On Oct. 25, the Sixers announced Fultz would miss the next three games with "right shoulder soreness." General manager Bryan Colangelo spoke with reporters and suggested that the change in Fultz's shooting mechanics could have caused the discomfort he was experiencing in his shoulder.
The latest update is that Fultz visited orthopedic surgeon Ben Kibler in Lexington, Kentucky, last weekend and was diagnosed with scapular muscle imbalance. Kibler and at least two other doctors Fultz has seen all agree there is no structural damage to the shoulder.
---
Top Clips from the Hoops World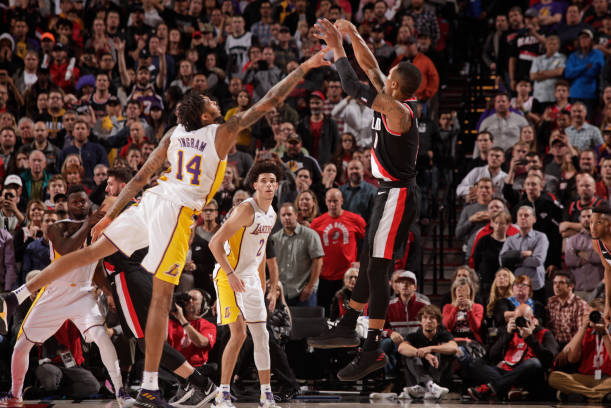 McCollum and the Blazers Snapped Postseason Losing Streak for "Jennifer"

Stars Invest in Plant-Based Food as Vegetarianism Sweeps NBA

The NBA Got Some Wild Techs This Season

Jarrett Allen Is One of the NBA's Hottest Rim Protectors

Wade's Jersey Swaps Created Epic Moments This Season

Westbrook Makes History While Honoring Nipsey Hussle

Devin Booker Makes History with Scoring Tear

29 Years Ago, Jordan Dropped Career-High 69 Points

Bosh Is Getting His Jersey Raised to the Rafters in Miami

Steph Returns to Houston for 1st Time Since His Moon Landing Troll

Lou Williams Is Coming for a Repeat of Sixth Man of the Year

Pat Beverley Has the Clippers Stealing the LA Shine

LeBron Keeps Shredding NBA Record Books

Young's Hot Streak Is Heating Up the ROY Race with Luka

LeBron and 2 Chainz Form a Superteam to Release a New Album

Wade's #OneLastDance Dominated February

Warriors Fans Go Wild After Unforgettable Moments with Steph

Eight Years Ago, the Nuggets Traded Melo to the Knicks

Two Years Ago, the Kings Shipped Boogie to the Pelicans

ASG Will Be Competitive Again If the NBA Raises the Stakes
---
"That doesn't add up at all," Tim DiFrancesco, the co-founder of TD Athletes Edge who served as the Los Angeles Lakers' head strength and conditioning coach for six seasons, told B/R. "Lots of players at the NBA level have scapular imbalance or a lack of appropriately conditioned muscles that attach to the shoulder blades, therefore leading to poor scapular mechanics."
The scapula is the anatomical term for shoulder blade. These bones attach the upper arm to the collarbone on either side of the body. Three muscles control upward rotation and retraction of the shoulder blades. If these muscles are imbalanced, it can lead to poor mechanics as the arms move through flexion and extension—the way they do when a player shoots a basketball. Repetition of these poor mechanics, ultimately, can lead to pain and injury.
But scapular imbalance, by itself, does not cause pain, DiFrancesco said. So while that may have been the cause of whatever injury Fultz has, it is not an injury.
Winslow Townson/Associated Press
"It certainly can lead to some structural pathology and pain issues," DiFrancesco said. "But that in itself is not going to immediately, directly, equal pain."
In short, it's all very weird.
In addition to Colangelo's suggestion that the altered shooting mechanics may have caused the pain, a league source told B/R that another theory the team is entertaining is that something happened to Fultz between summer league and the start of training camp—or, something new was introduced into Fultz's offseason training.
Fultz's trainer, Keith Williams, has firmly denied any deviation from Fultz's normal training program. He told USA Today's Sam Amick there was never any effort to alter Fultz's shot mechanics.
"He's a great shooting point guard," Williams said. "There haven't been many point guards who shot the ball as well as him coming out of college, off the dribble and off the catch. I never changed his shot. Why would I?"
Colangelo declined to comment beyond his public statements on the matter when contacted by Bleacher Report. Brothers did not respond to a request for comment.
As for the Sixers' theory that altered shot mechanics could have led to Fultz's pain, DiFrancesco said it's plausible.
"Most people think of basketball players from the waist down as leaping, sprinting, cutting speed athletes," DiFrancesco said. "But this is actually a pretty common thing. I've said for a long time that basketball is more of an overhead sport than most people want to admit."
Rebounding, blocking a shot, throwing a one-handed outlet pass, and yes, shooting a basketball are considered overhead activities when it comes to shoulder function. They may not be as dynamic as when a pitcher throws a baseball 90 mph, a quarterback throws a 40-yard pass or an Olympic lifter hoists heavy weights overhead, but the repetition adds up.
"Basketball players are accustomed to getting hundreds of shots up per day in their routine," DiFrancesco said. "Anytime you multiply a seemingly normal, innocent motion times hundreds, it can become not so innocent."
And a shift in mechanics can result in the recruiting of different stabilizing muscles. With enough repetition, it could cause the kind of pain Fultz is experiencing.
"The basketball shot is a pretty rapid—and you could argue explosive or on the verge of explosive—type of movement that has to happen very quickly while the rest of the body oftentimes is off balance," DiFrancesco said. "And if you change how that's happening, you can definitely change how the structures involved in that process are tolerating the repetition. You're potentially putting stress on different structures that, up until that point in your basketball shot repetition, have not been asked to be that much of a part of it."
If there's good news for Fultz, it's this: Despite the fact that nobody can agree or get their stories straight on how or why this happened, the treatment is straightforward. As long as there's no structural damage, it's rehab and physical therapy.
And whatever opinions you may have about the Sixers' medical staff given its history with chronically injured first-round picks, the fact is they have a new director of sports medicine and science this season. C. Daniel Medina Leal, formerly of Spanish soccer team FC Barcelona, is in charge of all aspects of the team's therapy, training and nutrition as vice president of athlete care.
In the end, that's what it's all about: the care of the athlete. And there is no shortage of people around the league who are rooting for Fultz to recover and get his shooting stroke back.
"Whatever it is, I feel bad for him," a Western Conference GM told B/R. "He was my favorite player in the draft."
The Sixers', too.
Ken Berger covers the NBA for Bleacher Report. Follow him on Twitter, @KBergNBA.