NFL 2012: Tampa Bay Buccaneers Season Outlook
June 29, 2012

Al Messerschmidt/Getty Images
Quick Review of 2011
Offense—No. 16 passing, No. 30 rushing, No. 21 total.
Defense—No. 21 passing, No. 32 rushing, No. 30 total.
Following an unexpected 10-6 record—and barely missing the playoffs—in 2010, the Buccaneers had high hopes going into the 2011 season. A good 4-2 start included wins over the dominant teams of the NFC South, New Orleans and Atlanta.
However, during that 4-2 start, there was an ugly 48-3 loss to San Francisco. It was a bad sign of things to come.
After beating New Orleans 26-20 and putting themselves in the NFC South race, the Bucs would not win another game all year. They ended the season by losing their last 10—most by large margins. Their final five games were all blowout losses. They lost to Carolina 38-19, to Jacksonville 41-14, to Dallas 31-15, to Carolina 48-16 and fell behind Atlanta 42-0 in the second quarter on their way to a 45-24 defeat.
Quarterback Josh Freeman threw only 16 touchdown passes after throwing for 25 in 2010. His interceptions skyrocketed from six to 22.
Even if Freeman would have played better, it might not have made a difference.
The defense was one of the worst in the league. Besides being 30th in total defense, they were dead last in rushing and scoring defense.
At season's end, coach Raheem Morris was fired after only three seasons and an overall record of 17-31.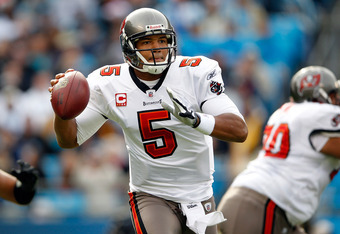 Streeter Lecka/Getty Images
New Additions
TE Dallas Clark, K Kai Forbath, DT Gary Gibson, DE Wallace Gilberry, WR Vincent Jackson, OT Jamon Meredith, DE Jayme Mitchell, G Carl Nicks, DT Amobi Okoye, QB Dan Orlovsky, CB Derrick Roberson, WR Tiquan Underwood, CB Eric Wright.
Draft Choices
S Mark Barron, RB Doug Martin, LB Lavonte David, LB Najee Goode, CB Keith Tandy, RB Michael Smith, FB Drake Dunsmore.
Undrafted Free Agents
DE Quintin Anderson, S Sean Baker, RB De'Anthony Curtis, WR Greg Ellingson, P Eric Guthrie, OT Jermarcus Hardrick, FB Cody Johnson, CB Leonard Johnson, DT Eric LeGrand, DT Jordan Nix, TE Danny Noble, OT Bradley Sowell, S Tramain Thomas, G Mike VanDerMeulen, G Desmond Wynn.
Subtractions
DE Tim Crowder, C Jeff Faine, RB Earnest Graham, DT Jovan Haye, LB Geno Hayes, S Tanard Jackson, QB Josh Johnson, S Sean Jones, OT James Lee, RB Kregg Lumpkin, DT John McCargo, DE Nick Reed, WR Michael Spurlock, TE Kellen Winslow.
Outlook for 2012
The Bucs hired a college coach, Greg Schiano, as head coach. Schiano was at Rutgers for 11 seasons, rebuilding a program that hadn't played in a bowl game since 1978.
He has spent the offseason trying to build a roster that can compete immediately.
However, as badly as he needs players who can contribute, he signed an undrafted free agent who, barring a miracle, will never play in the NFL. 
The Buccaneers signed one of his former players from Rutgers, defensive tackle Eric LeGrand. LeGrand was paralyzed in 2010 in a game against Army. Giving Eric LeGrand a roster spot shows what kind of man the Buccaneers have hired as their coach, regardless of how his team performs on the field.
The Buccaneers were also the big players in free agency, signing former Saint guard Carl Nicks and wide receiver Vincent Jackson from San Diego. They also signed former Indianapolis tight end Dallas Clark.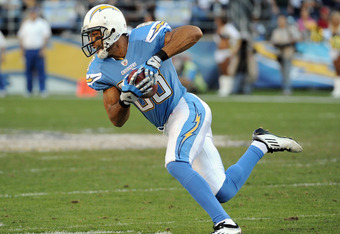 Harry How/Getty Images
These additions on offense should help get Josh Freeman back to his form of 2010. Freeman is a capable quarterback who, when given time, has proven himself. He now has a true No. 1 receiver to work with.
The Bucs traded up to draft running back Doug Martin. He is expected to help improve a rushing attack that finished 30th—though the dismal rushing numbers were due in some part to the team having to abandon the run during so many blowout losses last year.
The defense will look a lot different this year. Rookies could see significant playing time in 2012. Four draft picks were used on defensive backs and linebackers.
They will have to learn fast. They play 11 games against teams that finished in the top 11 in offense last season.
Schedule
Sep.  9 vs. Carolina
Sep. 16 at New York Giants
Sep. 23 at Dallas
Sep. 30 vs. Washington
Oct. 14 vs. Kansas City
Oct. 21 vs. New Orleans
Oct. 25 at Minnesota
Nov.  4 at Oakland
Nov. 11 vs. San Diego
Nov. 18 at Carolina
Nov. 25 vs. Atlanta
Dec.  2 at Denver
Dec.  9 vs. Philadelphia
Dec. 16 at New Orleans
Dec. 23 vs. St. Louis
Dec. 30 at Atlanta
The Buccaneers will get a three-game homestand early in the year. That will be followed by their only prime-time game, Thursday Oct. 25 at Minnesota.
In addition to the 11 games against top-11 offenses—New Orleans, Carolina and Atlanta twice, Philadelphia, Dallas, San Diego, Oakland and the Giants—Peyton Manning is also on the schedule this year.
Prediction
There is no way this team will be as bad this year as it was in 2011.
The offense should be improved, and Josh Freeman will prove to be the quarterback of 2010—not 2011. The running game will be better, and the scoring should be up also.
However, rookies will play a significant role on defense. Against this year's schedule that's not good. Though they will get valuable experience, they will also take their lumps.
The Bucs will be better, but their record probably won't be any better than 5-11.