What Moves Should the Los Angeles Angels Make to Improve Their Team?
June 28, 2012

Stephen Dunn/Getty Images
It's undeniable at this point that the Los Angeles Angels have zoomed past the "hot" stage and are no longer considered to be "on a roll."  This is the championship-caliber team that people expected to see all season and they are living up to those lofty expectations in impressive fashion.
But does that mean they should stand pat?
July is right around the corner and with that, MLB's hot stove will once again heat up. Contenders will try to beef up before the July 31st trade deadline, while poor-performing teams look to build for the future by jettisoning productive veterans.
No one knows how the addition of a second wild card this season will affect the trade market. There are currently 18 teams within five games of the ten playoff spots allotted this year, which from afar, would indicate there are going to be a lot more buyers than sellers.  Maybe that slows the market to a crawl. Maybe it causes it to explode.
All I know is the Angels, as well as they are playing, would be wise to continue refining their lineup. It's one thing to sweep a two-game series in Baltimore by a combined score of 20-4, and it's another entirely to do the same thing against Texas in October.
To that end, here are a few moves the Angels should consider pursuing between now and the trade deadline.
Move Vernon Wells
There's no getting around the fact that even if the team trades him, they are going to end up eating most of his remaining contract, which at this point still has two-and-half years and roughly $53 million on it.  But recent history is filled with former greats who started struggling in the American League, only to rebound when switching over to the National League.  If the Angels can convince an NL team to take a chance on Wells while only having to assume, say, $8-10 million of that contract, the Angels could use that money to make other moves that could help them this year.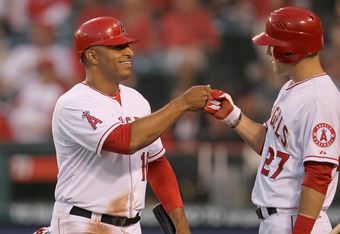 Stephen Dunn/Getty Images
By all accounts, Wells is a great guy and a good teammate.  He puts in the work, but when he was playing, the results simply weren't there.  It's not his fault Toronto was foolish enough to sign him to that contract (What was he supposed to do, turn it down?), nor is it his fault the Angels were even more foolish to trade for him.
But none of that erases the fact that his contract has been an albatross that he has been unable to shake since the day he signed it.  Nor does it change that there is simply no role on this team for him to play other than "supportive bench guy."
Seriously, barring multiple injuries, can you envision a scenario where Wells is able to even play, let alone contribute?  It just isn't happening.
I would love to see Wells stick around to experience the postseason for the first time in his career, but not in this fashion.  That's why once he recovers from his thumb injury, the Angels should try to find an NL team that likes to roll the dice on previously productive veterans, like the Pittsburgh Pirates, for example.  They take chances with guys like A.J. Burnett and Erik Bedard, and sometimes they pay off. 
The Pirates are on the fringes of playoff contention and wouldn't mind adding a productive slugger who could help their struggling offense if the price is right. Vernon Wells could be that guy, and the Angels should make every attempt to give him that chance.
Move Jerome Williams to the Bullpen
Not much was expected of Williams coming out of spring training when he earned the fifth spot in the rotation, largely by default.  And he's pitched OK since then, mixing in some good outings with some not so good ones. But since Garrett Richards was recalled to replace the injured Williams, it's been no contest.
In four starts, Richards is 2-0 with a 1.63 ERA.  He's showing better command of his pitches, and hitting his locations much more consistently than he was last season.  He is clearly a much better pitcher and has given the team a much-needed shot in the arm given the struggles of Ervin Santana and Dan Haren.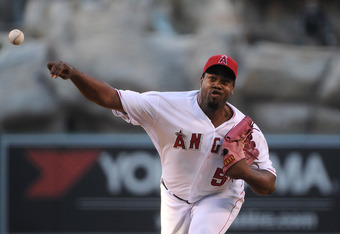 Lisa Blumenfeld/Getty Images
Williams can still be a valuable contributor in the bullpen, but the Angels are built to win now and giving the young Richards the ball every fifth day as opposed to Williams puts them in a much better position to do just that.
Solidify the Catcher Position
To date this season, the Angels have suited up Chris Iannetta, Bobby Wilson, Hank Conger and John Hester.  Together, they have managed to combine for five HRs and 16 RBI while hitting a robust .206.  I'm sorry, but that's just not acceptable.
Hester has carved out a niche for himself as C.J. Wilson's personal catcher, and that's all fine and good.  I mean, Atlanta got along just fine with Greg Maddux using a personal catcher, but they had Javy Lopez catching on the other days.
The Angels don't need anybody spectacular, just somebody who's not considered an automatic out.  (Let us pause for a moment to reflect on what might have been had the Angels not traded Mike Napoli for Wells…)
That brings us back to the trade season that is likely going to kick off sometime in the next two weeks. If the Diamondbacks fall further out of playoff contention, maybe they will be willing to part with Miguel Montero.  He's great at handling a pitching staff, plays solid defense and has plenty of pop in his bat.  And the Angels and Diamondbacks have done business before with both teams happy with the outcomes, so they certainly make good trade partners.
The Angels are playing some of the best, if not the best, ball in all of baseball these days, but a closer look reveals plenty of wins piled up against the Mariners and Rockies of the world.  We all know it's a whole different ballgame come October. And if you are fortunate enough to make it into the postseason, you want to bring the strongest team possible to the table, because one run, or one hit, can make all the difference between moving on or going home.  Making the moves outlined above will certainly bring the Angels closer to that goal and the team would be wise to not rest on their laurels.