In Tim Tebow, Football and Faith Are Totally Inescapable
January 11, 2012
Justin Edmonds/Getty Images
I don't know what to make of Tim Tebow. He's just a football player, but in so many ways to so many people, he has become so much more. Tebow isn't just a quarterback of a team fighting for a place in the AFC title game. He's a cultural icon. He is a phenomenon. His faith and beliefs are as much a part of his story as his play on the field.
This idea—this notion of Tebow being somehow bigger than the game—has created this iconoclastic redefinition of what an athlete, a quarterback, is supposed to be. How we, as NFL consumers, see Tebow is unlike anything we've seen before. It's certainly not the way I grew up following another Denver icon. 
When I was kid, my favorite NFL player was John Elway. I rooted for the Broncos in the Super Bowl against the Giants—I never much cared for the Eagles under Buddy Ryan, but as a kid from the Philly suburbs in South Jersey, I knew I was never allowed to root for a team from New York.
That year, my dad was writing a magazine feature on Steve Sabol and traveled with the NFL Films crew to the Super Bowl. When he got back from California, a day after the first of three demoralizing Super Bowl losses in four years for Denver, my dad told me how he met Elway in the locker room after the game. I'm not sure if this next part was true or a dad telling his son a sports-media fish tale (or my own inflated recollection) but I distinctly recall my father saying how nice Elway was after the game and how he said hello to my dad while in his underwear.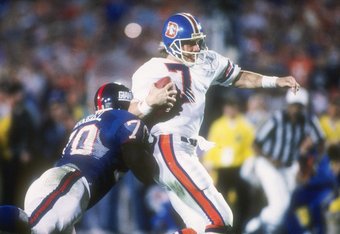 Rick Stewart/Getty Images
After losing his first Super Bowl to the Giants, John Elway was nice to random people in the locker room. In his underwear. 
That was awesome. 
The next year, I got my first football jersey: a bright orange and blue shirt with a humongous, white No. 7 on both sides. It was a replica, and I knew it right away. My parents went to a local sporting goods store and had small, felt letters ironed on instead of the traditional sewn-on nameplate. It looked pretty ridiculous, but it said Elway and the other kids in school didn't know any different anyway.
For as long as it fit, I wore that jersey to school the Monday after every Broncos victory. I started wearing it on Fridays before games, too, because going through a 5-11 season the year after another demoralizing Super Bowl loss gave me very few Mondays to put it on.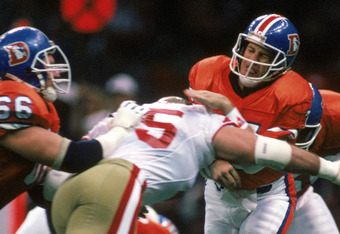 George Rose/Getty Images
I wore that Elway jersey, snug by this point, on September 20, 1992, to Veterans Stadium to watch the Broncos lose 30-0 to the Eagles. Fans chanted "Smelway" to me as my dad and I left the stadium, harassing me for wearing the jersey of my favorite player and one of the greatest quarterbacks of all time. I was 14 years old.
When we got to the car, my dad looked at me said he was proud. I didn't really understand why, but he explained that he thought I would take the shirt off after getting harassed by so many people. Not a chance, I said. It just made me like Elway even more.
I'm not ashamed to admit that I cried a little when the Broncos won their first Super Bowl. I cried for all the years I cared about a team that was incredibly hard to follow from halfway across the country (and before the Internet). I cried because I felt like I knew how great it must feel for Elway to finally get that ring. I still get a little choked up when I hear Denver owner Pat Bowlen's voice in my head, "This one's for John."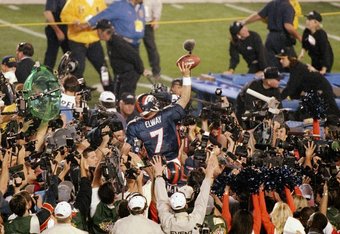 Jed Jacobsohn/Getty Images
It was. I was rooting for John Elway, the greatest quarterback in the history of the game and my favorite player.
I had grown out of that Elway jersey and went with Steve Atwater next—this time, it was an authentic—but it didn't matter what jersey I wore, Elway was still my favorite. He would always be my favorite.
And then something odd happened. I was in my early 20s. My friends and I were deep into punk music and politics and, in our own way, social activism. I heard a particularly odd rumor that John Elway was being considered for political office in Colorado...on the Republican ticket.
For the first time in my life, it hit me like a ton of bricks. My favorite player suddenly existed in the real world. He wasn't just that guy who destroyed the Cleveland Browns every year or the still-mobile quarterback who helicoptered his way to a Lombardi Trophy when he was on the down side of the down side of his Hall of Fame career.
Elway wasn't just the name my parents ironed on (in felt) to a jersey I cherished for years. He was an actual person. He was a guy—a potential politician—whose beliefs I vehemently disagreed with and whose politics I fundamentally challenged.
What do you do when you find out the player you always believed in doesn't share your beliefs?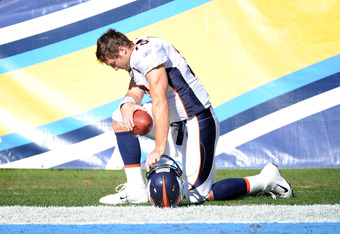 Harry How/Getty Images
It's happening again in Denver, except this time, unlike with Elway, there is no avoiding Tim Tebow's beliefs. Maybe it was the different manner in which Elway handled his private life in the public eye—heck, maybe it's just the Internet allowing the public to have greater access to Tebow's private life—but it seems increasingly impossible to separate who Tebow is on the field with who his is in real life.
Tebow's situation is really peculiar. Because his faith is so prevalent and because his beliefs have become so much of who he is on and off the field, it's nearly impossible to separate the two. Can you blindly root for Tim Tebow on the football field without, in turn, tacitly rooting for him in life? And does rooting for him in life—even if that simply means rooting for the underdog to succeed—include implicit approval of his beliefs?
Are Broncos fans able to parse the player from the man, the quarterback from the evangelist?
These are questions I didn't have to answer about Elway, but Broncos fans today are faced with every week Tebow leads their team onto the field.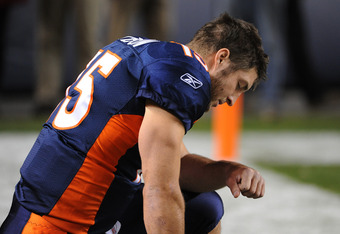 Garrett Ellwood/Getty Images
Moreover, Tebow has grown the Broncos fanbase because of his faith and beliefs. There are more Broncos fans now than there were a year ago or two years ago because of Tebow's convictions. If the Broncos trade Tebow to Jacksonville this offseason, every single one of those Tebow acolytes will follow him to the Jaguars, leaving their Broncos jerseys in a heap at the bottom of the closet.
That is what makes Tebow so compelling to follow. He is what he is in Denver because of who he is as a person, not in spite of it. In that way, he is unlike almost every superstar athlete who has come before him.
At the same time, his beliefs are not exactly middle of the road. Someone whose opinion I respect immensely (note: a Steelers fan) called him a "bigot" this week. A bigot. Would you root for someone you considered a bigot, simply because he was wearing the jersey you root for? Or, in the situation in Denver now, is it hard to root for that jersey knowing the guy inside it not only has such divergent beliefs, but has millions of additional followers to his football career in large part because of those beliefs.
Tebow will face Tom Brady in the second round of the AFC playoffs this week. Brady famously sat as a guest of George W. Bush during the 2004 State of the Union address, calling into question the quarterback's partisanship and potential future in politics. When asked by 60 Minutes a few years later, Brady punted, explaining that he was an independent, before admitting he might consider a career in politics after football.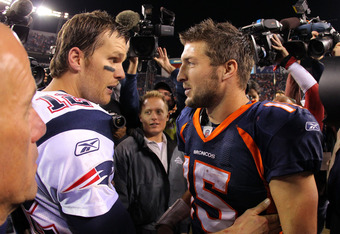 Doug Pensinger/Getty Images
Did any of that change how Patriots fans looked at Brady? If he eventually runs for office, will fans look back on his illustrious career any differently because they don't agree with his beliefs?
They certainly shouldn't, because Tom Brady is a football player. He may have a specific ideology, but we don't know what it is and it certainly doesn't impact his play on the field.
We can't say that about Tebow, and that connection between football and faith will make it impossible for some to ever root for him, while compelling others to follow him devoutly.
Would the 12-year-old me want to wear a Tebow jersey? Would my parents allow it, knowing how divergent his beliefs are from mine? It's not like the guy is Rae Carruth, for crying out loud. He's not even Ray Lewis. But he's not Brady either, and he's certainly not Elway in the late '80s—a different time and place for all of us.