Arsenal Transfers: City Defeat Proves That Wenger Needs Just One New Signing
November 30, 2011
Dean Mouhtaropoulos/Getty Images
The tables have turned, haven't they, Arsenal fans?
Two months ago, a draw and a loss in successive home games would have been greeted with derision, disdain, disapproval and an ocean of negativity.
And now?
Twelve points off the pace in the Premier League, knocked out of the Carling Cup and the team is actually being lauded? The mind boggles, at times...
Not that I believe that the team needs to be criticized—far from it. I have already written about the Fulham draw, and the positives we can take out of that game. And after last night's defeat by Manchester City, I am even more gung-ho over this Arsenal team's prospects.
Arsene Wenger put several players on the park last night who are not first-team "regulars"—Ignasi Miquel, Francis Coquelin, Emmanuel Frimpong, Alex Oxlade-Chamberlain and Chu Young Park. And aside from their performance, which was hugely encouraging, what they showed was that this Arsenal squad possesses quality in depth to match or even supersede every other team in the Premier League.
Disagree? Wasn't this Arsenal Reserves vs. Manchester City Reserves? And honestly, even if you're a City or Spurs fan, didn't the former deserve to win?
Coming to the topic of transfers, which is what this piece is all about, yesterday's performance pretty much firmed up my thought process on the matter. Most "fans" and "experts" believed that Arsenal needed two or three big signings in January if they were to mount a serious challenge for trophies, fourth place, etc. Until a short while ago, I felt that we needed two new players—one a versatile central defender, and the other a creative winger.
But after watching our second string put in such a solid defensive shift, I have a new-found respect for our defensive depth. Not just in the back four, but in midfield too. Miquel was certainly troubled by Adam Johnson at times, but by and large, he kept him well under control. And further forward, the performance of Coquelin and Frimpong just blew me away.
I was expecting an accomplished performance from Coquelin, for I believe he has learned much from his loan spell at Lorient. Frimpong, in comparison, is far more undercooked. But they both rose to the occasion like one could never have imagined.

Faced by a midfield of Owen Hargreaves, Nigel de Jong and Samir Nasri (882 club appearances and 123 international caps between them) the two Arsenal youngsters (47 club appearances, no senior international caps) stood out, and dare I say it, won the midfield battle.
And speaking of our back four, it is worth noting that the defenders who did not start yesterday were Thomas Vermaelen, Per Mertesacker, Bacary Sagna, Carl Jenkinson, Kieran Gibbs and Andre Santos. And barring one unfortunate moment of inexperience, we kept a £60 million City strike force quiet.
What City showed us in those few seconds of counter-attacking brilliance last night was that in the absence of our regular starters, and especially since the departure of Fabregas and Nasri, Arsenal lack a cutting edge up front.

Chamakh might well be on his way out in January. And I'm not sure if the manager himself has complete faith in Park. As much as I like him as a person, Andrey Arshavin seems to have lost the plot completely. Theo Walcott is more a runner and crosser, and Robin van Perise must remain in the penalty box and bang the goals in.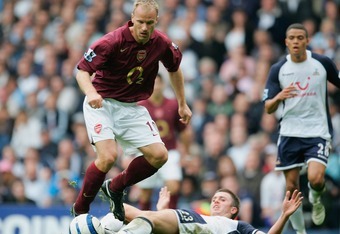 Richard Heathcote/Getty Images
We lack a player with the guile of a Bergkamp, Henry, Pires, Fabregas or even Nasri, who can unlock a defense in a moment of individual brilliance—a piece of skill, a pin-point pass or an unexpected shot at goal.
This is the player that Arsene Wenger needs to sign in January. And if needed, he must break the bank! Arsenal need a truly world-class player up front, who can play on either wing or behind RvP. If we need to pay top wages, we must do so. We've always been told that the money is available. I'm not sure if Sergio Aguero or Juan Mata ever did want to sign for Arsenal, but imagine adding one of them to our existing squad. Mouth-watering prospect.
What is certain is that Arsenal are "back." And Arsene Wenger is "back." And I do believe that this squad can go all the way. Something tells me that this team can be one of the best that Arsene Wenger has ever put together. We have all the ingredients, including a top goalkeeper.
The complex jigsaw has finally been assembled.
Now for that one missing piece.