Manchester City: How Do the Citizens Stack Up in FIFA 12?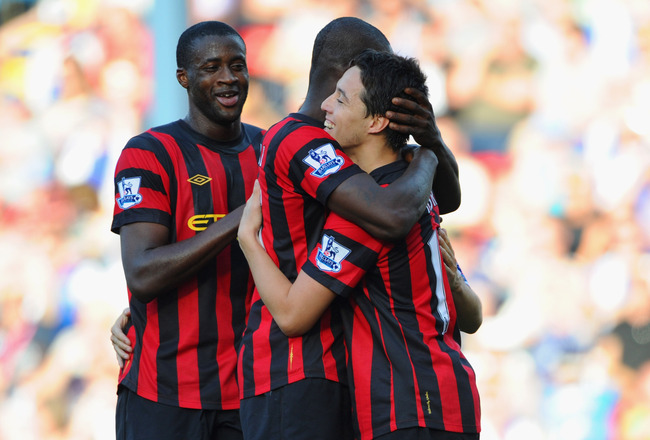 Michael Regan/Getty Images
Welcome to my eighth FIFA 12 player ratings review article. So far, I've reviewed Tottenham Hotspur, Real Madrid, FC Barcelona, Chelsea FC, Liverpool FC and Bayern Munich and Manchester United.
I had originally planned to conclude the series with this article, but due to popular demand I will be doing a player ratings review article for Arsenal, AC Milan, Inter Milan and Juventus after this one. As always, if there are any big teams you'd like to see reviewed, feel free to make your request in the comments section below.
The 2010-11 Premier League season was one of the most successful seasons in Manchester City's history, and definitely its most successful season in Premier League history.
Manchester City qualified for the Champions League for the first time ever in club history, and even passed Arsenal in the league standings on the final day to secure direct passage to the group stage of the Champions League.
On top of this unprecedented success, Manchester City also won the FA Cup, beating Manchester United along the way.
So what effect did all this success have on Manchester City's individual player ratings? How much of a rating boost did City's players receive from City's league success and FA Cup victory?
Let's find out.
Note: Players rated below 70 are excluded.
Goalkeepers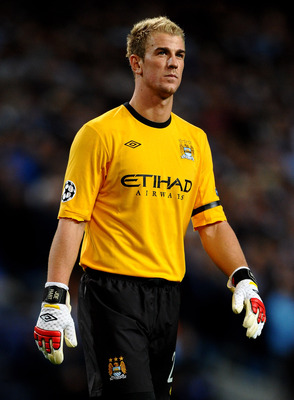 Laurence Griffiths/Getty Images
GK Joe Hart, 83
GK Stuart Taylor, 72
GK Costel Pantilimon, 71
Joe Hart's rating is fine, since Reina is rated 84 and Cech is rated 85 in FIFA 12, but once again I will reiterate my stance that each one of these keepers deserves to be rated one point higher than they currently are rated.
As for Pantilimon, who name reminds me of Pokemon, the guy should definitely be rated at least 3-5 points higher. The guy has had three seasons of first-choice experience at what was once one of the top clubs in Romania, and is the starting goalkeeper for the Romanian national team.
And of course, he is the backup to Joe Hart, not Stuart Taylor.
Taylor, on the other hand, has been a backup goalkeeper his entire career. 72 is a fair rating for him.
Defenders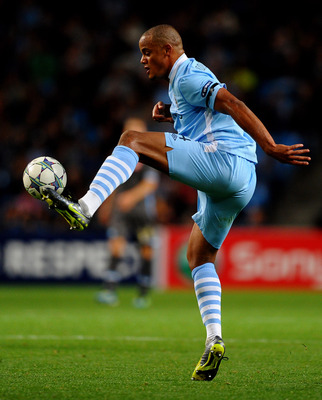 Laurence Griffiths/Getty Images
RB Micah Richards, 80
RB Pablo Zabaleta, 76
RB Nedum Onouha, 74
CB Vincent Kompany, 84
CB Kolo Toure, 83
CB Joleon Lescott, 80
CB Stefan Savic, 70
LB Gael Clichy, 80
LB Alexander Kolarov, 79
LB Wayne Bridge, 73
Oh man, EA Sports made some very big mistakes with Manchester City's defense. If anything, it was Manchester City's stone-wall defense that won them some very big games last season, so its somewhat ridiculous to see the entire defense rated so lowly.
Starting at right back, Micah Richards deserves to be rated at least 82, if not 83. He is the best right back in England right now, and improved greatly last season both defensively and offensively. Rating him at 80 is a crime.
Pablo Zabaleta and Nedum Onouha also need to have their ratings raised by two each. Pablo Zabaleta has proven to be a hard-working utlilty player at Manchester City, and regularly starts for Argentina.
Meanwhile, Onouha had a very successful loan at Sunderland, establishing himself as a first-choice center back while with the club.
Moving to left, practically the same errors exist. Gael Clichy also deserves to be rated either 82 or 83. For those who doubt his ability, I refer you to this excellent statistical breakdown of the best left backs in the EPL.
Have no doubt—Clichy is one of the best.
Kolarov's rating is fair, though I would've liked to have seen him at 80. Wayne Bridge may be getting old, but he's not that bad yet. A rating of 74-75 would've been fairer for the ex-England international.
Finally, we come to the center backs, who have always proven to be the most controversial when it comes to ratings. Manchester City aren't much of an exception unfortunately.
Last season, Kompany proved himself to be one of the best center backs in the league, building on the success he'd had in his first two seasons with City. Now he deserves at rating of at least 85, if not 86.
Kolo Toure's rating is strange, considering the fact that he spent the majority of the second half of the season suspended. 81-82 woud've been a fair rating. In his absence, Lescott has stepped up, and deserves a rating of 81 at least.
Last but not least, Savic had an impressive season with FK Partizan and had earned four caps for the Montenegrin national team before his move to Manchester City. He deserved a rating of 73-75, not 70.
Midfielders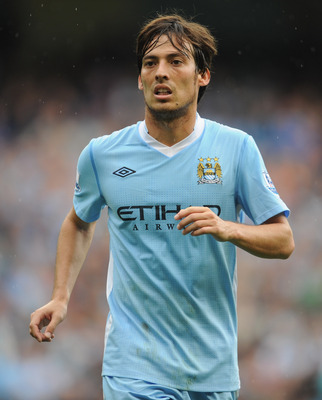 Michael Regan/Getty Images
CDM Nigel De Jong, 82
CDM Gareth Barry, 81
CDM Owen Hargreaves, 80
CM Yaya Toure, 85
CM James Milner, 81
RAM David Silva, 87
LAM Samir Nasri, 86
Thankfully, Manchester City's ratings in midfield are far less controversial than its ratings in defense. There are still a few issues of contention, however.
Nigel De Jong was one of the best defensive midfielders in the world, let alone the EPL, last season. An 84-85 would've been a fair rating, not an 82.
Also,Owen Hargreaves is rated extremely high for a guy who played 10 minutes last season, 1 minute the season before last season, and 177 minutes the season before that. I know they say that "form is temporary, class is permanent," but EA Sports definitely went too far with that saying here.
Hargreaves should not have gotten a rating of higher than 75 going into this season, even if he has a huge reputation.
He's been injured for about three years now, and even though early signs are promising, ratings should be based on form in recent seasons, not reputation.
Otherwise, the ratings are fine. Samir Nasri, David Silva and Yaya Toure have all shown themselves worthy of their high ratings, and James Milner and Gareth Barry, who generally have been used as backups or super subs at Manchester City, are fairly rated at 81.
Forwards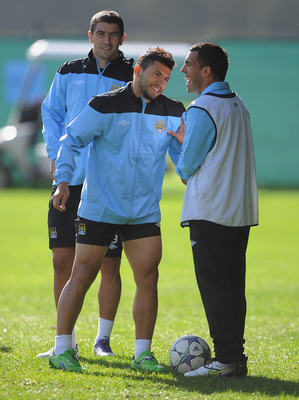 Michael Regan/Getty Images
ST Carlos Tevez, 88
ST Sergio Aguero, 86
ST Edin Dzeko, 84
ST Mario Balotelli, 81
LW Adam Johnson, 82
Most of these ratings look fairly spot on. A couple of quick comments though:
Carlos Tevez was highly impressive last season, but 23 goals should not earn you a rating of 88. I'd give him a rating of 86, or maybe 87 since EA Sports tend to show a strong bias towards the EPL over La Liga or any other league in the game.
I'd give Balotelli an 82, as he did well to score 10 goals in far fewer games than he had in 2009-10, but an 81 is fair too.
Overall Impression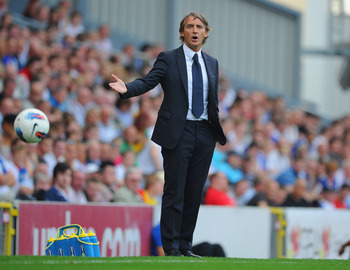 Michael Regan/Getty Images
Overall, I think Manchester City were rated fairly in three out of four departments - goalkeepers, midfielders, and forwards. In defense, however, Manchester City were heavily underrated, and I can't honestly understand why.
In FIFA 12, Manchester City's starting defensive lineup should've been rated: 82 - 81 - 85 - 82. Instead, it will be rated 80 - 83 - 84 - 80, which is a big drop off.
Aside from the defense, there are a couple of other controversial ratings. Nigel De Jong deserves to be rated at least two points higher than he is, and Owen Hargreaves should not have been rated anywhere near as high as he was.
Despite all the controversial ratings, I still expect that Manchester City will be able to compete with the bigger teams in FIFA 12, like Chelsea, Bayern Munich, Manchester United, etc. I do, however, believe that they will be hurt by their unfairly weak defense.
What do you think of Manchester City's ratings on FIFA 12? Too high? Too low? Which player ratings do you specifically agree or disagree with? Make your opinion known in the comments section below.
Also, make sure to check out my other FIFA 12 player ratings articles:
Manchester United FIFA 12 Player Ratings
Bayern Munich FIFA 12 Player Ratings
Liverpool FC FIFA 12 Player Ratings
Chelsea FC FIFA 12 Player Ratings
FC Barcelona FIFA 12 Player Ratings
Real Madrid FIFA 12 Player Ratings
Tottenham Hotspur FIFA 12 Player Ratings
I plan on writing articles to cover the player ratings for Arsenal, Milan, Inter Milan and Juventus later on as well, so make sure to check back on my profile for when those articles are released!
Keep Reading

Manchester City: Like this team?