Liverpool FC: 5 Key Battles for the Reds against Manchester United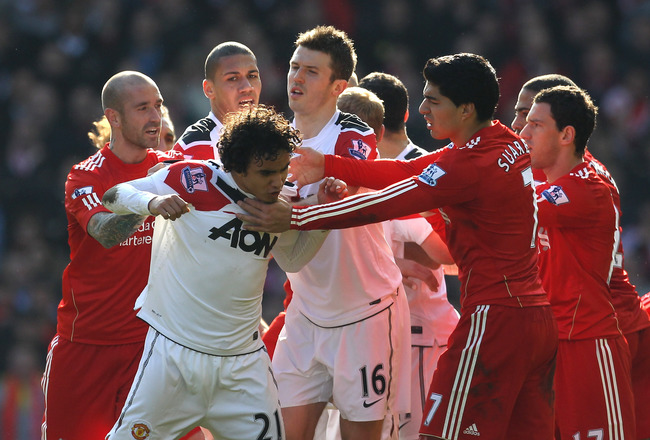 Alex Livesey/Getty Images
Liverpool will face their toughest challenge of the season so far when table-topping Manchester United travel to Anfield for the biggest match of round eight in the EPL.
The last time that Sir Alex Ferguson came into the ring with Kenny Dalglish on the Reds' home turf, his Red Devils were sent home on the back end of a Dirk Kuyt hat trick.
Steven Gerrard, unfortunately, did not play another game after the Reds defeated United, and it looks like he could return for his first full match in literally the same fixture he left after. He may feel as though he never left.
This will be one of the biggest matches of the young season. It will be a major statement for Liverpool if they can get a result at home, as it would see them become almost instant title contenders if they defeat such a top level club.
Wayne Rooney vs. Jamie Carragher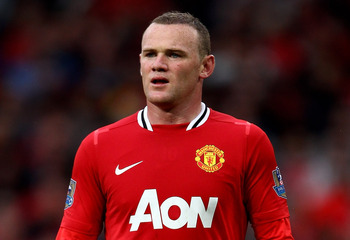 Clive Brunskill/Getty Images
There is no greater threat to the Reds goal than Wayne Rooney on his current form for Manchester United.
The EPL's leading scorer will surely be covered by the one and only Jamie Carragher. Liverpool's veteran defender will have to use all of his experience to manage keeping Rooney to a minimal threat.
In all honesty, I do not see either Carragher or Skrtel with the ability to completely shut Rooney down at the moment, and it will be more of a mission of damage control against the English forward.
However, the X-factor for Rooney will be if he is thrown off his game by the national team benching he recently received, and his frustration over being red carded and possibly missing the open rounds of the 2012 European Championships.
Nani vs. Martin Kelly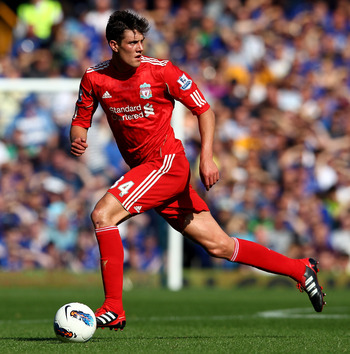 Clive Brunskill/Getty Images
The Reds' young defender, Martin Kelly, will surely face his toughest task of the season when he comes face to face with Nani at Anfield.
His Portuguese opponent has been on the top of his game so far this season, with it looking to be truly his break-out year for the Red Devils.
Ashley Young will also have some time against Kelly, as the two wide players are sure to switch flanks a time, as Sir Alex Ferguson has his charges probe the Reds for any weakness they can find.
Ashley Young vs. Jose Enrique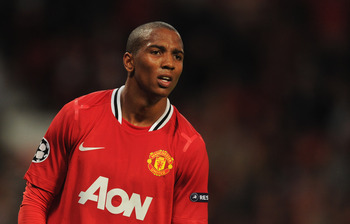 Michael Regan/Getty Images
Another stand-out for United has been Ashley Young, as he and Nani have terrorized fullbacks all season long.
José Enrique already look to have some trouble when he was outpaced at Tottenham, and while he has obvious talent and has arguably been the Reds' best signing, his inability to keep pace could cause him much trouble.
As mentioned, Nani will also probably see time against Enrique, who will have to manage his game a little closer to home this match than in previous ones.
Steven Gerrard vs. Darren Fletcher
Alex Livesey/Getty Images
Steven Gerrard should make his full return after another two full weeks of training thanks to the International break. After three straight cameos, there is no way I expect him to miss out on a clash of rivals like this.
He was part of the Liverpool side that defeated the Red Devils 3-1 at home, thanks to a Dirk Kuyt in front of the Kop.
Ironically, that was the last time the Reds' captain made a full appearance, as the following week he was ruled out due to his groin that eventually sidelined him up until now.
Darren Fletcher will most likely be the deeper midfielder that ends up tasked to deal with Gerrard, and the Scot will need all of his skills about him in order to contain the attacking midfielder.
His return against such a strong rival will his apt to make an impression as the Reds need a statement victory if they can pull it off.
Luis Suarez vs. Nemanja Vidic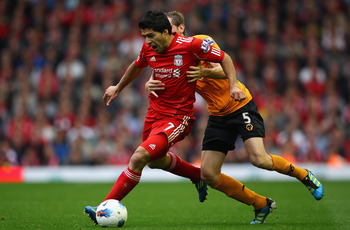 Clive Brunskill/Getty Images
United's Nemanja Vidic is expected to get a return call to the Red Devils first team on Saturday. Luis Suarez helped tear the United defense apart last March, and Vidic will be hoping to get the better of the Uruguayan this go around at Anfield.
The real issue will be if Suarez has found his scoring boots after he was gifted a goal in the Merseyside Derby on the first day of the month and scored in the previous match against Wolves.
The month of September saw the majority of his shots lack his usual finishing touch, and the crowd will be hoping they "just can't get enough" of Suarez on the weekend.
Conclusion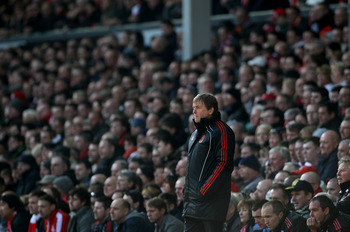 Alex Livesey/Getty Images
This will perhaps be the biggest match of the first half of the season for Liverpool, as it will set the tone for the rest of their run towards the January halfway point.
Luis Suarez will have to be on the top of his game, while the return of Steven Gerrard could not come for a bigger game as he was instrumental in the Reds' last home victory over Sir Alex Ferguson.
It will also be a key battle between old rivals as Kenny Dalglish and Ferguson once again continue their rivalry from a technical standpoint.
Thanks for following me and be sure to read further on Bleacher Report and at the links below. You can follow me on Twitter @thedailyatz and Facebook or visit my Website.
Keep Reading

Liverpool: Like this team?