Arsenal vs. Olympiakos Match Report: Oxlade-Chamberlain Shines, Flaws Exposed
September 28, 2011
Clive Rose/Getty Images
In the end, it's the result that counts.
A phrase that is generally uttered with complimentary intent, but a phrase nonetheless, that never fails to dissatisfy me. Because if it is said about your team, it is, at best, a back handed compliment. It either means that you played well but lost or tied, or it means that you didn't play all that well, but still managed to tie or win.
In Arsenal's game vs. Olympiakos at the Emirates Stadium today, it was definitely a case of the latter. A performance that delivered the desired points, but one that also brought a number of issues bubbling to the surface.
Looking at the positives, the three points were more than welcome. A third win in a row was vitally important. Nothing succeeds like success, and we've built up a nice little head of steam going into the weekend's game against the noisy neighbors.
There were some bright individual performances, too. Wojciech Szczesny was excellent, yet again; he could do nothing about the goal that went in. Alex Song was strong, smart and tidy. Emmanuel Frimpong and Mikel Arteta put in good shifts in midfield. And 18-year-old Alex Oxlade-Chamberlain showed the watching Theo Walcott why his spot on the right wing is in danger of being hijacked. He took his goal extremely well, and otherwise had a fine all-round game, getting into good positions, taking the opposition on, finding teammates and playing his heart out.
As a team, we defended well in the second half, showing concentration, application and grit, by and large keeping Szczesny's goal safe. And Aaron Ramsey played a nice little cameo after he came on, more in terms of his energy and drive than of the quality of football he played.
But it was not all milk and honey for Arsenal.
All the great Arsenal teams that Arsene Wenger has built had one trait in common: they loved hanging on to the ball. I don't believe he has eschewed this principle entirely, but it is as much a work in progress as is the entire team. In the first half in particular, I lost count of the number of times we carelessly gave the ball away to Olympiakos, thereby inviting more pressure on ourselves. And it's not that there were no ball players on the park. They just chose to be careless and half-hearted.
With nine players out injured, it was credit to Arsene Wenger's summer spending spree that we could afford to keep Van Persie, Ramsey and Gibbs on the bench. However, the more I look at some members of our squad, the less I am convinced that they will ever be major forces again.  Yes, I'm talking about Andrey Arshavin, Tomas Rosicky and Marouane Chamakh.  They looked sluggish, careless and uninterested, and aren't setting any kind of example for the younger players. And this has been going on for a while.  
They were slow to track back, generous in possession and lacking in attacking thrust. In fairness, both Arshavin and Rosicky did seem to get a second wind once Ramsey came on. It's amazing how competition for places does these things to you.
I can't get through this article without mentioning the goal. I play amateur club football in India, and if my defense had conceded a goal like that, there would have been carnage. There is no word to describe the defending other than shocking. The entire team fell asleep at the corner. No one reacted, even after the ball was in play and we conceded a really soft goal.  And I hope tea cups and the like were flying around in the dressing room afterwards.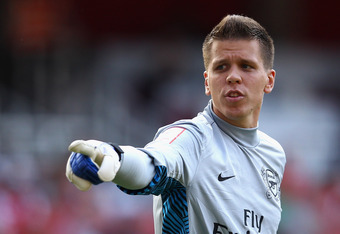 Richard Heathcote/Getty Images
Finally, I would have loved to have seen Francis Coquelin get onto the pitch tonight.  I feel he may be better than Frimpong in the medium to long term, and these are good opportunities to test a young player's mettle.
However, three more points signify another giant stride towards long-term strength.
Bring it on, the Lane!! You may have the speed of Lennon, the skill of Modric and the excitement of van der Vaart, but as the experts say...
 ...It's the results that count.
Follow me on Twitter @ratanpostwalla.