Inter Milan: How Their Offense Will Dominate Serie A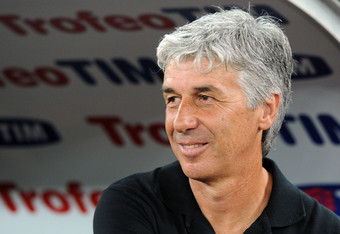 Giuseppe Bellini/Getty Images
One thing is for sure, regardless of whether Gian Piero Gasperini decides to use his style of a 3-4-3, or a 4-3-3 variation, and that is that Inter will line up with 3 primarily offensive players. Due to the wealth of offensive talent within the squad, Gasperini has the luxury of being able to play a few different systems, depending on the defense that he will come up against.
This flexibility can help Inter to separate themselves from the rest of Serie A's contenders and keep the opposition guessing as to how they will line up. There are three different ways that this front three can line up to devastating effect in order to take advantage of the talent within the team.
Option #1: Two Strikers ahead of an Advanced Playmaker
The players within the squad are familiar with this option, having played a 4-3-1-2 at times in recent seasons. The Advanced Playmaker position can be occupied by Wesley Sneijder. Sneijder is at his best when he is behind two strikers that occupy the central defenders and allow him the space upfield to work his game.
Sneijder is likely to be backed up in this position by Philippe Coutinho, Ricky Alvarez and Dejan Stankovic, who can all fill this role in Sneijder's absence, and the dark horse is Diego Forlan, who is comfortable playing deeper than usual.
The Two Strikers are likely to be two different types of forward: A Target Man and a Poacher. The Target Man's role would be to hold up the ball until both the Advanced Playmaker and Poacher can move into space to receive the ball for a goalscoring opportunity. This position can be occupied by Diego Forlan and Diego Milito.
The Poacher's job would be to sit very deep, and make runs that would be supplied by the Target Man or Advanced Playmaker. This player should also be a finisher, and virtually perfect from within the penalty box. Occupants would include Giampaolo Pazzini and Diego Milito.
Which Option should Inter line up with?
Option #2: Two Playmakers behind a Striker
This setup would be the option that the players have not played extensively in, and would take a lot of time to be comfortable with, but the potential end result is fascinating. The role of the Two Playmakers would be to link up with each other and pose a threat from distance, resulting in one or two of the center-backs to come out of his position to pressure the ball carrier.
When this occurs, the lone striker and the unoccupied playmaker make direct runs toward the goal, creating a situation where the remaining center-back must make a choice on who to mark. The indecision is to be capitalized on by the playmaker who is in possession, as he plays a ball to the open attacker.
Although complicated, this system would have success against four-man defenses that have wing-backs who press high up the pitch, and do not track back to cover the two center-backs. The Playmaker roles would be best occupied by Sneijder and Ricky Alvarez, who would be covered by Coutinho and Stankovic. The Lone Striker role allows for flexibility and Forlan, Milito, and Pazzini would all do well to occupy this position.
Option #3: Two Wide Forwards and One Striker
If Gasperini decides to stick with the 3-4-3 variation he used with Genoa, this is the most likely combination that he will use. The role of the Two Wide Forwards would be two add width to the attack and stretch the defense, allowing for the Striker to exploit the open space the formation creates.
The Wide Forwards would also need to be adept at coming to the byline and crossing, as well as cutting inside and attacking the goal. Inter has numerous options in this position but Mauro Zarate and Forlan are the top candidates, followed by Luc Castaignos, Alvarez, Coutinho, and the dark horse would be Sneijder.
The Striker will need to be technical with the ball at his feet, as well as a proven finisher. Milito and Pazzini are the top candidates for this role, backed up by Forlan. Gasperini is very familiar with this setup, and I expect this option to feature most frequently.
Which Option do you think Inter should go with and why? Will their flexibility make them the most feared attack in Serie A? All Comments are appreciated and you can follow me on Twitter @FCInterBlogGFT !
This article is
What is the duplicate article?
Why is this article offensive?
Where is this article plagiarized from?
Why is this article poorly edited?

Inter Milan: Like this team?