Manchester United vs. Arsenal: Arsene Wenger's Tactical Disaster
August 28, 2011
On a day when Arsenal's ladies team clinched the inaugural Women's Super League title, their male counterparts played like little girls in an abject, demoralizing and, quite simply, pathetic 2-8 loss to Manchester United at Old Trafford.
Let's get the excuses out of the way first.  
Arsenal were without Thomas Vermaelen, Bacary Sagna, Jack Wilshere, Abou Diaby, Kieran Gibbs, Sebastian Squillaci and Nicklas Bendtner through injury, and Alex Song, Gervinho and Emmanuel "Twitter King" Frimpong due to suspensions.  Arsenal had way too many rookies on the pitch and a bunch of kids on the bench—this must have been the first subs' bench ever to feature as many as four shirt numbers in the 40s and 50s.  United's finishing was fantastic; they served up a catalog of goal-of-the-season candidates (I can think of five). And you're not going to get that every day.
That's fair enough.
But Arsenal still scored twice (only three teams did that at Old Trafford last season in the league), missed a penalty at 0-1, missed two other very good chances and had a total of 20 shots in the game.  Yes, you read it right, 20.  
Unfortunately, Arsenal also conceded eight goals in a league game for the first time since 1896.  They allowed 25 shots at Wojciech Szczesny's goal.  They allowed United's players way too much room in dangerous positions.  They did not show the same hunger and desire to win the ball as United's players did.  And most of all, they did not receive enough tactical guidance and support from their manager, Arsene Wenger.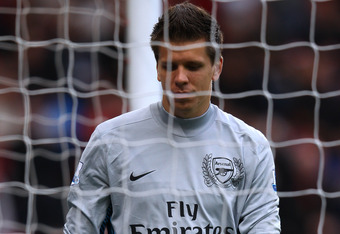 Those of you who have read any of my other pieces will know that I am Wenger's biggest fan and staunchest supporter.  I have rarely, if ever, criticized him.  But today, on the biggest stage, when Arsenal missed many of their their big players on the field, their biggest player went missing off it.
I will not dispute the way Wenger set the team up in the first half.  A big team like Arsenal (and I still say that with confidence) cannot go to Old Trafford trying to hang on for a 0-0 result.  But at halftime, with the scoreline reading 1-3, the "1" thanks to a somewhat fortunate injury time goal, he needed to change his tactics.  United's goals were good, but they were soft.  They were not goals that Sir Alex Ferguson's United team would have conceded.  They came about due to defensive fragility, a lack of concentration and the absence of aggression.  And United should have scored a few more in that first half.  
Arsenal were too soft through the middle, and Wenger should have known that United were not going to concede three goals in the second half.  He should have brought on Ignasi Miquel and Henri Lansbury after the interval.  Miquel is young, but he is a good defender.  Lansbury is just the kind of spiky character that Arsenal needed at the time.  And if Arsenal could have kept the scoreline at 1-3 till the 70th minute (it was actually 1-6), he could have brought on Marouane Chamakh to play with Robin van Persie in a 4-4-2 formation.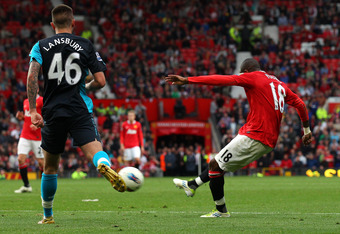 Wenger should have told his players to keep the formation tight, to close down space a lot better and to pressure United's players every time they got the ball.  Either he didn't, or if he did, they weren't listening.  Both scenarios are a major worry.
Wenger should have also told his players to pay particular attention to Ashley Young and Wayne Rooney, United's best two players on the night (and I'm not saying this because they scored five goals between them).  They had the freedom of Old Trafford for 90 minutes, and that is, quite simply, from an Arsenal point of view, a disgrace.
What was most frustrating to me was that for the most part, Arsenal looked like they were just going through the motions.  And even after United scored seven goals, there was a fear that because they were the hungrier side, they could reach double figures.
Having said all that, it is just one game and just three points dropped.  And that's why Wednesday's game at Udinese was far more important.  And when I think about it with a calmer mind, the team was crippled by injury and suspensions.  Maybe us Arsenal fans are being a bit too harsh.
But Arsene Wenger, the next three days are possibly the three most important days in your career.  You're lucky you don't have to worry about the players you have.  The international break will take them away from all things Arsenal, a good thing, really.  You, sir, need to worry about who you'll bring in.  The South Korean captain, Park Chu-Young, will be a good substitute.  But we don't need substitutes.  We need big players.  Two, possibly three of them.  Kaka and Tevez sound fantastic.  Wonderful, actually.  And a proper, established, experienced defender.  Cahill or Jagielka.  And a left back.  Traore didn't look too flash today, you must admit.
Arsene, now is not the time for pointless rhetoric.  Now is not the time for papering over the cracks.  Now is not the time to kid yourself (pun intended).  And most of all, now is not the time to be stubborn. 
Mr. Wenger, some of us do believe.  And we will believe.
Now it's over to you.  Do the unbelievable.  Not the unthinkable.