Edin Dzeko's 4-Goal Game Culminates His Arrival in the EPL
September 3, 2011
Michael Regan/Getty Images
This Past January Manchester City made a move that many people believed would be one of the best they had made since their overhaul began. Their move was the £27 million signing of VfL Wolfsburg star Edin Dzeko.
Dzeko had torn up the Bundesliga for the past three seasons with Wolfsburg scoring 85 goals in only 135 league appearances. Before his transfer he had already been a 2009 nominee for the Ballon d'Or.
His scoring exploits had already seen him take over the all-time scoring record for Wolfsburg as the next closest scorer only had 59 goals for the club.
Believed to be the final piece of the puzzle, Mancini put him straight into the lineup and he provided an assist to Yaya Toure against Wolves. He would score his first goal for the club in the FA Cup, which they would eventually win, on January 30th.
However, it would take until April for him to score his first Premier League goal, and his believed inability to adapt at times seemed to have people calling him a flop. But it was still too early to truly tell as he had not had a summer to rebuild his mentality and physicality to the EPL.
This year he has blown out of the doors for Manchester City. He has scored in every game the Citizens have played since the opening FA Community Shield weekend.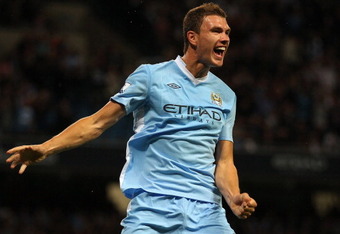 Alex Livesey/Getty Images
A long distance effort in the Community Shield proved he had his mind in the right place, as he caught Manchester United's young keeper David De Gea sleeping on the line not expecting a shot from range.
Dzeko then continued his exploits into the regular season scoring in the opening match against Swansea.
The second league game of the new season saw the title hopefuls travel to Bolton's Reebok Stadium for a tough test against a hard-nosed middle table club with a brilliant manager in Owen Coyle. Coyle has totally changed the attitude of the club since his arrival in January 2009, and looks to be making them push back to the top eight where they were several years ago.
City took a 2-1 lead into the half with Bolton looking to be on the ropes. What the Wanderers needed against City was a strong start to the second half but Dzeko denied them of any chance of that by firing home a low cross from James Milner just two minutes into the half.
Gary Cahill and Zat Knight seemed powerless against the Bosnian at times, and even though Wanderers would get a late consolation goal, the 3-2 victory was all City's.
Whatever people believed about Dzeko's fine form or ability after three straight games where he scored important goals would be completely redefined in the Citizens final game of the month of August when they hosted Tottenham Hotspur at White Hart Lane.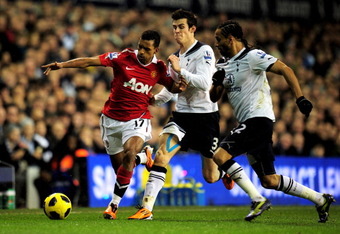 Shaun Botterill/Getty Images
Harry Redknapp's Spurs squad were fresh off a tough 0-3 loss to Manchester United at Old Trafford but were hopeful of possibly gain at least a point against City when they opened the Lane for business this season.
The last two seasons had seen Tottenham beat City to fourth in 2009-10, and then run close to them but finish fifth last season. However, this would be the time that Manchester City proved they have truly progressed in the last two years.
Samir Nasri had just arrived from Arsenal, and there were great expectations for the new look City lineup with the French play maker now combining with David Silva to support Sergio Aguero and Edin Dzeko.
It proved to be a match made in footballing heaven.  Nasri was spot on in combination with Dzeko as the Bosnian opened the scoring in the 34th minute to bring life into the match. The goal was a tap in with his right foot as Nasri's give and go with Sergio Aguero allowed him to float in a low cross ripe for the striker's picking.
Again Nasri and Dzeko would be the driving force in attack, as another cross in from the left met Dzeko in the air.  His header was tucked away for the second goal of the match at the 41st minute as the Citizens surged into the half 2-0 up.
The second half started bright again for City and it took just 10 minutes for Dzeko to complete his hat trick. This time Sergio Aguero and Yaya Toure combined and the Ivorian played in a low rolling ball from the right side that Dzeko tipped home with his left foot.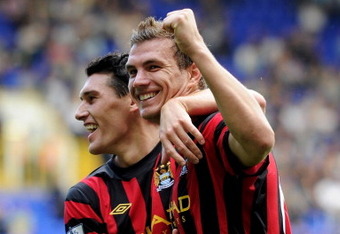 Michael Regan/Getty Images
His hat trick was complete, and done with class as he scored with both feet and his head in a clinical showing of what finishing is all about.
Five minutes later Sergio Aguero joined the Manchester City goal fest with a superb display of physical ability as he muscled through the defense to put the Citizens 4-0 up on their opponents.
Younes Kaboul finally put Spurs on the score sheet when he headed home a corner on the 68th minute, but the game was pretty much already done and dusted.
Dzeko, however, was not finished. Gareth Barry received a forward pass from the striker at the top of the box.  The midfielder simply trapped the ball and played himself to the other side while Dzeko drove forward, striking the ball into the far top corner with pinpoint precision.
His 90th minute fourth goal of the match completed one of the best performances in the EPL's history for a striker, and took his goal tally to seven in four games.
After such an impressive run to start the season, is it safe to say that Edin Dzeko has truly arrived in the English Premier League?
He has already scored more goals this season in four appearances than he did last season after 21. He scored his first league goal in the first game he had the chance, while last season it took him until April to get one into the onion bag.
It is unknown where it will all go for him from here this season, but it looks like nowhere but up as his partnership with Aguero is truly growing and he already looks to have a great understanding with Silva, Toure and apparently Nasri from the middle of the park.
The next four games for City between September 10th—when they return from the International break—and the first of October see them play much weaker opposition: Wigan Athletic, Fulham, Everton and Blackburn Rovers. All are likely to give Dzeko opportunity to score on more than one occasion, so I expect his goal scoring to continue.
September 14th, 2011 sees Manchester City make their Champions League debut against Napoli at home, and Dzeko will be expected to get on the score sheet then as well.
I look forward to watching Dzeko continue to perform, as he is a lock to fight for the Golden Boot at this point.
Thanks for Reading and be sure to check me out further on Bleacher Report and at the links below. You can follow me on Twitter  @thedailyatz and Facebook or visit my Website.