Arsenal News: Arsene Wenger's "Beautiful Treason"
August 8, 2011
Thank you, Jose Anigo.
Before any of you dash off to enlist the services of Google, Jose Anigo was the Marseille coach who, in early 2004, accused his player (and soon to be Arsenal's) Mathieu Flamini of "beautiful treason" for taking advantage of a loophole in French football regulations and sealing a £300k move to Arsene Wenger's Gunners.  I loved the phrase when I first read about it, and seven years hence, I have finally found the opportunity to use it.
Arsenal fans have been a troubled lot through the off-season.  The Cesc / Nasri sagas, the Club's inability to compete for the real big signings, the lack of top quality defensive reinforcements, the fact that we have not been able to offload the Eboues and Almunias.  The list goes on.
And add to that five days before we visit Newcastle for our proper season opener, we are facing a situation where we might start that game without the three players who are expected to form the spine of the team in 2011-12:  Thomas Vermaelen, Jack Wilshere and Robin van Persie.  All three have "knocks" of some sort, and since I'm not big on medical detail, that's all I'll say about the 'injuries.'
"Why is the word 'injuries' within quotes?" did you ask?  Because I am convinced that Arsene Wenger, after all these years, has taken a leaf out of Sir Alex Ferguson's book, and done to Belgium, England and Holland respectively what Sir Alex did to Wales on a regular basis.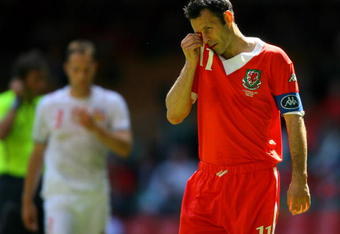 Stu Forster/Getty Images
"And what is that?" you may justifiably inquire.  That is, he has pulled a key player (in this case, three) out of a meaningless international match, citing injury in order to save them for the more important club matches that follow.
Ryan Giggs has played 876 times for Manchester United, in a career spanning 20 full seasons.  In no season did he play less than 30 games in all competitions (and only five times did he play less than 40 games), indicating a consistent fitness record over the years.  
Now, Giggs represented Wales 64 times between 1991 and 2007.  Yet in that same period, the Welsh national team played as many as 130 international matches, giving him a 49 percent attendance record.  How often was he pulled out of the Welsh squad for a Wednesday friendly, yet appearing as right as rain at Old Trafford three days later?  Sir Alex at his most shrewd.
Wenger knows that with Cesc's and Nasri's futures being uncertain, Vermaelen, Wilshere and van Persie will form the bedrock of his first XI, occupying crucial central positions from back to front.  He has burnt his fingers badly with previous injuries suffered by van Persie and Vermaelen while on international duty.  This time he is taking no chances.  
With four crucial games in the first 16 days of the season, and Arsenal needing to make the strongest possible start, the team cannot be without any of those three.  England v. Holland will always be feisty, even in a friendly, and he would rather not expose RvP and Jack to Terry and Cashley on one hand, or de Jong and van Bommell on the other. 
And consider this - with Wenger being as cautious as he is with regard to injuries, do you really believe that he would have allowed Vermaelen and van Persie to play on in a pre-season friendly, after they had suffered knocks??
If you want my take on it, well, while I don't support dishonesty in general, there are times when a man's gotta do what a man's gotta do.  In this situation, Wenger must make Arsenal's interests paramount.  Arsenal pay the players' salaries.  Arsenal foots the treatment bill.  It's a meaningless friendly that could have meaningful and disastrous repercussions for Arsenal.
With all that having been said, the proof of the pudding is in the eating.  Come 5:30 pm next Saturday at St James's Park, if we see numbers 5, 19 and 10 in the Arsenal first team line-up, I will do my best Jose Anigo impersonation (although I have no idea what that looks or sounds like), and say "beautiful treason"...