Arsenal FC: 7 Reasons Why Arsenal Must Have More English Players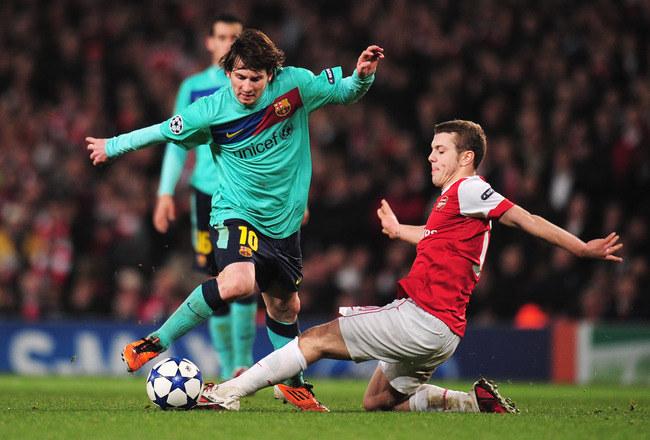 Shaun Botterill/Getty Images
Arsene Wenger has said that he picks players by their talent and not their passports (although we all believe France is the notable exception).
Pundits and the Media often demand that Arsenal increase the number of English, or at least British, players in their squad. Such remarks have been dismissed by Wenger and some Arsenal fans alike.
But is there some logic in the clamor for more Englishmen at Le Grove? Here are seven reasons why Arsenal should go English.
1. English Steel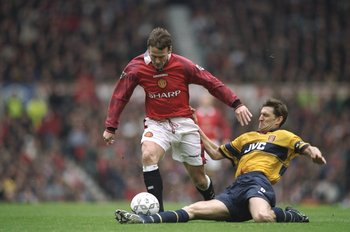 Shaun Botterill/Getty Images
English players are renowned for their fighting spirit and never-say-die attitude. Arsenal lack both these qualities, particularly in defense.
This is not to say that non-English defenders aren't good. However when it comes to the Premier League, it helps to have players who have experienced the rough and fast English game since birth.
One wonders if Arsene Wenger can buy defenders from the French Ligue 2, why he cannot find adequate recruits from the Championship or even the Premiership..
2. Concern for Club History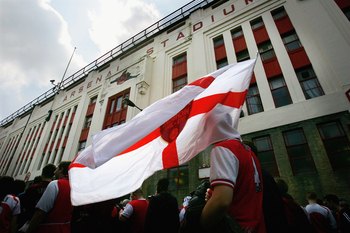 Daniel Berehulak/Getty Images
Ryan Giggs once confessed that he could not leave his house for a week, if Manchester United lost the Manchester Derby.
It is difficult to expect such awareness of club history from non British players. On many occasions Arsenal fans have wondered if their players really value the red and white jersey.
Arsenal let slip a two goal lead to Tottenham at the Emirates and lost to them at home for the first time in 17 years last year. The likes of Adams and Winterburn would never have allowed that to happen.
Among the current crop of players, the most passionate player appears to be the local lad—Jack Wilshere. His scuffle with a Tottenham fan, though incorrect, highlights the passion that he has for his club and a deep sense of Arsenal's history.
3. Loyalty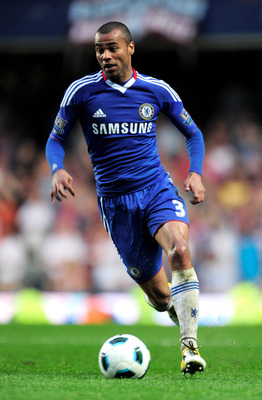 Jamie McDonald/Getty Images
It seems odd to write a piece about loyalty, with Ashley Cole's image alongside. He is however, precisely the reason why English players are likely to be more loyal.
Foreign stars who want to move away, such as Fernando Torres, Cristiano Ronaldo and now Cesc Fabregas are likely to be forgiven by the fans. The tag of traitor will never leave the likes of Ashley Cole and Sol Campbell though.
This will make English stars wary of leaving their clubs, especially for a rival. While Carlos Tevez left Manchester United for Manchester City, Wayne Rooney could not have done that in his wildest dreams.
It is safe to say that Jack Wilshere will never move to a Premier League rival, even though Arsenal's foreign stars are here today and gone tomorrow.
4. Integral Part of Past Wenger Success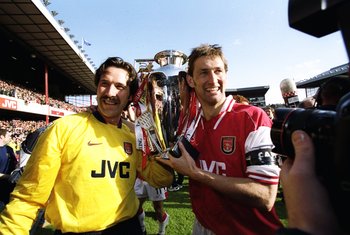 Ben Radford/Getty Images
1997-98 (double): This Arsenal side was largely British.
2001-02 (double): Arsenal still have an English core with players like Tony Adams, Lee Dixon, Martin Keown, Ashley Cole and Sol Campbell
2003-04 (invincibles): Defense has the steel of Campbell, Cole, Keown.
2006 - present (trophyless): Only youngsters Theo Walcott and Jack Wilshere were in the squad.
The point is that in all of Arsenal's past success, English players had played a vital part. Most of the players named above were leaders.
5. Referees Soft Corner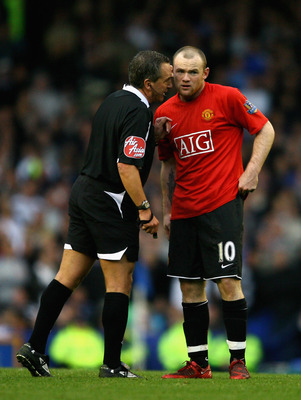 Pals: Wiley and 'Wazza'
Clive Brunskill/Getty Images
It is no secret that English referees have a soft spot for English players. How often have we seen the likes of Wayne Rooney, Steven Gerrard or John Terry get away with murder on the pitch?
It is natural for referees to be influenced by the likes of old stalwarts like Terry, Gerrard, Ryan Giggs and Paul Scholes, who many of them probably admired as heroes before starting their refereeing careers.
Arsenal are missing out on this special treatment because of the lack of English players. This in turn causes 50-50 decisions to go against the Gunners.
6. Media off Their Back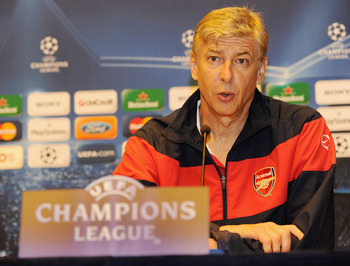 Michael Regan/Getty Images
Arsenal's lack of an English presence is one of the major reasons for the media's ultra critical attitude towards the Gunners.
Every little stumble is projected as a sign of impending disaster by the English press and eventually it turns into a self fulfilling prophecy.
There is also the ridiculous accusation of Arsenal 'destroying' English football by not giving opportunities to English players.
Arsene Wenger should obviously not make player selection due to media pressure. However having more English players will have the additional advantage of shutting up some of these rabble rousers.
7. It Works!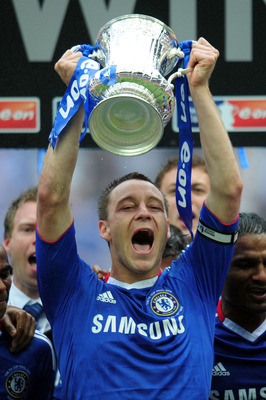 Shaun Botterill/Getty Images
The combination of all the aforementioned factors shows that it is indeed beneficial to have English players for any top team in the EPL.
The Premier League has been won by either Chelsea or Manchester United since 2004-05 season. Both these teams have a stable combination of foreign flair and English steel.
Successful teams like Barcelona and Bayern Munich have a bunch of players who also play for their respective national teams. Even the Inter Milan side, which by its name implies a side consisting of foreigners, had a few Italian players like Marco Materazzi, Mario Balotelli and Davide Santon.
This is why Arsenal must sign the likes of Scott Parker and Gary Cahill and bring in more youngsters like Walcott and Wilshere into the Arsenal fold.
Keep Reading

Arsenal: Like this team?