Leicester City managed to keep a powerful Arsenal squad at bay on Sunday, securing a 1-1 draw at the King Power Stadium.
Alexis Sanchez opened the score for the Gunners but the Foxes responded through Jose Leonardo Ulloa, and despite a very entertaining second-half display with plenty of chances for both teams, no more goals were scored.
Sanchez took advantage of some beautiful build-up work from Arsenal, slotting home from close range. The visitors' lead was short-lived, however, with Ulloa bringing his team back level with a powerful header.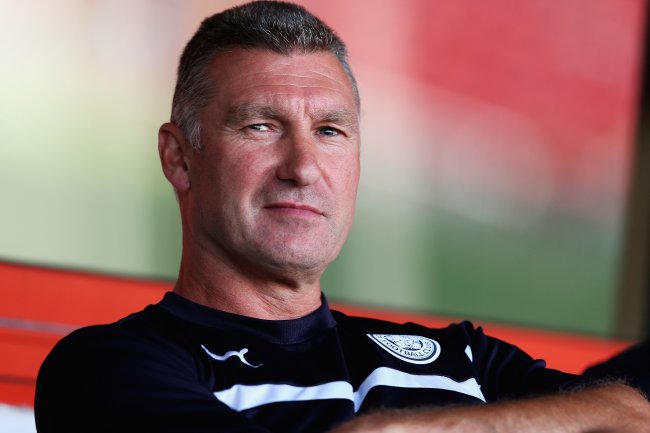 Matthew Lewis/Getty Images
Laurent Koscielny left the game with an apparent head injury , while both Mesut Ozil and Alex Oxlade-Chamberlain picked up late knocks that slowed them down in a frantic final five minutes.
Arsenal out-shot the Foxes by a tremendous amount, but Nigel Pearson wasn't bothered by that, as shared by the Independent's Jack Pitt-Brooke:
Nigel Pearson right to say that while Arsenal had far more nominal 'attempts on goal', Leicester were far more dangerous going forward.

— Jack Pitt-Brooke (@JackPittBrooke) August 31, 2014
He elaborated on that statement, per OptimaLive's Kelechi Nkoro, saying his team never felt threatened:
Leicester manager Nigel Pearson's words: "Despite Arsenal's 24 effort on goal we 'never felt in any danger.'

— Kelechi Nkoro (@K1Says) August 31, 2014
Arsene Wenger took a lot of criticism on social media for his decision to play Ozil on the wing and start Yaya Sanogo, who once again failed to make an impression. When asked about signing an additional striker, he remained evasive in his answer, via the Premier League's official Twitter feed:
Will Wenger sign a striker? "We work on it but let's not fool ourselves that the solution is to buy a player every time you don't win"

— Premier League (@premierleague) August 31, 2014
Reporters kept pressing for comments on potential signings, and per Sky Sports Football, he claimed the club was actively looking around:
Wenger on a signing before tomorrow's deadline: "We want to & are looking into that. We're very active." #SkyFootball

— Sky Sports Football (@SkyFootball) August 31, 2014
As shared by this Arsenal superfan Wenger said the fans shouldn't overreact to one result, making the comparison to Manchester City's surprise loss against Stoke City:
Wenger: "Look we have to find the personnel. We work on it. Man City lost yesterday & they have strikers. We want to (sign)." #AFC

— Sam (@samuelJayC) August 31, 2014
Wenger said he understood the pressure to add new players comes natural when the cub doesn't win, but via The Sun Football, he believes football doesn't work that way:
Wenger: "Pressure to buy is always there when you don't win a game - whether Giroud's injured or not. Football's more complicated than that"

— The Sun - Football (@TheSunFootball) August 31, 2014
When asked about Loic Remy, who joined Chelsea over Arsenal (as confirmed by the club's website), he refused to comment, per the Independent's Chris Wheatley:
Wenger on Remy: "I do not want to speak about individual cases. We are very active."

— Chris Wheatley (@GoonerTalk) August 31, 2014
The French manager praised the hosts, conceding a draw was the just outcome:
Arsene Wenger: "A draw was a fair result: we didn't create enough & they fought very hard. We lacked some creativity & sharpness." #LEIARS

— Premier League (@premierleague) August 31, 2014
As shared by Wheatley, Wenger saw his team struggle to deal with the busy schedule of the past few weeks, although he believes that shouldn't be an excuse:
Wenger: "We lacked creativity and sharpness. The CL was very demanding - it's not an excuse but we were a bit jaded."

— Chris Wheatley (@GoonerTalk) August 31, 2014
The pressure will be on Arsenal and Wenger to continue their work in the transfer market, but with just one day remaining to complete transfers, the Gunners will have a hard time finding the kind of value deals Wenger seems to love.
A home fixture against defending champions Manchester City is next on the schedule, and the squad will need to perform a lot better than they did on Sunday to have any chance of beating the Citizens.
Leicester continue to surprise in their first season back in the Premier League, and if they can keep up this level of play, there's no reason not to like their chances to avoid relegation.