Arsenal had to battle until the final whistle to overcome a strong Besiktas squad, but a goal from Alexis Sanchez just before the end of the first half proved to be the difference between both teams, as the Gunners advanced to the Champions League group stage with a 1-0 win.
The Gunners finished the match with 10 players, after Mathieu Debuchy was sent of inside the final 20 minutes for a second bookable offence. The Turks had two penalty shouts and came close to scoring late through Demba Ba, but on the night the hosts were deserving of the win.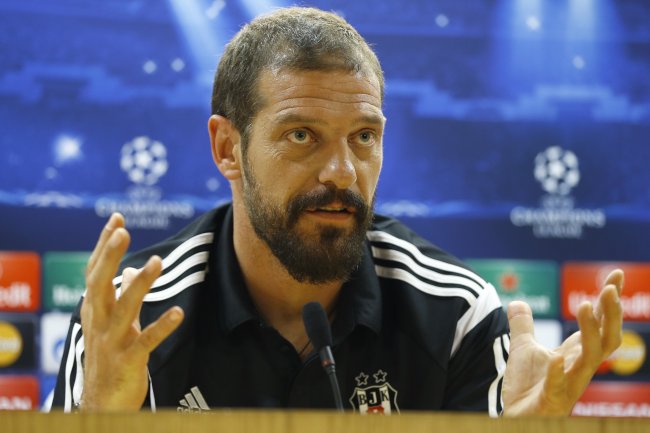 Kirsty Wigglesworth/Associated Press
Sanchez took advantage of some beautiful play between Jack Wilshere and Mesut Ozil, scoring his first goal in an Arsenal shirt.
Wilshere played a class match for the Gunners, with the only blemish the contact that gave the Turks their second penalty claim. After the match, he conceded he did make contact, per the Independent's Chris Wheatley:
Wilshere on Besiktas penalty shout: "I think I did [make contact]. I slipped."

— Chris Wheatley (@GoonerTalk) August 27, 2014
Arsenal had plenty of chances to put Besiktas away before Debuchy's red card, however, and over the two fixtures, the right club certainly advanced to the Champions League's group stage.
Arsene Wenger expressed pride in his players for keeping a clean sheet over two difficult matches against a very strong team:
Wenger: "In the two games we kept a clean sheet and it made a difference."

— Chris Wheatley (@GoonerTalk) August 27, 2014
Form is always a factor this early in the season, and the French caretaker saw some of his players struggle with the pace late in the tie:
Wenger: "Some players were on the edge physically with 10-12 minutes to go."

— Chris Wheatley (@GoonerTalk) August 27, 2014
Wenger also told Sky Sports (h/t to ESPN FC) striker Olivier Giroud will be out until December or January:
Arsene Wenger has just told Sky Sports that Olivier Giroud will be out of action until December or January.

— ESPN FC (@ESPNFC) August 27, 2014
As shared by The Guardian's Daniel Taylor, that doesn't mean Arsenal will shift their focus to the transfer market:
Wenger: "You will ask me straight away who we will buy and, at the moment, nobody." #AFC

— Daniel Taylor (@DTguardian) August 27, 2014
Overall, Wenger was satisfied with his team's performance, although he rued the missed chances that could have ended the contest far sooner:
Wenger: "We produced the performance we wanted on the technical side and the tactical side but we couldn't finish it off." #AFCvBES

— Arsenal FC (@Arsenal) August 27, 2014
He also disagreed with the official's decision to give Debuchy his second yellow card:
Wenger: "The sending off was harsh because @MatDebuchy took the ball but we dealt with it even though it was a nervy last 10 minutes."

— Arsenal FC (@Arsenal) August 27, 2014
Wenger ended his interview by complimenting Besiktas, who gave the Gunners everything they had over 180 minutes:
Wenger: "I must give credit to Besiktas because they are very strong and well organised. We kept Ba quiet." #AFCvBES

— Arsenal FC (@Arsenal) August 27, 2014
Slaven Bilic was widely praised on social media for his tactical approach, only conceding once against a powerful Arsenal attack. While his team came close to upsetting the Premier League team, just the fact they kept things this close was a victory in itself.
When asked about the penalty decisions on the night, he kept things short, per The Associated Press' Mattias Karen:
Slaven Bilic on penalty situations: "I don't want to comment. I was banned enough."

— Mattias Karén (@MattiasKaren) August 27, 2014
He was applauded for the response on Twitter, with many wondering how his opponent on the night would have reacted to the same question had the situation been different.
As shared by Bleacher Report's James McNicholas, he was humble in defeat, congratulating the Gunners on qualification:
Bilic dignified in defeat. "I would like to congratulate Arsenal, they showed that little bit of extra quality in the box."

— gunnerblog (@gunnerblog) August 27, 2014
Urheilusanomat's European correspondent Eero Laurila shared this final quote from the manager, where he stated he wants to make waves with his club in the Europa League:
Bilic: "We want to do business in Europa League".

— Eero Laurila (@eerolaurila) August 27, 2014
Arsenal have been a fixture in the Champions League for more than a decade now, and while their double-header with Besiktas certainly wasn't easy, the Gunners will now reap the financial benefits of top-level international football.
Other top clubs will want to avoid Arsenal at all cost as this young and exciting team is only going to get better over time.