Film Focus: How Chelsea Silenced Arsenal's Midfield and Attack in Cup Victory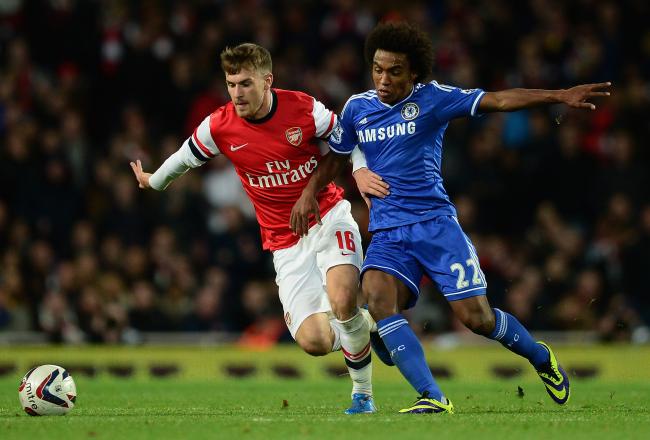 (Photo by Jamie McDonald/Getty Images)
Another potential chance at silverware went begging on Tuesday night for Arsenal, as they crashed to a 2-0 defeat at the hands of Chelsea in the Capital One Cup.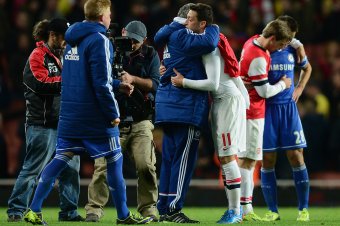 /Getty Images
Both teams did rest a number of key players, but with the likes of Juan Mata, Willian, Jack Wilshere and Santi Cazorla all taking the field, there was certainly still an important edge to this one, with neither Jose Mourinho nor Arsene Wenger wanting to leave the Emirates empty-handed.
In the end, it was the Special One's midfield that emerged triumphant on the night, with Arsenal, again, left to rue a lack of concentration at the back. Yet, while it might just have appeared like several key errors guided Chelsea to victory, it was indeed a far more comprehensive performance from the Blues.
Let's break down the film and see how Chelsea won this London battle.
Arsenal Overcommit to Central Movement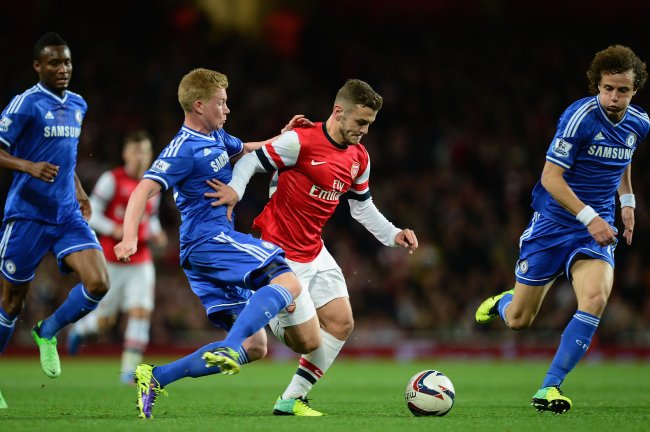 /Getty Images
One of the most surprising achievements, so far this season, for Arsenal, has been their ability to take over in the middle of the field. They've gone from being a pass-happy team guided by Mikel Arteta with an occasional Jack Wilshere run to being a highly organised and lethal outfit that—with the likes of Mesut Ozil and Aaron Ramsey in the ranks—can seemingly break open a defense at will.
It must be noted that, so far this year, that's been a positive for Arsenal.
However here, it led to much of their undoing. The North Londoners were too willing to attack the middle of the field to try to break open the Blues like they did Norwich with that wonder goal to Wilshere.
Only problem is, this isn't Norwich. This is Chelsea, and their midfield and defense are much tighter than that of the Canaries (without any disrespect, of course).
Especially after going a goal up.
The image below paints a telling picture for Arsenal, who at this point, are trying to work their way back into the match. They've conceded the goal from Carl Jenkinson's error, but slowly, the Gunners are working their way back into the match, picking up some possession and looking more potent in attack.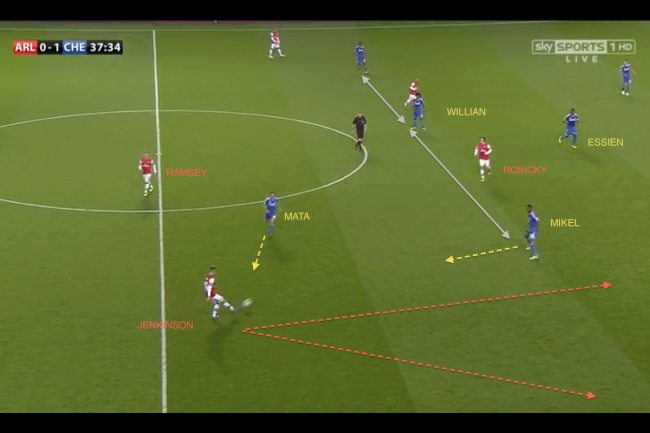 But as the ball is played wide to Jenkinson, his first thought is to play it centrally to Tomas Rosicky, despite the fact he's marked by three or four blue shirts.
Ryo Miyaichi is doing his best to get wide on the flank, and while the youngster isn't Alex Oxlade-Chamberlain, Theo Walcott or Ozil, he is in the best position to receive the pass. But Chelsea know that the ball isn't going to go out there, so they can cram the middle with extra defenders and clog up the space that Arsenal would ideally like to use to construct their passing movements.
Moments later, the same issue occurs again for Arsenal.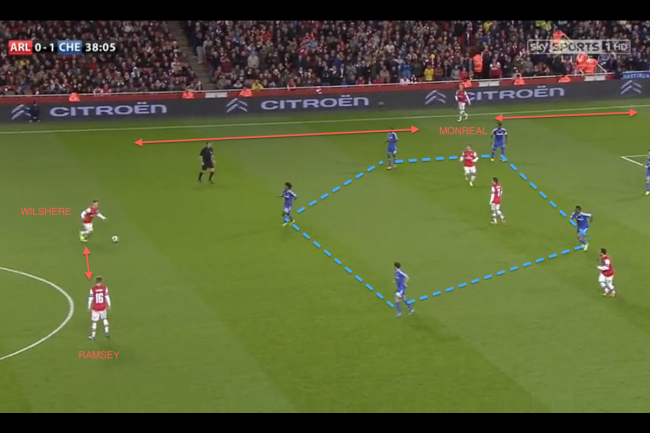 Wilshere and Ramsey are playing in each other's pockets at the moment, as they try to spark something from the middle of the field, but they appear bereft of ideas as to where to go. The reason for that is the outlet they'd ideally like to go to—Santi Cazorla or Rosicky—is currently being marked out of the game by a swarm of Chelsea midfielders and attackers in the middle corridor.
Meanwhile, Nacho Monreal has a ton of space down the left flank.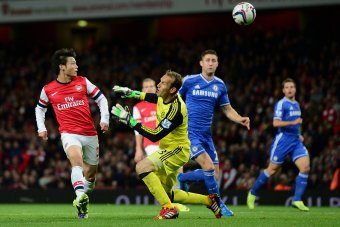 /Getty Images
Now I'm not suggesting that Wilshere should pass to Monreal. You know as well as I do that to attempt such a pass would be foolish and that it would lead to a turnover more often than not, but the point still remains the same. Wilshere and Ramsey are looking to play centrally nine times out of 10—even if that means playing a risky pass or a hopeful through-ball.
They'd be much better off playing to the wings—especially in this game.
Chelsea had Azpilicueta on the right flank (who was completely shown up against Schalke earlier last week) and youngster Ryan Bertrand playing on the left.
Again, no offense, but neither are exactly what you'd call world-class.
Especially with Ozil sitting on the bench, Arsenal would have been much better off trying to isolate the Blues' wide men by using the full width of the pitch and then, in turn, exploiting the space in the middle of the field that would naturally arise out of that. Trying to attack it from the opening whistle simply allowed Jose Mourinho's men to plug the central corridor and, to a large extent, nullify this threat of the Gunners.
When Ozil did come on, the German instantly found success out wide.
His first touch on the left saw him beat two defenders and almost work his way into the box; he then moved out to the right and nearly created a goal-scoring chance.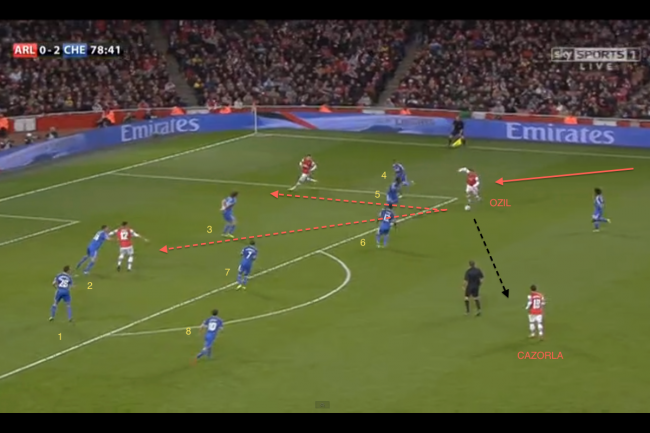 Had he played a pass to Cazorla in this situation instead of trying to hit the miracle pass, the Spaniard could well have hit the target—like he did against Dortmund.
To find space in the middle, Arsenal needed to utilize the flanks, which they simply couldn't do without Ozil on the field. By then, it was all over, bar the shouting.
Jack Wilshere and Aaron Ramsey Fail to Gel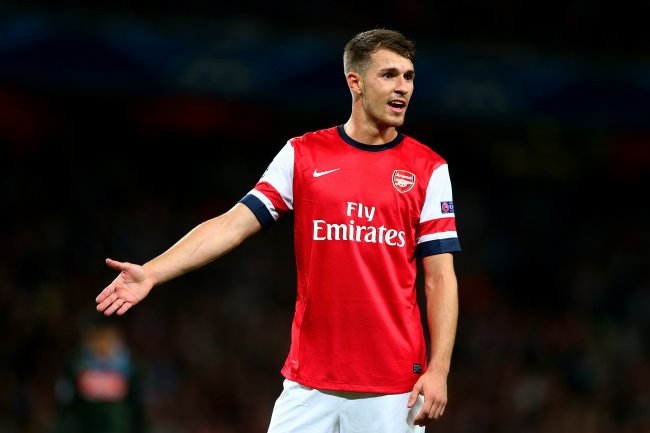 /Getty Images
Ramsey has started this season like a man possessed. Wilshere is supremely talented and (rightly or wrongly) billed as a future stalwart of England's midfield.
But together, they aren't a good combination for Arsenal.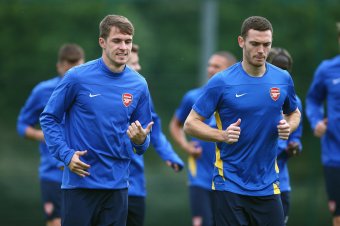 /Getty Images
The successes of both Cazorla and Ozil have masked their problems together so far this year, but they were shown up here against one of the best defensive teams in the league. They were not helpful to one another in attack; they were hardly helpful at all when it came to defense.
Wilshere loves to stride forward from the middle of the field with his surging runs and link up with those ahead of him—as we saw in the goal he scored against Norwich.
However, when played in defensive central midfield alongside Ramsey with other attacking options ahead of him, that isn't what's required. Such a style might work when a less-attacking-minded Mikel Arteta is on the field but not Ramsey. The latter has shown to be just as keen—and complete—in attack as Wilshere.
@BlueTintedNick Worth checking the team bus before leaving in case Wilshere and Ramsey are still in Mikel and Essien's pockets.

— Chelsea Youth (@chelseayouth) October 29, 2013
For mine, the best combination would probably be Ramsey and Arteta. I'm not sure where that leaves Wilshere, but the Englishman just isn't suited with Ramsey.
Look at the images below: Wilshere running forward, Ramsey in midfield.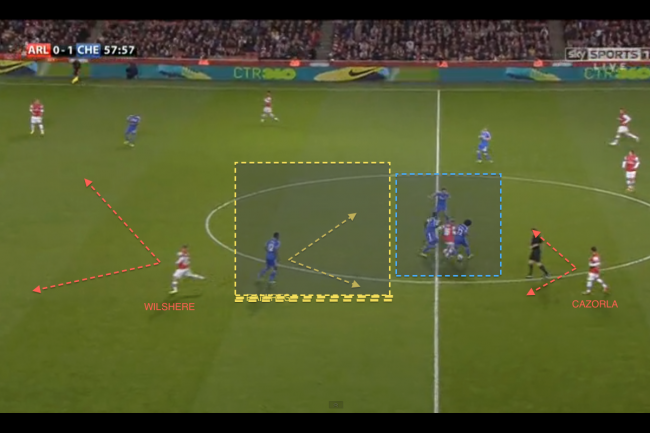 In the first image, Cazorla (playing attacking midfield) was ready to receive the back-pass from Ramsey while Wilshere sprinted downfield.
He wasn't in a position to help his double-pivot, and even if Ramsey had managed to get out of the traffic, Mikel was there to intercept it.
Fast-forward a little, and Wilshere has continued his run downfield.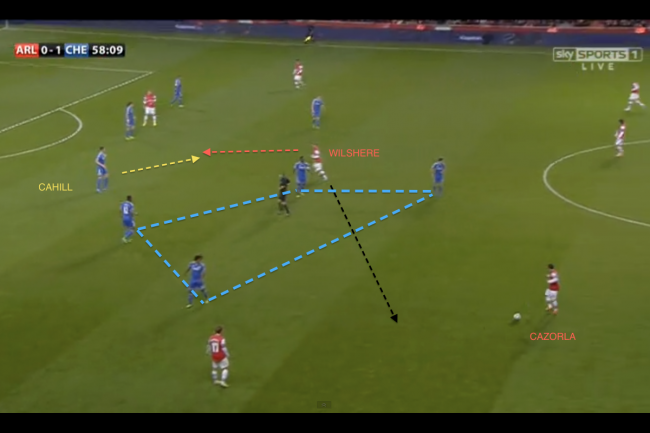 In fact, he's trying to push up to Gary Cahill in central defense, while Cazorla battles away in central midfield—faced with four blue shirts ahead of him.
That's not to say that Wilshere can't press forward, but he can't do it at the expense of others in the team. Intentionally or not, the Englishman nullified much of the attacking threat that Ramsey provides by pushing too far forward in this game—forcing others around him to cover him in defense. That's not a double-pivot, then; that's just a central midfielder all off on his own.
Yaya Toure and Fernandinho have a wonderful ability to know when to push individually and when to sit back and allow the other to push. Sami Khedira and Bastian Schweinsteiger in the German national team have it as well. Unfortunately, Ramsey and Wilshere don't, and it hurt the Gunners.
Jose Mourinho's Juan Mata Takes Over the Middle
/Getty Images
Mourinho's comments about Mata needing to do more work in defense have been bled to death by now, but they are certainly worth looking at once more after this one.
"Juan has to learn to play the way I want to play," Mourinho said via ESPN. "He has to be more consistent, has to be more participative when the team loses the ball, and I think it is not his fault. It is just a consequence of the way he played in the last few years."
Any doubts about Mata playing a more "complete" role were banished following Tuesday's win. He was monstrous in attack—running at defenders and laying off passes everywhere—but most importantly, he was active in tracking back and working the ball out of Chelsea's end.
Compared to Ramsey and Wilshere, Mata was simply a class above.
In defense, Mata would drop back time and time again to sit ahead of his defensive midfielders but also in front of Arsenal's midfielders. Ramsey or Wilshere—whoever had the ball—knew they needed to beat an extra layer of defense in order to get the ball through to the likes of Cazorla, and unsurprisingly, their attempts failed.
Cazorla was forced to drop further and further down the pitch while Mata continued to track back and work in defense—like the previous image showed.
However, there was one 15-second spell that stunned me in this one.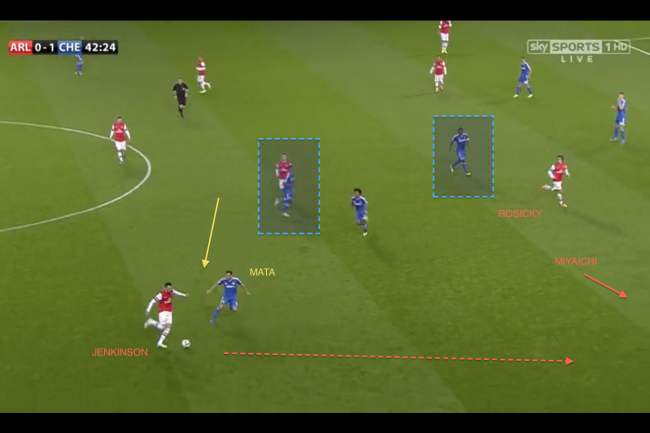 It started with Mata as the highest Chelsea defender on the pitch, pressuring right-back Jenkinson. The defender played a ball down the line to his winger, Miyaichi.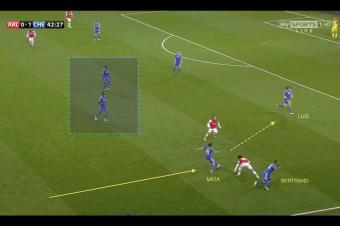 Almost instantly, Mata was there. He won the tackle and then played the ball back to defender David Luiz. He had gone from being the highest defender on the pitch—ahead of Samuel Eto'o even—to being behind the club's defensive midfielders playing it back to the centre-back.
But he wasn't finished.
A few seconds later—as he was moving back up the field—Mata realised that Luiz was unsure of what option to play coming out of the back. Rosicky and Miyaichi had done a nice job to hem him in somewhat and were threatening to win the ball back until Mata stepped up.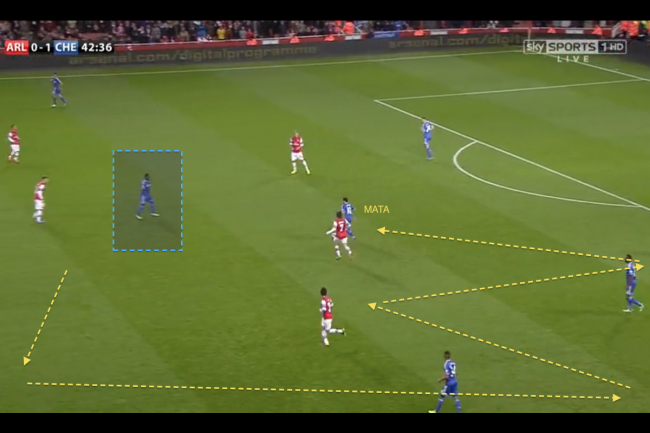 He ran back, picked up the pass and then moved forward to help the Blues break—importantly, without forcing the likes of Ramires or Essien to move from the middle.
Look at the blue squares, they don't move. It's all Mata.
Juan Mata is a damn classy fellow.

— 101 Great Goals (@101greatgoals) October 29, 2013
In 15 seconds, he covered more ground than most players on the pitch put together. He hustled defenders, made tackles, passed, presented and then passed again. It was everything Mourinho would have wanted to see from his attacking midfielder and completely showed up the likes of Wilshere (in the image previously) where he was running away from Cazorla.
Man of the match in more ways than one.
Hit me up on Twitter for more sports goodness: Follow @dantalintyre


This article is
What is the duplicate article?
Why is this article offensive?
Where is this article plagiarized from?
Why is this article poorly edited?