Why Each Premier League Manager Could Be the First to Be Sacked in 2013-14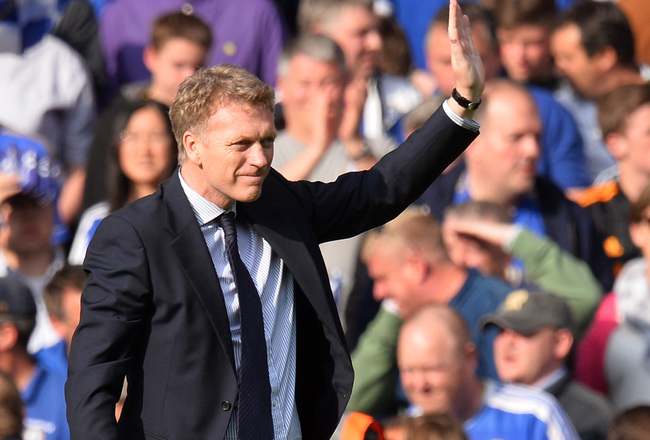 Mike Hewitt/Getty Images
The 2013-14 season will be unlike any other in recent memory, the teams who finished first, second and third last season will all start the campaign with a different manager.
Arsene Wenger's Arsenal finished fourth, but for a team that was once one of the best in the world to be celebrating a Champions League qualifying place like it was the World Cup, a fall from grace has occurred, and dissatisfied voices have been heard of Mr. Wenger's tenure.
In fact, if you look at who finished fifth, sixth and seventh, we are in a unique situation where there is no manager who you would say has complete job security.
With the retirement of Sir Alex Ferguson, the aforementioned Arsene is the longest-serving manager in the country by a long way. The next longest-serving manager in the Premier League is Alan Pardew, who has been at Newcastle United a little over two years.
We hear about "The Sack Race" every year—the first manager in the Premier League to get the sack. Last year it was Roberto Di Matteo who edged out Mark Hughes by a matter of two days. Usually, at the start of the season there are some managers who you can confidently say "there's no chance he'll get fired."
Not this year.
This is the first season where there is arguably potential for every single manager in the Premier League to be the first to be sacked in the 2013-14 season.
So we're running through every manager in the league and explaining why their head is on the block and what it will take for that axe to drop.
Arsene Wenger of Arsenal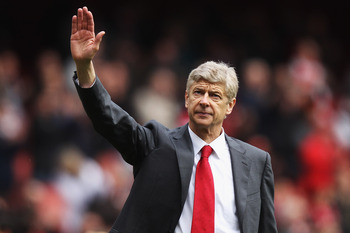 Bryn Lennon/Getty Images
In the eight years since Arsenal last won silverware, the dissenting voices for Wenger's reign at Arsenal have gotten louder and louder with each trophy-less year.
For heaven's sake, when Piers Morgan is calling for you to go, you must have done something wrong*.
The people who own Arsenal now, didn't own Arsenal in 2005.
And if reports of the board injecting cash into the side are true, Gazidis and company will expect a return for their money.
They've been comfortably qualifying for the Champions League every year; if that purse is to finally be crow-barred open, surely more will be expected of him.
If Arsenal are not in the top three, like they used to be, almost instantly after Wenger has made some big-money signings, then it may finally be the end for Arsene's Arsenal…
…and Alan Pardew will be the longest-serving manager in the Premier League. Madness.
(*sarcasm, very intense sarcasm. Never take anything Piers Morgan says about football seriously.)
Paul Lambert of Aston Villa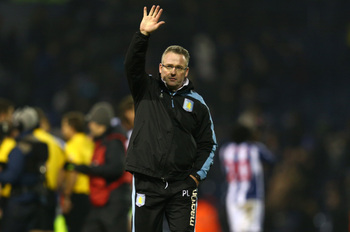 Clive Mason/Getty Images
Despite circling the drain for the majority of last season, Aston Villa fans cut Paul Lambert a lot of slack.
Seemingly due to the simple fact that he isn't Alex McLeish.
If Villa found themselves in an early relegation battle, perhaps fans would forget about Mr. McLeish's drab legacy and realize that a team that has for so long took their Premier League status for granted are on the verge of dropping into English football's second tier and that a change of manager is necessary.
Especially when they consider that Lambert does not have a history of taking a team who have been relegation threatened to mid-table stability.
It may be unthinkable for a once European giant to get relegated. But it was unthinkable for Nottingham Forest once upon a time, and look at them now.
...They're well in the Championship, if you didn't know. And they recently got rid of Alex McLeish.
Malky Mackay of Cardiff City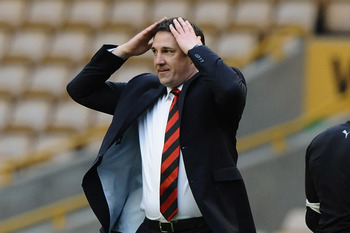 Tony Marshall/Getty Images
There is always an often unfulfilled expectation of teams who have won the Championship the season before to do comfortably well in the next season in the Premier—but when has it ever happened?
Last season Reading went straight down.
The season before QPR stayed up by the skin of their teeth then dropped the next season.
Before that Newcastle United did well, but a team of that quality is an anomaly.
And with the Cardiff owners, who seem quite eccentric to the everyday football fan, you would not put it past them to pull the trap door early on Mackay if they find wins hard to come by. Despite every neutral expecting them to struggle.
If results are going badly, an early season match against fierce Welsh rivals Swansea ends in a heavy defeat for Cardiff, it could be goodbye for Mackay
And, as "goodbye for Mackay" rhymes—that will also be the headline on all the tabloid sport pages.
Jose Mourinho of Chelsea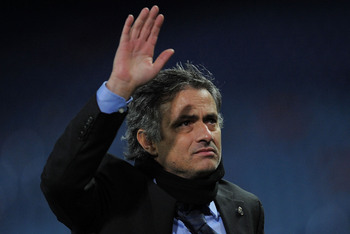 Denis Doyle/Getty Images
Let's not mince our words.
Roman Abramovich loves firing managers.
He absolute loves it.
And it seems he loved firing Mourinho so much, he's brought him back for a second turn.
Chelsea were the first team to sack their manager last season, after Di Matteo's side that had won the Champions League underachieved in Europe and failed to threaten to break the Manchester monopoly.
And you can't help but think that with the return of Mourinho success is just assumed at Stamford Bridge. But don't forget this is a manager who didn't live up to expectations at Real Madrid.
Real Madrid being the team who have won more European Cups or La Liga titles than any team in history.
If there was one team in the history of world football where it's difficult to not achieve a lot of success, it's Real Madrid.
He only had one strong challenger at Madrid, with Chelsea he has two in the Manchester clubs, and a good season for Arsenal, Spurs or Liverpool could make it three.
Success is not guaranteed, and if it looks early on like Chelsea won't be challenging on the domestic or European front, Mr. Abramovich might fancy repeating history and calling his itchy trigger finger into action.
Do many people outside of Chelsea expect them to win the league this year?
Not really.
Do many people inside of Chelsea expect them to win the league this year?
It seems a lot of them do.
And let's not forget that Roman was never a fan of how Mourinho's Chelsea played football, and the teams Jose has managed during his Stamford Bridge absence have hardly been playing pure totaalvoetbal as fluid as a waterfall, have they?
Couple mediocre performances with the style of play, and it's conceivable Mourinho could be in for an early exit from a team that specializes in utilizing that early exit.
Perhaps if The Special One once again became The Unemployed One, a certain Mr. Benitez in Napoli would be getting a phone call involving numbers with lots of 0s on the end and the word "interim" mentioned a few times.
Ian Holloway of Crystal Palace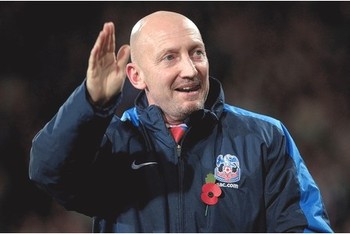 As a team who have entered the Premier League via the playoffs, your expectations are lower than any other team.
You can't help but think this Wilfried Zaha-less Palace side, which is currently looking very weak, will be in the bottom three for most of the season with 17th being the best it can hope for.
But Crystal Palace fans wouldn't be human if they looked at the two playoff winners before them, West Ham and Swansea, who went straight into mid-table stability despite being written off and deciding they want a piece of that action.
As long as Palace don't go down in a similar style to Derby in 2007/08, you'd like to think Ian Holloway could keep his job even if The Eagles are doomed, but Ollie's biggest flaw is his face.
Well, not because he's ugly, the Palace owners aren't that harsh, but what comes out of his face.
If Palace are stuck in a relegation battle early on and he starts openly criticising the way the club is being run or the way the owners handle matters or starts divulging stomach-turningly intimate details about his love life, the powers that be at Selhurst Park might opt to go down with dignity as opposed to kicking and screaming and replacing him early on.
Roberto Martinez of Everton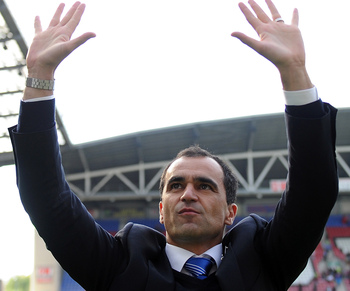 Chris Brunskill/Getty Images
When the person you are replacing is replacing Sir Alex Ferguson, you have got high expectations on your hands, buddy.
And it's those expectations that could be Martinez's downfall.
Roberto Martinez isn't a proven manager in the Premier League—he has a great reputation and plays lovely, adventurous football, which is why Everton hired him, but when you look at the stats you'll see he hasn't spent much of his time in England's top flight out of the relegation zone.
And let's not forget that a horse is only as good as its last race.
Martinez's last race ended in his Wigan Athletic side relegated before the last day of the season.
One sniff of a relegation battle could send alarm bells off at Goodison Park and a Gob Bluth style "I've made a huge mistake."
Martin Jol of Fulham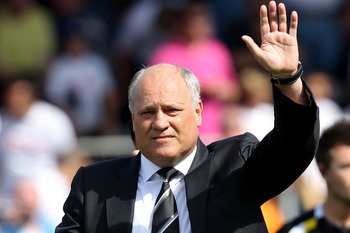 Jan Kruger/Getty Images
It may never have seemed like they were in a relegation battle last season, but they finished only six points from the drop and, despite, never realizing it, Fulham were very close to the drop zone late on.
And if you take away Dimitar Berbatov's 15 goals, you would have had a team in real trouble.
If Fulham don't strengthen in every area apart from the position Berbatov plays in, they could find themselves in danger.
And let's not forget that Dimitar can be temperamental, if he stops firing then what do they have? You can't help but feel if Berb isn't on form, Fulham could do what their West London neighbours did a year before them and nosedive straight into the Championship.
Jol has a good reputation, but you look at his record and you wonder why? He's only ever won the Dutch Cup twice and nothing else. He didn't even win the league as manager of Ajax, which is like not winning the league as manager of Real Madrid or Celtic.
At the moment, Martin Jol's job seemingly relies on Dimitar Berbatov's form.
Steve Bruce of Hull City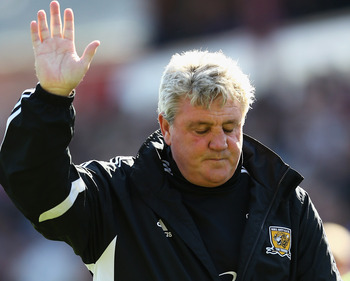 Matthew Lewis/Getty Images
Hull City are an odd one.
Looking at the side, there isn't much Premier League pedigree at all, so you'd think they, like Crystal Palace, are hoping to scrape Premier League survival in 2013-14.
But there wasn't much Premier League pedigree in last season's Southampton side, or the season before's Norwich or Swansea side, and they survived quite comfortably. The fall of QPR proves that you don't need big names to stay in the Premier League.
Could Hull be blamed for dreaming of a season where they don't have to constantly stare into the abyss?
Steve Bruce delivered mid-table stability to pretty poor Wigan and Sunderland sides in the past, is it secretly expected of him to do the same of Hull quite quickly?
2008-09 was the last season where a newly promoted club didn't end up sacking their manager. If Bruce delivered the sort of form that was expected of them by the neutral (i.e. losing a lot), like Nigel Adkins did at Southampton and Brian McDermott did at Reading, is it that inconceivable that a board with hopes of mid-table stability might be fluttering their eye lashes at the Martin O'Neills, Roberto Di Matteos or Owen Coyles of this world?
And with a vacancy at Bruce's beloved Wigan Athletic, he could be the first manager out of the door on his own accord, according to the Daily Mail.
Brendan Rodgers of Liverpool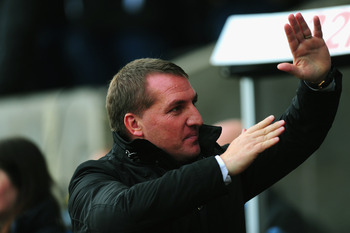 Stu Forster/Getty Images
Brendan Rodgers' young side had flashes of brilliance last season but also flashes of inexperience. In 2013-14 progress is expected.
But perhaps for a team with as wonderful a history as Liverpool's, that progress is expected a lot faster than is achievable. With Luis Suarez seemingly on his way out and Steven Gerrard not getting any younger, a lot of expectation is being placed on young heads.
And those young heads might not be up for it.
Would Liverpool fans be happy with another seventh-place finish, another season below Everton, with memories of Istanbul still fresh in their minds?
Unlikely.
An early showing that Liverpool are condemned to mid-table mediocrity for the season or worse could mean an early exit for Brendan Rodgers.
Another route to the exit could if Rodgers keeps Suarez against his will.
An unhappy Luis Suarez is a dangerous Luis Suarez. A dangerous Luis Suarez is another PR disaster waiting to happen. Another PR disaster waiting to happen is an unhappy board of directors. An unhappy board of directors is looking for a scapegoat. A scapegoat is Brendan Rodgers.
A Brendan Rodgers is unemployed.
(Probably) Manuel Pellegrini of Manchester City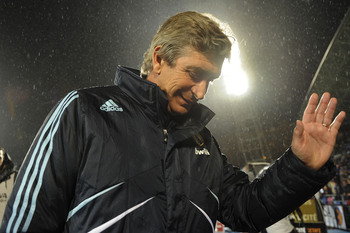 Denis Doyle/Getty Images
When you're in the business of firing your managers for finishing second in the league, your expectations are higher than The Beatles were during their Sgt. Pepper's Lonely Heart Club Band era.

When Roberto Mancini, the club's most successful manager since Joe Mercer, is fired after three-and-a-half years and you're expected to do better. It's like playing a computer game on "Extremely Difficult" setting. Whilst drunk.
Europa League qualification won't do for Manuel Pellegrini (if it is Pellegrini who replaces Mancini, as it is widely believed).
Fourth place won't do for Pellegrini.
Third place won't do for Pellegrini.
A distant second place won't do for Pellegrini.
If it looks early on that Man City will do anything but challenge (or even win the league), the manager may be shown the door.
David Moyes of Manchester United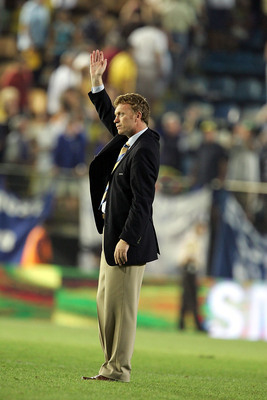 Phil Cole/Getty Images
David Moyes is a man with bigger shoes to fill than a trainee clown.
Manchester United must be very nervous, like a teenager who has left home for the first time. How are they going to cope?
If Manchester United aren't beating teams week-in and week-out like they're used to and are putting up honourable, but not always victorious performances like David Moyes is used to, they could go running back to Daddy for help.
And with Daddy not far away, as a director and club ambassador, he might feel it is his duty to take over and steer them in the right direction until a better successor is in place.
Not since the 1990 third round FA Cup clash with Nottingham Forest has a Manchester United manager been so close to being fired.
But it's foreseeable, isn't it? Manchester United do "OK" by everyone else's standards but "disastrously" by their own, and they get Ferguson back to replace Moyes before Christmas.
Cue another 26 years of Sir Alex as manager, where Paul Scholes retires and unretires seven or eight more times.
Alan Pardew of Newcastle United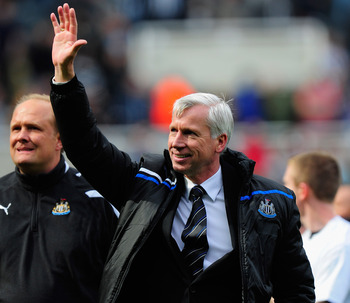 Stu Forster/Getty Images
2011-12 saw Newcastle United so close to achieving Champions League football.
2012-13 saw Newcastle United so close to achieving Championship football.
You can't help but think that ridiculous eight-year-contract was the only thing that stopped Mike Ashley pulling the plug on Alan Pardew's reign at St James' Park, especially after being turned over by local rivals Sunderland.
Mike Ashley might not have the stomach (irony intended, of course he does) for another relegation scrap and would rather dish out the astronomical redundancy fee it would take to finish an eight-year contract six years early than face the thought of another year of Sports Direct employees having to print Championship badges on the famous black and white stripes.
Chris Hughton of Norwich City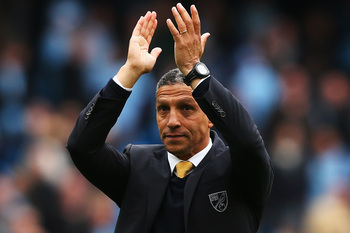 Alex Livesey/Getty Images
Believe it or not, it's going to be tough for Chris Hughton to lose his job early on. Since their return to the Premier League in 2011-12 Norwich have always been one of the favourites for the drop.
However, since their return to the Premier League in 2011-12, they've finished mid-table both times.
Delia Smith is a pragmatic owner and will realise that, on paper, Norwich could very likely go down again in 2013-14. So if Norwich go into Christmas bottom of the table, would Hughton be out of the door?
You wouldn't bet on it, his job won't be safe, but it would take a prolonged period of defeats for him to receive his marching orders. But you would believe he would be given until January to turn it around.
However, the key to Hughton keeping his job will be to lower expectations. Tell everyone they're going to do rubbish and if they do rubbish, it's expected, if they don't, it's a nice little treat for everyone.
Ricky van Wolfswinkel is on his way to Carrow Road, but any more big signings could leave Hughton in trouble.
It's all very well and good Norwich coping in the Premier League with their squad, but if some big names are signed and between now and the start of the season Hughton starts boasting that his side is dreaming of Europe, then the fans and owners will want him to deliver.
Mauricio Pochettino of Southampton
Alex Livesey/Getty Images
Mark Hughes of Stoke City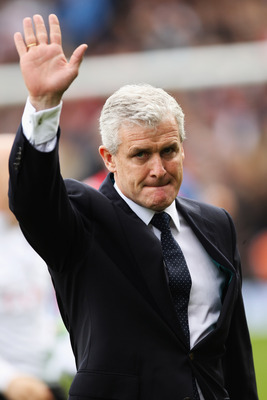 Ian Walton/Getty Images
Mark Hughes has to prove to the world that QPR was just a case of bad luck and that he is a capable manager.
But more importantly, Mark Hughes has to prove to Stoke City that QPR was just a case of bad luck and he is a capable manager.
The biggest blemish on Hughes' CV is that period at the start of last season when his QPR side couldn't beg, borrow or steal a win. They went the first 12 games of the 2012-13 season without a win…
…and they still didn't win, they just sacked Hughes.
From the first Premier League game, Hughes will be more desperate than the atmosphere at a speed-dating night for a win. Once he gets it, he can breathe a bit easier. But if it doesn't come within the first few games, question marks will be raised.
The longer Hughes goes without his first win, the sooner that axe will come crashing down on him.
If he goes, say, seven games without a win, with QPR hanging over him, it will be bye-bye for Mark.
Paolo Di Canio of Sunderland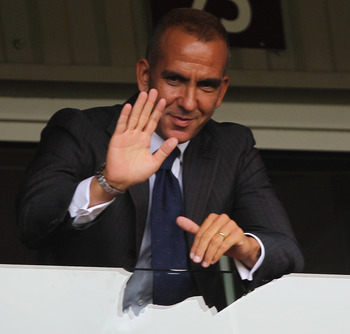 Hamish Blair/Getty Images
We are salivating at the prospect of thinking up the possible reasons why Paolo Di Canio could be the first manager sacked of the 2013-14 Premier League season.
If we were boring, we'd say "because of poor results," but a man like Di Canio is so volatile, it has to be for the off-the-pitch and off-the-wall matters.
So here are some of the possible reasons we can think of:
a) Di Canio gets into a dressing room fight with Lee Cattermole. Di Canio ends up biting Cattermole on the face. Di Canio is dismissed.
b) After a Tyne-Wear derby defeat to Newcastle, an angry Di Canio takes to the streets and punches a police horse in rage.
c) After a resounding Tyne-Wear victory over Newcastle, an ecstatic Di Canio takes to the streets and punches a police horse in celebration.
d) It's found out when replacing Martin O'Neill, Sunderland owner Ellis Short actually wanted Roberto Di Matteo, but there was a breakdown in communication and Di Canio was hired. Short belatedly realises his mistake.
e) After a poor refereeing decision costs Sunderland three points. Di Canio kidnaps said referee. Neither Di Canio nor the referee are ever seen in public again.
f) A complaint to the PFA is upheld after a Sunderland player, who wishes to remain anonymous, complains that he doesn't feel safe in his working environment since Di Canio has started taking a samurai sword to training.
g) Let's just say "something related to his political beliefs."
But if Di Canio does "win the sack race," we bet our imagination couldn't ever possibly predict the real mad reason as to why.
Michael Laudrup of Swansea City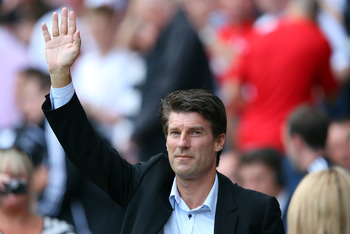 Richard Heathcote/Getty Images
With Michael Laudrup making so many kissy faces at other, bigger clubs with better resources, we think Laudrup will be unique in being the first to lose his job if results go well.
The better he does, the more he'll court bigger teams and Swansea will just get sick of the threat of him potentially being about to leave at any minute, pushing him before he can jump and proceeding to seek a manager with a bit more loyalty.
Andre Villas-Boas of Tottenham Hotspur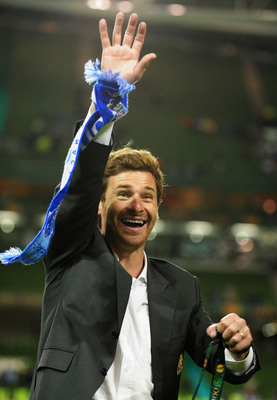 Jamie McDonald/Getty Images
Spurs have missed out on Champions League football by a whisker for two seasons in a row, each season finishing lower than the last.
With United, City and Chelsea all changing their managers in preseason, Daniel Levy is going to believe this is their year to crack the top four if one or two of them falters in their transition periods, leaving a space open for themselves.
Andre Villas-Boas' Spurs need to get one foot in the top four early on and stay there for as long as they can.
If they fail to cement themselves in the first few months, AVB's G2G.
Steve Clarke of West Bromwich Albion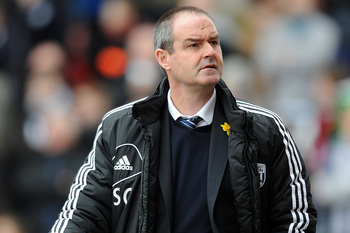 Chris Brunskill/Getty Images
Of the 20 managers in the Premier League, we are of the belief that Steve Clarke has the safest job.
At the start of 2012-13, many people predicted they'd go down.
They finished eighth, one spot behind Liverpool, and flirted with European football for quite some time.
So we can only foresee two scenarios where Steve Clarke will lose his job before anyone else:
1) Complete implosion—they start the season over-confident thinking the momentum from last season, especially their closing day goal-orgy with Manchester United, will carry them through. It doesn't. They suffer heavy defeats early on, and they slip underneath Aston Villa as the West Midland's No. 1 team.
2) Still not allowed to leave, Peter Odemwinge takes up a new scheme. This time he tries to force his exit by starting a smear campaign against Clarke, making his position untenable. Odemwinge photoshops pictures of Clarke's head onto photos of people performing unspeakable and horrific acts. The images are so convincing a tabloid paper takes them and, despite declaring his innocence, West Brom are forced to let Clarke go. Odemwinge still doesn't get a transfer.
Sam Allardyce of West Ham United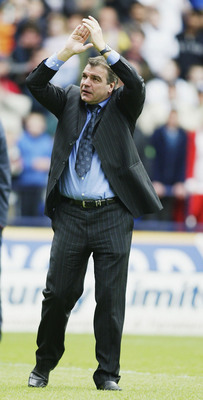 Clive Mason/Getty Images
Sam Allardyce will be the first out of the door if the fans, and ultimately the powers that be, get bored enough of his tactics.
The boring football his teams play is glossed over by the fans as long as there's progress every year, but if West Ham continue to be inconsistent in their second Allardyce era Premier League year and another mid-table finish is on the cards, they are going to start asking themselves "we're putting up with this for what?"
Allardyce is yet to endear himself to the Upton Park faithful, and you can't help but think only sniffs of Europa league action or a good cup run will fully win them over.
And with a move to the giant Olympic Stadium on the cards, the board will want a successful team who play the style of football that will have a better chance of filling the third biggest stadium in the country.
Can you see 60,000 people wanting to see a team that are fundamentally an early noughties Bolton Wanderers play every week?
Also, if Big Sam is to spend big money on Big Andy Carroll, that isn't a great omen. Little King Kenny Dalglish was the last person to spend big on Andy, and he was gone soon after. Could the curse of Carroll strike again?
Who do you think will be first manager to be sacked in the 2013-14 Premier League season? When do you think they'll go and why? Answers in the comments, please.
Keep Reading