FIFA 13 Ultimate Team: Ligue 1 Team of the Season Cards Revealed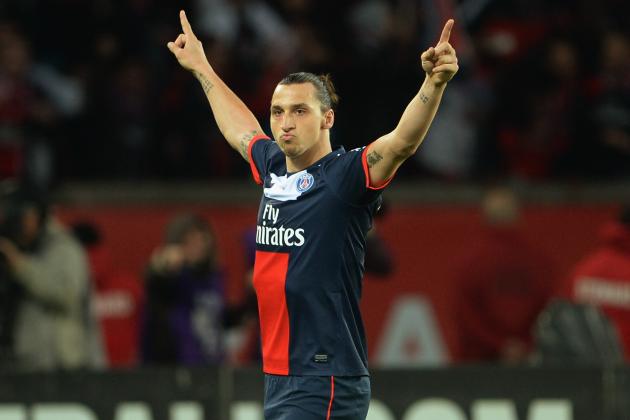 Michael Regan/Getty Images

EA Sports has revealed another Team of the Season selection for its FIFA 13 Ultimate Team mode, this time focusing on Ligue 1's top performers from the 2012-13 campaign.
Following on from last week's Serie A Team of the Season selection, which Ligue 1 players will receive a shiny blue card?
This is the sixth Team of the Season reveal out of a total of eight. The rest will arrive over the coming weeks. These card variations represent the best overall statistical performances of each individual included on the Ultimate Team—meaning they're likely to be rather costly. All will enter packs at 1 p.m. ET on June 5.
Has your favourite Ligue 1 player been included? Read on to find out.
Begin Slideshow

»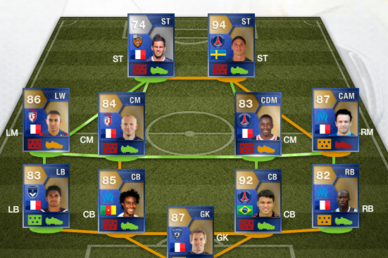 Image courtesy of the FIFA 13 web app.
Before revealing the statistics of each player included, it's worth noting that any numbers presented in brackets represent the overall quality of the individual's in-form variation. If that makes little sense to you, check out a full guide right here.
Starting XI:
GK: Landreau, Mickaël, SC Bastia - 82>87
RB: Fanni, Rod, Olympique Marseille - 76 (78)>82
CB: N'Koulou, Nicolas, Olympique Marseille - 80>85
CB: Silva, Thiago, PSG - 87 (89)>92
LB: Trémoulinas, Benoît, Bordeaux - 76 (79)>83
CM: Balmont, Florent, LOSC Lille - 79>84
CDM: Matuidi, Blaise, PSG - 77 (79)>83
CAM: Valbuena, Mathieu, Olympique Marseille - 82 (84)>87
LW: Payet, Dimitri, LOSC Lille - 80 (81)>86
ST: Jérémie Aliadiere, FC Lorient - 73>74
ST: Ibrahimović, Zlatan, PSG - 88 (89)>94

Subs
GK: Thuram-Ulien, Yohann, ES Troyes AC - 68 (71)>74
CB: Chedjou, Aurélien, LOSC Lille - 80 (81)>85
CB: Sakho, Mamadou, PSG - 80>85



CDM:

Digard, Didier

, Nice -

70>74
CAM: Cabella, Rémy, Montpellier SC - 75>81
CF: Ménez, Jérémy, PSG - 81 (82)>87
RW: Aubameyang, Pierre-Emerick, AS Saint-Etienne - 79 (80)>85
You can view each player's full rundown of statistics with the FIFA 13 web app.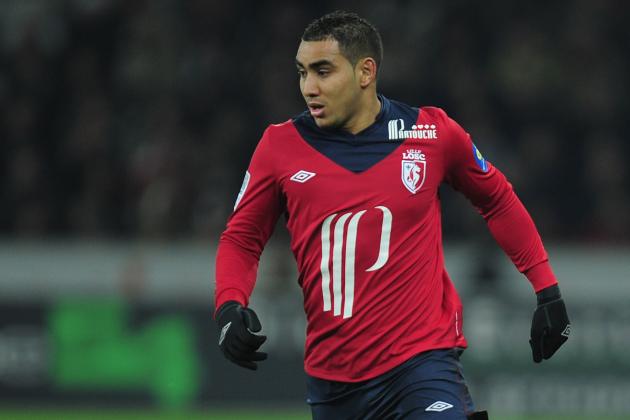 Jamie McDonald/Getty Images

Regular watchers of French football will know that there are plenty of other players who could have been included in this selection.
Names such as Florian Thauvin, Salvatore Sirigu, Loic Perrin—the list goes on.
Zlatan Ibrahimovic and Thiago Silva have been rewarded with two of the best cards in the game, while Pierre-Emerick Aubameyang will have rival defences shuddering in fear of his pace.
This is another extremely strong lineup. With the various nations included, it can be utilised to make many interesting teams with full chemistry.
It's also refreshing to see two silvers included with the best, unlike last week's selection.
Do any of these cards take your fancy? Is somebody missing? Let me know in the comments section and be sure to follow me right here:
You can also follow EASPORTSFIFA on Twitter and enjoy the FIFA 13 forums here.