Arsenal Transfers: Backup Options If the Gunners Fail to Sign Stevan Jovetic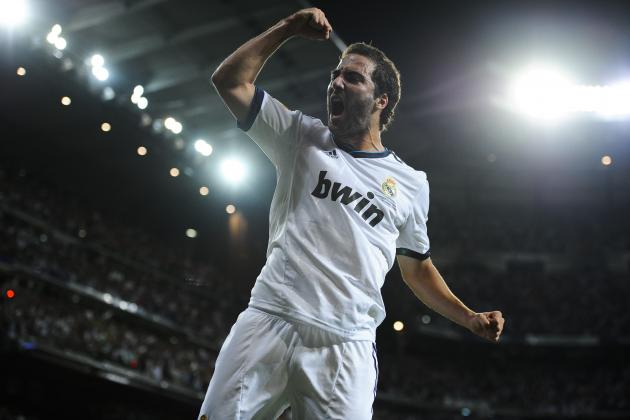 David Ramos/Getty Images

Arsenal and Arsene Wenger's transfer policy since 2004 has blighted the club like an ugly scar, and the club now looks certain to miss out on Stevan Jovetic. After months and months of indecision, Manchester City and Chelsea have moved ahead of the Gunners in the transfer queue.
According to The Daily Mail Arsenal is refusing to pay the £25 million Fiorentina want for the talented striker. The Daily Star is now reporting that Arsenal's London rivals Chelsea and City have entered the fray. This, in effect, has relegated the Gunners to the third team in the chase after leading the race since March when, according to The Daily Mail, he was Wenger's No. 1 transfer target.
To return to where they were in the halcyon days of the Invincibles and Double-Doubles, the Gunners need to sign a number of top-class players to revive their ills, and most especially a striker.
Depending upon who you read, Wenger has either £70 million, £150 million, or £35 million to spend in the summer. However, the fact that Arsenal won't go to £25 million from £20 million is disturbing. It sends a message out to the Gunners' fans that their club is now shopping at a certain level with a certain budget.
Whichever way you look at, it the Gunners need to spend and spend fast to improve the team.
Here, Bleacher Report looks at players who could revive the Gunners next season, if they miss out on Jovetic.
Begin Slideshow

»
While Arsenal have long been linked with a swoop for Stevan Jovetic, they have also been linked with a move for Real Madrid's Gonzalo Higuain. The Daily Mirror is reporting that Arsene Wenger has been tracking the out-of-favor star.
Jovetic, at 23, would represent a better sell-on value. However, Higuain, an Argentinian international, is just 25 and would join the Gunners with a flagging reputation and something to prove.
The French-born striker has scored 122 goals in seven seasons at the Bernabeu, but has fallen down the pecking order under Jose Mourinho.
Higuain is a traditional striker who does his best work inside the box. He is lethal in front of goal and only averages 2.0 shots per game despite scoring 16 goals from 28 La Liga appearances last season. He rarely drifts into wide positions or deep into midfield and maintains his central role jealously.
This can be seen in his statistical return of just 0.8 key passes per game and just 0.7 dribbles per game. He also hardly ever crosses the ball and returns just 0.2 per game. His passing statistics are lower than would be expected of an Arsenal player at a completion rate of just 74.8 percent.
His prowess in front of goal is what makes Higuain so attractive, but it remains to be seen if he is an Arsenal-style player.
David Villa has been made available for transfer by Barcelona. The Spanish international did not enjoy the best of campaigns last season, but did make a somewhat successful return from a long-term injury.
Villa would be available for around £12 million. Arsenal, however, face competition for the striker from Tottenham Hotspur who, according to The Daily Mail, lead the race to sign the star. What might go in Arsene Wenger's favor is that the Spurs chairman, Daniel Levy, is a hard-nosed negotiator.
Spurs are believed to have only offered £7 million with a view to going as far as £10 million for the 31-year-old.
Villa, as a player, is a superb No. 9 but has been utilized as a foil in a wide-left position for Lionel Messi. This move has seen Villa's goal return drop from 128 goals in five seasons at Valencia to 48 goals in three seasons at Barcelona.
Barcelona's Tiki-taka playing style also makes a disproportionate effect on Villa's stats. His passing statistics of 421 passes completed from 507 (83 percent) is excellent. However, his return of just 0.5 key passes, 0.3 dribbles, and just 1.6 shots per game all hide a player with an amazing team work-ethic and superb positional awareness.
Villa would be an excellent capture for Arsenal at £12 million. The Gunners inquired about his availability last January. He is capable of playing anywhere across a front three in a 4-3-3 formation and would give Arsenal massive squad depth.
Arsenal and Barcelona have long been bed-fellows when it comes to transfers between teams. Usually the players travel away from the Emirates, but this time it could be the other way around.
Alexis Sanchez is now surplus to requirements at the Camp Nou for Tito Vilanova and the Daily Mail has the Gunners leading the charge for the £22 million-valued star.
The 24-year-old left-sided forward and attacking midfielder would instantly change the entire complexion of Arsenal's attack. Sanchez is another in a growing list of world stars who learned their trade in Serie A, having been a Udinese player from 2006 to 2011. He would bring another level of creativity and penetration to an already creative Arsenal side.
All Arsene Wenger has to do to capture him is hold off possible interest from the likes of Manchester United, Juventus and Inter Milan who could all enter the race for the star if Arsenal are, once again, indecisive.
That, however, might not prove all that difficult considering Sanchez's former sporting director at Udinese, Fabrizio Larini's, recent words on the matter:
"Sanchez needs to play the ball on the ground, just like Arsenal. That would be his ideal game."
Pierre-Emerick Aubameyang is the form-striker in Ligue 1. The Gabon international plays for Michel Platini's old team St. Etienne and has set the French league alight with his blistering performances this season.
In 37 Ligue 1 games Aubumeyang scored an impressive 19 goals. It compares with Olivier Giroud's 21 in 36 for Montpellier the season before he joined Arsenal. Aubameyang, however, could not be a more different forward than the Gunners' hitman.
The 23-year-old has electric pace and plays at his best when used through the channels. His pace and power also afford him the ability to arrive late in the box, which he achieves with aplomb. At his very best he is reminiscent of a young Fernando Torres.
Aubameyang can play on either flank or through the middle, but prefers to play on the left. It is worth remembering that when Arsenal first signed Thierry Henry, the legend was little more than a left-sided forward. Eventually he grew to become one of the most lethal strikers of the modern era.
The 23-year-old Gabon international spent three years between 2008 and 2011 learning his trade with AC Milan. Milan let him go in 2011 after a number of loan spells in France. Aubameyang can be a greedy player and averages 3.7 shots per game. His stat return of just one key pass per game and 0.6 dribbles per game mark him as a player who plays on the shoulder of the last defender and who feeds off through-balls.
The Gunners have plenty of pace in wide positions with Theo Walcott, Lukas Podolski and the erratic Gervinho. Aubameyang may be good enough to share the left-hand berth of a 4-3-3 with Podolski next season and could grow into a far more potent force in time.
Olivier Giroud is the man Arsene Wenger must turn to if he fails to bring in a striker of repute.
The Frenchman did not have a stellar debut season with the Gunners. He even found himself left out of the team on occasion as Wenger thought he was coping poorly with the pressure of playing for a top club.
Wenger even went as far as to tell The Daily Mail:
I felt that he is under much pressure at the moment and sometimes to get a little breather is good.

What I will do on Tuesday [when Arsenal travel to Montpellier (Giroud's old team) in the Champions League] I honestly don't know.

I just felt that the time has come for him to not be under too much pressure.
For someone who did not exactly set the Emirates on fire in his first season he still managed to play 47 games and score 17 goals in all competitions, including 11 in the Premier League.
His Premier League goals return is quite misleading though, as Giroud only managed to score in eight of 34 games. With that being said, his average of 3.1 shots per game is decent and shows off-the-ball awareness.
Giroud lacks pace, an international-quality first touch and possesses no real creative vision. His lack of vision can be seen in only one key pass per game and just 0.3 dribbles per game. Considering the Arsenal's style of play and ability to break quickly and get behind teams these returns are poor. His pass completion percentage of only 64 percent aligns him with Stoke more than Arsenal.
He does, however, possess a fearsome physical presence, even if he fails to use it properly.
The Premier League is an incredibly tough league to acclimatize to and Giroud, and Arsenal, will be hoping he returns to preseason in July with renewed vigor.
If Giroud can improve upon any of these offensive statistics he will become the striker Arsenal needs.
What do you think Arsenal will do if they miss out on Stevan Jovetic, and who should they turn to?
Leave your comments, suggestions, Gunners thoughts and transfer predictions in the section below.
Statistics from PremierLeague.com, WhoScored.com, Arsenal.com
You can follow me on Twitter @WillieGannon.
And listen to me on the Hold the Back Page podcast.