6 Lessons from Barcelona's 5-Goal Victory Against Osasuna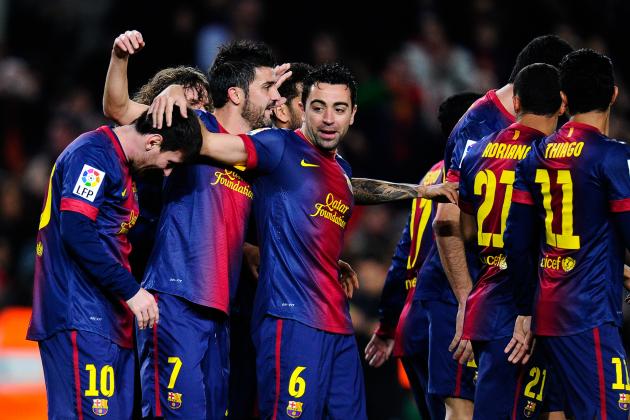 David Ramos/Getty Images

Barcelona played host to struggling Osasuna on Sunday night, and the game was nothing short of sublime. Both clubs showed moments of brilliance, but it was yet again the referee that will be in the headlines.
Barcelona took an early lead through Lionel Messi only to see Osasuna equalize with a rocket of a shot. But with amazing form, and some help from the referee, Barcelona was able to take control and finish the game with a score of 5-1.
This win comes off of Barcelona's worst week this season, which included their first loss in La Liga. It was important for La Blaugrana to rebound, but also to prepare for the upcoming match with Real Madrid.
With the phenomenal game behind us, let's look at what we learned through Barcelona's big win at the Camp Nou.
Begin Slideshow

»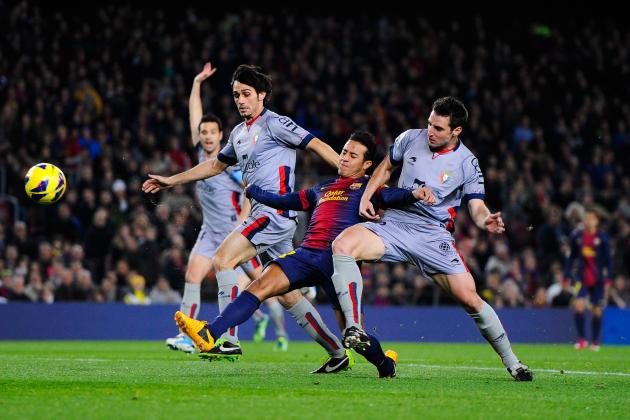 David Ramos/Getty Images

Osasuna has spent the entirety of the season in the relegation zone. But current performances show that the club from Pamplona has what it takes to escape relegation.
Though Barcelona was able to finish off Osasuna with a flurry of goals, Los Rojillos should be very pleased with the performance they put in at the Camp Nou.
Osasuna spent the beginning of the match really troubling Barcelona. If not for some terrible calls from the referee, who knows how the game could have ended.
The Osasuna defense showed that they are strong and well organized. With a little under half of the season left to play, the Pamplona outfit can absolutely pull off some great results on the backs of their defenders.
But the Osasuna attack is also strengthening as well. The build-up play and passing by Osasuna gave La Blaugrana a headache several times.
If Osasuna can continue to perform at this level against weaker opposition, there is no reason to believe that the club will not escape the relegation zone. Expect Osasuna to continue in the primera next season.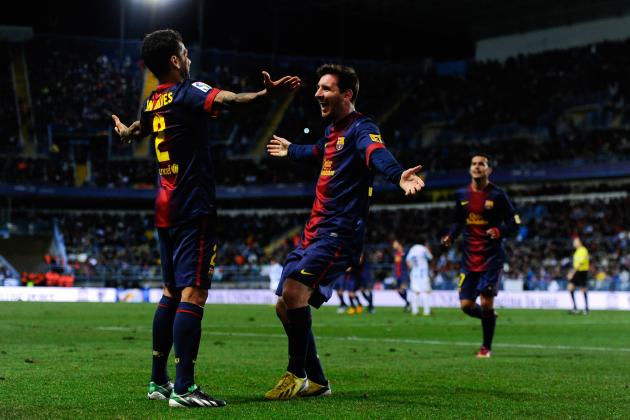 David Ramos/Getty Images

In a recent article, I claimed that Dani Alves was no longer deserving of a permanent starting role unless he could recapture his form of past seasons. The Brazilian has shown up even better than fans could have hoped.
Dani Alves has been an assist machine in recent games after struggling with injuries and form to start the season. His link-up with Pedro and Lionel Messi has been reborn and defenders do not have an answer for him.
With the Brazilian stepping up in recent performances, Barcelona looks absolutely brilliant.
Alves is causing defenders to play further out, as he is getting behind the defense and he seems likely to create a goal every time he touches the ball. But it is his defending which should get the most praise.
Dani Alves has been more known for his attacking than his defense throughout the years. But his most recent showings now confirm that he is still the best right-back in the world.
Alves is shutting down attackers and has nearly neutralized the use of the left flank for opponents. If his form continues, expect Barcelona to become even more deadly in the coming weeks.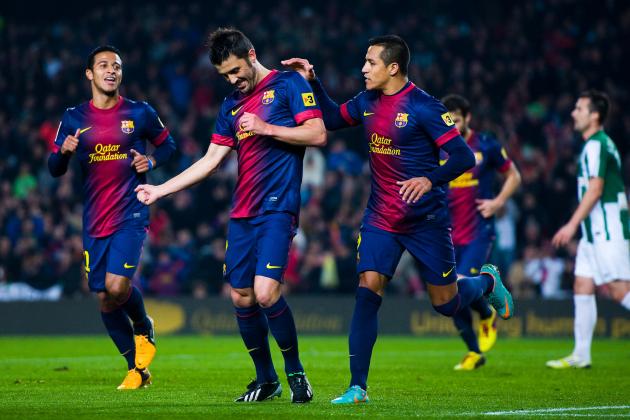 David Ramos/Getty Images

David Villa has been struggling to get into the starting lineup for Barcelona this season, but after his spectacular performance, it is clear that he is ready to contribute.
There have been countless rumors of the Spanish striker wanting to leave the club due to a lack of playing time, but that could now be a thing of the past (via Daily Mail).
David Villa put in one of his best matches of the current season and showed that he still has the ability to start for La Blaugrana. The 31-year-old set up one goal while assisting on another, but he was unlucky not to score.
Villa had many chances to find the back of the net, but Osasuna keeper Andres Fernandez did well to keep the striker from scoring. In all honesty, Villa deserved a goal.
His movement and passing were as brilliant as ever, but his connection with Lionel Messi will certainly be the talking point after this game.
Earlier this season, there were rumors of a rift between Messi and Villa. Since then, the two have rarely played together. But David Villa looked happy and excited while on the pitch and this was nowhere else more evident than his celebrations with Messi.
It appears as though the scoring tandem of Messi and Villa has returned. For Barcelona's sake, the duo finally connecting in a big way will surely be huge going forward in the season.
After this performance, the world now knows that David Villa is ready to fight for a starting spot.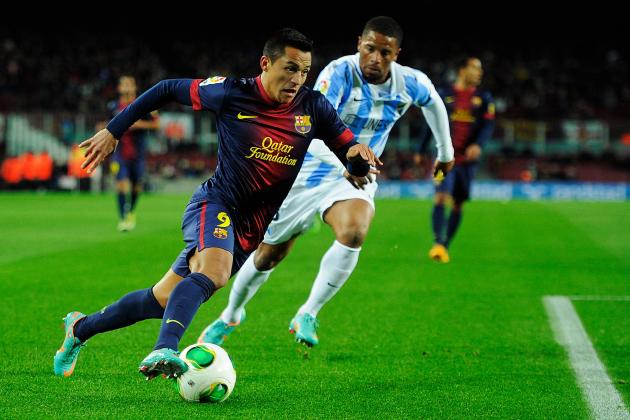 Gonzalo Arroyo Moreno/Getty Images

Alexis Sanchez entered the game against Osasuna coming off one of his best games of the season. Once he was brought on to replace Pedro, fans were expecting something exciting from the Chilean.
However, Alexis Sanchez once again treated fans to the play he has grown accustomed to.
The young winger is one of the hardest working players in the world. His tracking back is brilliant and his speed and ability to beat defenders is world class. Yet it is Sanchez's finishing which continues to disappoint.
Against Osasuna, the Chilean was given several chances to find the back of the net, including an empty goal. But sadly, Sanchez could not finish any of his chances.
Sanchez also began to force play against Osasuna, which cost the team. After receiving a brilliant pass, Sanchez only needed to pass to an open David Villa, who had already beaten the keeper. Instead, he elected to shoot, which saw the ball go out for a goal kick.
It is apparent that Alexis Sanchez is running out of time. His play continues to be very promising and everything he does is exceptional. Yet he continues to suffer from not being able to finish chances.
With time running out, the Chilean international may soon leave the club. If he regains his ability to score, Alexis will be a vital part of the Barcelona squad. But, sadly, it looks as if his scoring will never come.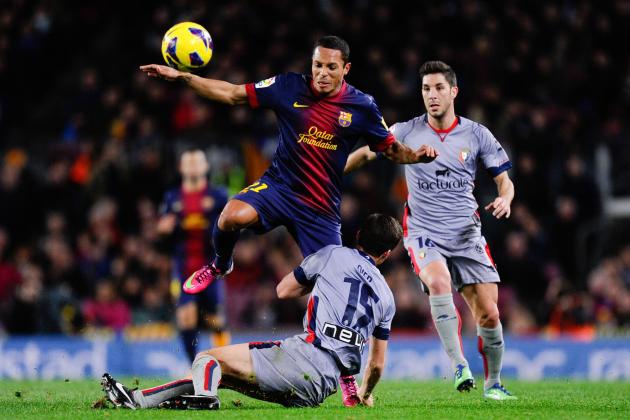 David Ramos/Getty Images

This La Liga season has been dominated by the poor refereeing that has taken place. At the Camp Nou, fans saw that the referee problem is not being fixed.
Both teams were on the receiving end of terrible calls that truly hurt what could have been a very exciting game. It is refereeing like this that is costing the smaller teams in La Liga, and worldwide.
The beginning of the refereeing errors took place early when Arribas was carded for a handball just outside the box. Further replay showed that his arm had in no way intentionally touched the ball.
If the referee wanted to call a foul in that situation, a yellow card was not warranted.
But it was the first yellow card that eventually killed Osasuna's game. Arribas was yet again carded for handball in the box minutes after the club from Pamplona had equalized.
The result was a sending off for both Arribas and Osasuna manager Jose Luis Mandilibar. Lionel Messi then put Barcelona ahead through the penalty and the game was practically over.
However, that was not the only mistake that the referees made on the night.
Twice Barcelona was called off when goals were a sure thing only for the replay to reveal that the players were clearly onside. Dani Alves was also not called off in the game, which led to another Barcelona goal.
It is clear that the referees in La Liga are struggling. Something must be done because it is now costing fans a great experience of watching exciting games. If the mistakes had not been made, the game would surely have been much closer.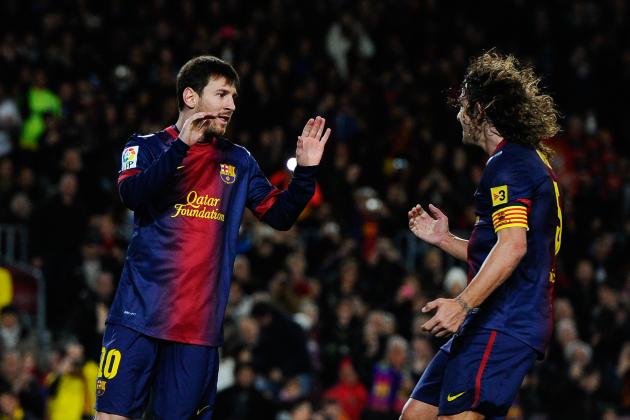 David Ramos/Getty Images

If anything was proven in Barcelona's big win against Osasuna, it is that La Blaugrana is not slowing down one bit.
The Catalans went through the first half of the La Liga season without a defeat, but finally fell to Real Sociedad last week, which could have raised doubts over the team moving forward.
It was clear that Barcelona needed to show that the loss was merely a fluke that happens in football, and prove that they did. Barcelona again showed that they are the best team in the world week-in and week-out.
But fans must also remember that this was a lineup that was also selected with some players resting for Barcelona's midweek clash with Real Madrid on Wednesday.
The giants of Catalonia continue to prove that they are to be feared no matter which players they put on the pitch. La Liga is practically already over, but this club is showing that the Champions League will be theirs to lose.
With much of the season left, anything can happen. Though we never know what turn a club could take, Barcelona has made a statement against Osasuna. Do not doubt Barcelona for a second; they remain the best there is.
What are your thoughts on Barcelona's win? Are Dani Alves and David Villa finally back to their best? Don't forget to leave your thoughts and comments below.
Tre' Atkinson, The Catalan Blood of Bleacher Report. Follow @TreAtkinson
Check out my latest articles here.
4 Talking Points from Barcelona's Win over Malaga
Young Stars La Liga cannot Afford to Lose
Tito Vilanova Now Faces His First True Test as Barcelona's Manager