Arsenal FC: Comparing Gunners Targets Olivier Giroud and Alan Dzagoev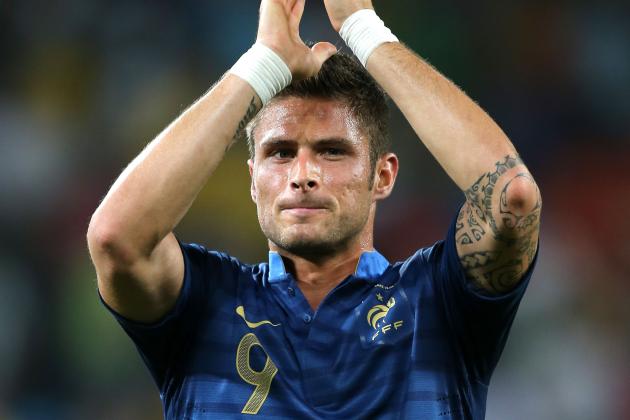 Ian Walton/Getty Images

Robin van Persie's possible departure is not being overlooked.
Sure, maybe the European Championships going on right now are stealing the spotlight, but the Arsenal striker and captain always resides in the mind of some Gooners.
In the hope of either replacing the Dutchman or signing players in order to convince him to stay, many other attackers are being targeted by Arsene Wenger.
Like Olivier Giroud and Alan Dzagoev.
Giroud is a Frenchman who currently plays for Montpellier, whom he lead to their first ever Ligue 1 championship ever. In addition, he won the Golden Boot in the Ligue 1, tied for the most goals with Nene of PSG.
Dzagoev, on the other hand, scored only five goals for CSKA Moscow in the Russian Premier League. However, his big splash is still going on: everyone is talking about him because of his great performances in the first few Euro 2012 matches.
Since the Gunners are going for these two players, let's compare them in a few categories. Even though their positions are slightly different, it's tough to see both being signed by Wenger, so I will compare which one is a better buy.
Begin Slideshow

»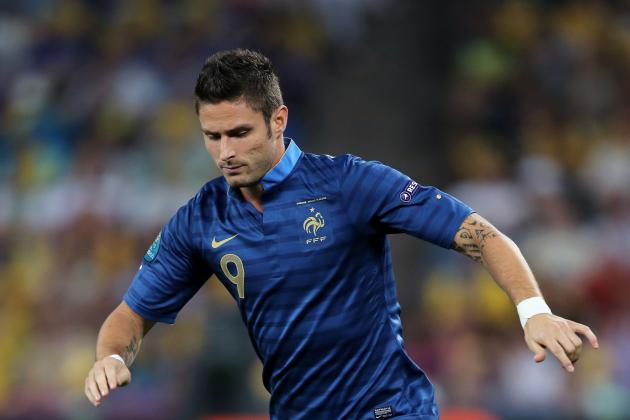 Ian Walton/Getty Images

In this aspect of the game, Arsenal need someone who can pass, but they don't need a brilliant passer, a footballing genius with the vision of Xavi Hernandez—the likes of Arteta, Song, and a possible purchase of M'Vila cover that.
With that in mind, they still need someone who isn't selfish, because otherwise the man won't fit in the system of lots of quick passing.
Giroud: He is a clever player with good vision and isn't hesitant to pass, especially in the final third of the pitch. The Frenchman finished the 2011/2012 season with the most assists on Montpellier (impressive because he also led the league in goals) and sixth most in the whole Ligue 1.
Dzagoev: It seems that Alan Dzagoev does not pass as much as Giroud—the 21-year-old can sometimes shoot a bit more often than he dishes the ball off to his team mates. When he does pass, however, he sets strikers up well.
Edge: Giroud, simply because he passes a bit more than Dzagoev.
Jamie McDonald/Getty Images

Apart from the rare van Persie stepover, the unusual Walcott fake-out, and the occasional Arteta turn to beat a few defenders, Arsenal need improvement in the dribbling department.
The general offensive spark from the Gunners does not come from beating a defender with the ball at a Gunner's feet; instead, just like Wenger's philosophy, attacks are strung together by quick passing. A dribbler, however, adds another dimension to the attack.
Giroud: Giroud isn't a flashy player. Though he does know exactly where to be and when to be there, he doesn't take on defenders particularly well.
He needs a bit of work in that area.
Dzagoev: This man, however, is quick, and is comfortable running at defenders. Watching him, you can see the Russian striker sidestepping defenders, stepping over the ball, and just being clever in order to beat opponents.
Edge: Dzagoev gets this one.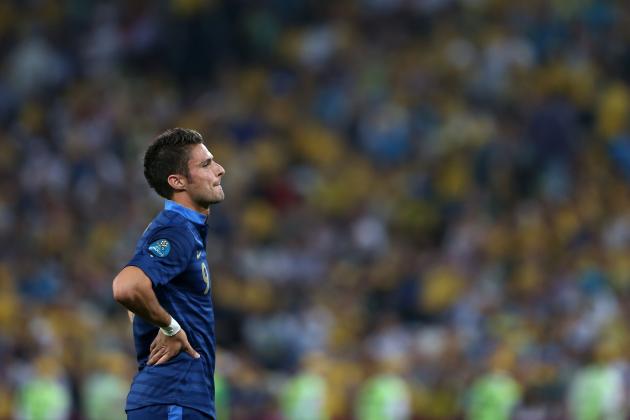 Julian Finney/Getty Images

Here is another component of the game that is always, always welcome at Arsenal.
With Thomas Vermaelen and Laurent Koscielny as the only ones who can semi-consistently get their heads on the ball, the Gunners need someone who can get up high. On free kicks and corners, they pose virtually no threat, and this needs to be changed.
Giroud: The Frenchman is tall. At 6'4", he is capable of getting to many headers, and consequentially, he has clearly practiced directing the ball with his head.
He is a threat in the air at Montpellier, scoring his share of goals with team mate Younes Belhanda taking the kick.
Dzagoev: In terms of height, Dzagoev is not as fortunate as Giroud. He stands at 5'10"—6 inches less than the latter—and isn't thought of as much of an aerial threat. But you would be surprised.
Dzagoev can't win a header in a pack of people, but when the kick taker gives a lead, the young Russian is often the first one to get to that ball with the quickness he possesses. And when he gets there, he can often put the ball in the net.
Edge: Giroud gets the edge here, mostly because of height.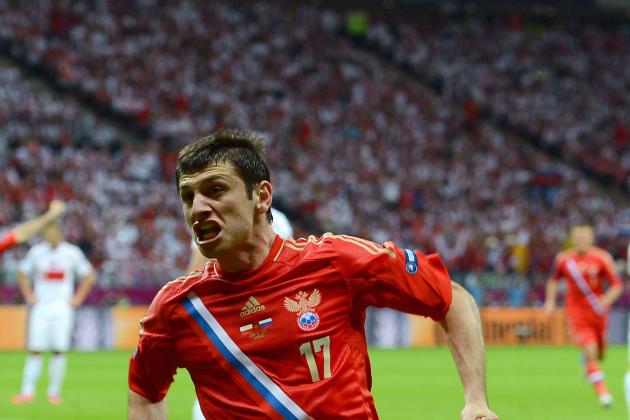 Shaun Botterill/Getty Images

With Robin van Persie scoring 30 of Arsenal's 74 goals, many Arsenal fans are demanding another forward with the finishing prowess of their Flying Dutchman.
Though Walcott is getting better and Arteta can sometimes hit it, some people like Gervinho are dismal finishers. Gervinho, for example, is a component of the attack who gives service, but does not really take his opportunities.
Giroud: I don't even think I have to tell you how good of a finisher Giroud is.
The Golden Boot speaks for itself, and at Montpellier, he was considered the prime target to get the ball up to. Giroud is one of the best in the business at finishing the opportunities that are provided to him, and this can be a huge asset at the Emirates.
Dzagoev: Even though he plays attacking midfielder, Dzagoev can really find the target sometimes.
Though he does very often have streaks of not-so-good finishing, he can get really hot and tuck away the chances with which he is provided. (Even though he didn't score a lot of goals for CSKA Moscow, this is because the scoring spotlight was occupied by others, namely Seydou Doumbia.)
Edge: Giroud wins it: he is a pure striker.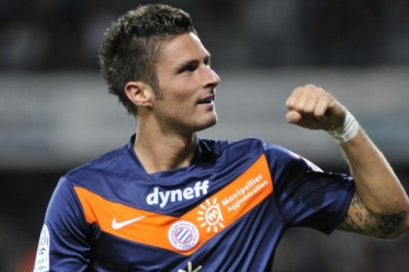 http://www.guardian.co.uk/football/blog/2012/jun/15/euro-2012-france-ukraine
It may be getting old, but we have yet another quality lacking at Arsenal.
Complaints about too much "tippy-tappy" around the 18-yard box have arisen among Gooners, and a solution to this would be to attempt a few from outside. However, not many have the ability or confidence to try to shoot from there, and from this is born Arsenal's reputation of not shooting until they are virtually inside the goal.
Giroud: He may be an exceptional finisher, but his best area is the positioning and the composure to finish of shots. It's not really shooting from very far out.
The occasional long Giroud strike may challenge the keeper, but he isn't one of the best here.
Dzagoev: He can shoot well from far out. While some people like Drogba or Ronaldo opt for sheer power when trying to beat the keeper from distance, but not Dzagoev. He is quite good at placing long strikes past the goalie.
Edge: Dzagoev wins this.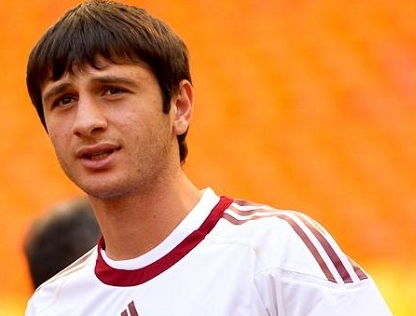 http://cdn.arsenalinsider.com/wp-content/uploads/2012/06/Alan_Dzagoev_2011_Russia1.jpg
Arteta, Walcott, and Song were the three main creators this past season.
They all somehow were creative in different ways, and van Persie got better service than people give credit to Arsenal for, and the 2011/2012 season wasn't bad, creativity-wise.
Giroud: This man is not as much of a provider as he is a finisher. He isn't one who typically gets others on the end of plays (although it happens sometimes), but he himself is the one who finishes attacks off.
Dzagoev: Statistics-wise, he isn't considered a great chance-creator, but he has attributes that help him set team mates up. He has the quality of being able to pass the ball off after drawing defenders to him.
This is because he can dribble players, so defenders converge on him, and he often wisely chooses the right ball to put a team mate through.
Edge: Dzagoev is more creative.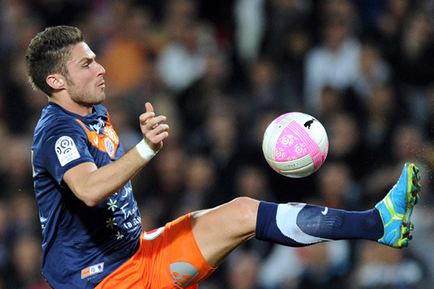 http://www.puma.com/system/articles/images/2165/body/139836341.jpg?1331294094
Center backs seem to be the only position with real strength at the Emirates: Thomas Vermaelen and Laurent Koscielny (and Per Mertesacker a bit, but not as much.) This rule, however, has the exception of Alex Song.
The possible arrival of Yann M'Vila could help in that category, but in the attack, there isn't much strength.
Giroud: At 6'4" and 194 lbs. (88 kg), Giroud cuts an imposing figure out on the pitch. His legs are very strong, and he can also fend off defenders with his upper body.
For this reason, one of his specialties is holding the ball up in the role of lone striker, a trait that very few players can do. Giroud can hold the ball up in time for Walcott, van Persie, or Gervinho to arrive, and this will be huge for Arsenal.
Dzagoev: Not as much to compliment about over here. Weighing only 154 lbs. (70 kg), he can't really muscle defenders out of his way like the Frenchman can.
Though is too thin for this, it's true that an attacking midfielder won't need to do as much as a striker.
Edge: Still, Giroud wins this.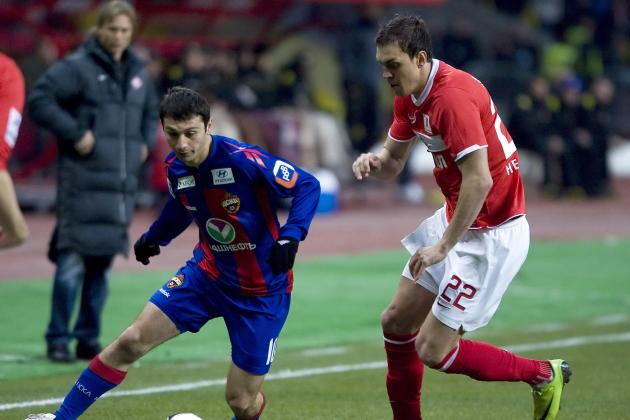 Dmitry Korotayev/Getty Images

Age: Since both are fairly young (Giroud is 25 and Dzagoev is 21), signing one or the other because the other is not going to last long is out of the question. Giroud does have more experience and is a bit more mature than Dzagoev (who sometimes does little unnecessary things).
Edge: Giroud
Speed: Dzagoev has to win here. He is much quicker and faster on the ball, as well as off the ball. He is often the first one onto a ball that is loose, and this can be a huge asset for Arsenal.
Edge: Dzagoev
http://www.footballuser.com/post
This is my ideal formation for next year. (NOTE: van Persie would tuck in a little more into the middle than shown.
In this category, Giroud's signing would allow van Persie to play just off of the Frenchman, which is a role he has openly said is great for him.
I am not including other possible signings like M'Vila and Vertonghen.
Arsenal already have a surplus of players in the attacking midfield role, so I'm not sure how Dzagoev would fit in there, according to Wenger's priorities.
Doing this would allow Podolski, Gervinho, Rosicky, Oxlade-Chamberlain, and Ramsey to be considered substitutes in the second half.
To your left is what I think should be Wenger's squad for next year.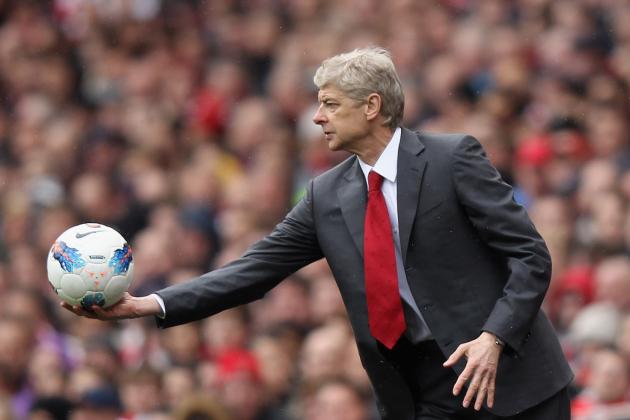 Bryn Lennon/Getty Images

To conclude, I want to say that I think Giroud would be a much better signing, given that signing both of them is an unrealistic prediction.
Arsenal need a good poacher like Giroud who can bang in goals from almost anywhere inside the 18-yard box.
I don't think they can make a title charge, but signings can change things. A big one like Giroud can make the attack more dynamic and a left back may solidify the defence.