Lionel Messi and the 11 Most Exciting Players in World Football Right Now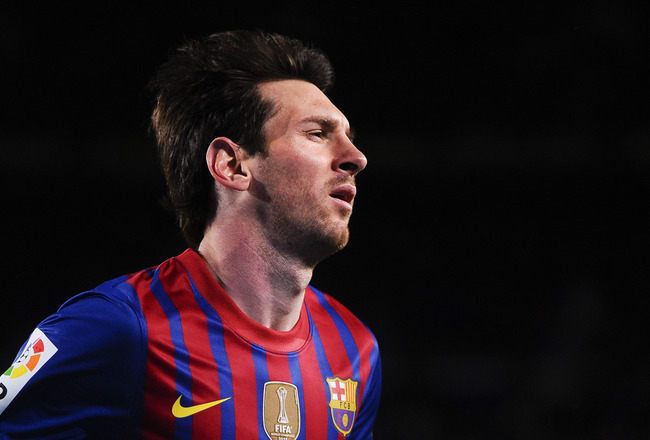 David Ramos/Getty Images
Sports are entertainment. The reasons we bleed the colors of our team or idolize the personalities that play vary, but it still comes back some way to the notion that we watch because we enjoy the spectacle before us.
It is by no accident that the players we consider superstars and the teams that win the most trophies in football generally are the ones that are the most exciting to watch. Money determines prestige and that money flows to the clubs and players that give us the most to cheer for.
In the case of football excitement reaches the fans on many different levels. It could be in the miraculous stylings of Lionel Messi's brilliant dribbles or the rampant juvenile conduct or Mario Baoltelli. Both keep us engaged and wanting more.
Here is a list of the top 10 most exciting players in world football right now whether it be for better or worse.
11. David Luiz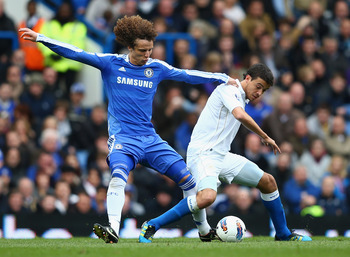 Clive Mason/Getty Images
He is not the best defender in the world. He is not even the best defender on his team, but it is because of that very reason that David Luiz belongs on this list.
Ask any Chelsea fan how they feel when they see his name on the lineup sheet. You will probably be met with a reserved kind of optimism as the Stamford Bridge faithful are all too familiar with the double-edge sword the Brazilian can be.
Luiz started off on the same note every Chelsea player did this season, struggling to fit into Andre Villas-Boas' new philosophy. The one defender who was probably most comfortable in the high back line style, looked out of sorts as the others were always on a different page.
However, since Villas-Boas' dismissal, Luiz has come on to really show his true colors and provided a strong presence in the back, especially while the oft-injured John Terry was out.
But what makes Luiz really something different is his darting runs forward. With one push of the ball he can carry it through the heart of the midfield, lay it off to a teammate and get a return pass behind the back line and finish with the precision that would make any forward envious (especially Chelsea's).
On the other hand he is also just as likely to try and do too much in the back and get pick-pocketed into giving up a goal. It is the curse that comes along with such enthusiasm.
Not really knowing what player is going to show up each time he takes the pitch, makes him one of the most exciting players in all the game to watch.
(If you want more detail on Luiz check out fellow Chelsea FC Dan Renfro's piece on him here)
10. Clint Dempsey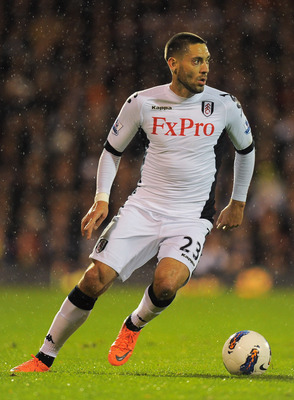 Mike Hewitt/Getty Images
I can see the eyes rolling now as I include an American on this list, but the fact remains that never has a player born in the States put on the kind of show Clint Dempsey has for Fulham in the past few weeks.
Dempsey is on an utter tear in England, scoring four goals in his previous three games and adding an assist on top of that. His most recent strike came when he was able to break free of one of the games foremost defenders, John Terry, and head in a corner to lead to an ultimate tie with West London rivals Chelsea.
He is easily the best player on Fulham this season and with 16 goals in the EPL he is proving he is one of the best in England as well.
But the allure of Dempsey goes well beyond the performances he gives on the pitch. The versatile midfielder also has a rather prominent rap career and plays of the grind it out Texas boy routine pretty well. Never one to shy away from a tackle or aerial duel, his determination has won over his Craven Cottage fans and made him an early hot commodity with the approach of the transfer window.
Tottenham, Arsenal and Manchester United are all interested in his services. With those kinds of names calling him, it will be hard for Dempsey to at least not listen. It will be even harder for us as fans to not turn away with for the first time ever and American will surely be involved in an interesting transfer saga.
9. Mario Gomez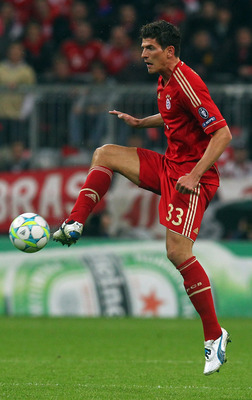 Martin Rose/Getty Images
Poor Mario Gomez. The German striker is having his second straight sensational season for the Bavarians, but his name is lost amidst the giants of Spain and England.
Despite being the leading scorer in the Bundesliga and only behind Messi in the Champions League, he is not getting the due respect he deserves.
Now before you start to throw comments at me that act like hand grenades to my argument realize what I am saying. Yes, amongst the fringe crowd who always likes to see a different shade of things Gomez is one of the top five players in the world. But that guy who claims that is kind of like the jerk who sits and chastises everyone around him at a concert for not liking the band when they played at the 2,000 seat standing-room only theater down the street.
The truth is that names like Robin van Persie, Wayne Rooney and Sergio Aguero do get all the love because of where they play. Just deal with it.
Now that that is taken care of, let's give Gomez his due.
Bigger than his opposition he wins it in the air. Stronger than most he out positions his defenders. And in better form than anyone he plays, there is no way to stop him than to hope he makes his own mistakes.
He is the kind if big hulking center forward that has been lost in the contemporary game due to the decline of aerial play. He is a throwback of sorts to the kind of forward who had one single and simple job—score the ball.
Watch a highlight reel of his and you may not be awed, but you will surely appreciate how he does his job better than perhaps anyone else in the game. For that reason alone he deserves to be listed here.
8. Xavi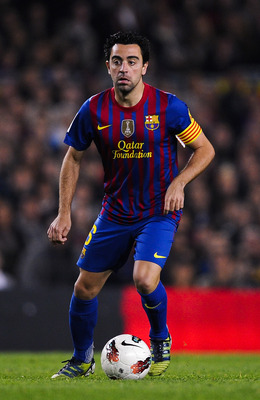 David Ramos/Getty Images
Seeing a Rolex is recognizing quality and beauty. Something so perfect in its detail and function that it stands alone as the pinnacle of its category. But behind every great watch is the unheralded, but brilliant watchmaker, who's incredible skill underneath the face of the crystal goes unnoticed, but is the sole reason it functions at all.
Xavi is that watchmaker.
Barcelona is such a well-oiled machine that the connotation that comes with the mechanics of such a work do not attend neatly to it. But much like the inner workings of a Rolex are what make the beauty it presents to the world reasonable, Xavi is the supplier of the motion that makes the likes of Alexis Sanchez, Cesc Fabregas and Messi tick.
He is not unnoticed at this point in his career for his brilliance, but never the one you would build a team around. Rather he is that piece that makes a team move from good to great and has ultimately provided the backbone of the best midfield the game has ever seen.
His passes immaculate, his vision unmatched. He seems to posses an innate ability to read defenders and send them the opposite way of the ball without ever even approaching them. So much of Barcelona's offensive dominance can be attributed to the ease with which he passes the ball, subtle in form, but stupendous in result.
A minimalist it sport if there ever was one, his philosophy seems to center around the notion of the easier the better. Fancy touches, slaloming dribbles and shots in the upper 90 are only seen when he deems necessary. Other than that he much rather prefers a touch to gather his composure and a perfectly through weighted ball to set up his teammate.
The excitement Xavi brings to the game will never reflect on the stat sheet and rarely show up in the score line (though he is having a career year in terms of scoring with 14 goals in all competitions). But it is in that subtly that leaves your mouth agape and keeps us all watching for what he will do next.
7. Wayne Rooney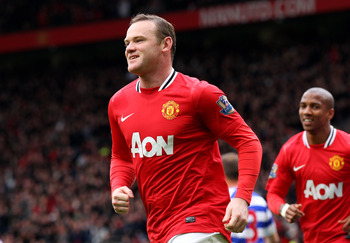 Alex Livesey/Getty Images
Wayne Rooney has quietly been the best player in the Premier League this season. The early ruckus caused by the likes of Manchester City's David Silva, Sergio Aguero and Edin Dzeko have cooled considerably as the Citizens are in disarray, while Rooney an co. do what they do best turning it on late and looking for their second straight English title.
His 29 goals in all competitions has seem to go somewhat unnoticed as United found themselves struggling in Europe. The likes of van Persie having a breakout season has also not helped Rooney's clout. But what does is the way he has gotten it done this season.
Going into the season, few teams had as many uncertainties as United. With the departure of Edwin van der Saar and Paul Scholes, it looked like it would be a season of the youth and it certainly has. But Rooney himself found out that the departure and struggles of players lead him to find a home just behind the striker as more of a playmaker than anything.
The way he was able to integrate himself into that role quickly and resoundingly is more of a credit to him as a footballer than any other accomplishment in his long and storied career.
However, what has caused a seeming decline in popularity can probably be attributed more toward an attitude change than anything. Rooney usually stands on the poor side of controversy and makes himself a public story. But this season he has remained unimportant to the tabloids and let his play reflect his personality.
On his way to his fifth league title with the club, he has been an exceptional model of maturity and leadership for a club in transition. There is little reason to doubt that United will be an even stronger title contender next season and much of that is owed to Rooney this season.
6. Mario Balotelli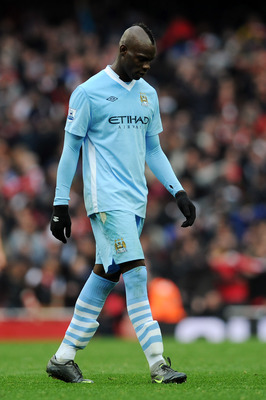 Michael Regan/Getty Images
If for some reason you do not think that Balotelli should be on this list, just ask yourself when was the last time City played and he was not at the center of the post-game story? Face it, there is no denying the intrigue this player brings to the game.
Ever since he was a teenager ripping up Serie A, he has remained a controversial figure in light of both his on field and off field antics.
When in top form the 21-year-old, that's right he is just 21, is arguably one of the best strikers in the world. This season alone he has scored a career high 17 goals and could be attributed to the run of success City enjoyed at the early part of the season. After all, it was not really until Balotelli's play slipped that City found themselves struggling to keep up form.
But the recent developments of the Italian are what really earn him such a high ranking spot on this list. His manager Roberto Mancini expressed his disappointment with the striker following their draw against Sunderland in which Balotelli had two goals, but also had an on field altercation over a free kick with teammate Alexsander Kolarov.
Further rumors point that Balotelli's actions may be affecting the locker room and could force the club to move him out in the summer. Balotelli cannot take all the blame for City's epic collapse, but he surely is not helping the cause.
As long as Balotelli is with City he will continue to create news either through his tremendous talent or his childish reactions. Either way he is definitely one of the most exciting players in the game.
5. Robin Van Persie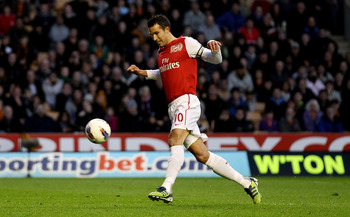 Scott Heavey/Getty Images
It seems like for years now Robin van Persie has been at the center of debate in the Emirates. A massive talent, never truly realized as injuries and the many issues that have plagued Arsenal over the years. But this season he has come on as a bolt of energy, reigniting his career and sparking the North London club to their best form since the days of the Invincibles.
The Dutch international leads the Premier league in goals, with 27 goals and been by far the most lethal striker in England. He scores a goal nearly once on ever five shots, making his very presence with the ball anywhere in your defensive half nervy.
But what has made him so exciting this season is the way he has gone about his goals. In the air, dribbling defenders, shots from distance, running through on passes, you name it van Persie has scored it this season.
No game better sums up the kind of year he is having than when the Gunners took a trip up to Anfield. Liverpool dominated the run of play for most of the match with van Persie disappearing for long stretches.
He seemed to only get a few touches on the ball, being dispossessed more often than not. But twice, out of his handful of touches he managed to go against the run of play and find the net, turning his performance for an inept one to man of the match honors.
This match is symbolic of his season: he cannot seem to do wrong ever, always finding the back of the net and keeping Arsenal competitive in every game they play. When watching an Arsenal game you can never take your eyes away. Even for that split second you think it's safe to run to the kitchen for another beer, odds are van Persie will make you pay, like he has done all season.
4. Zlatan Ibrahimovic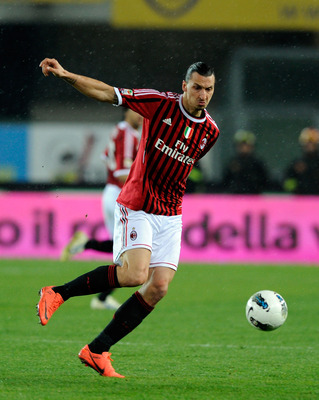 Claudio Villa/Getty Images
AC Milan find themselves back in relevance in Italy and in no short order that can be attributed to their giant Swede. Ibrahimovic is arguably the most dominant player the Serie A has seen in a while. For seven seasons now he has been destroying back lines all over the peninsula and proven that his failures in Barcelona had more to do with a style of play rather than his own decline.
At 30 years old, Ibrahimovic is putting together his best year yet, scoring 30 goals in 37 matches in all competitions. Add in another 14 assists and he has directly accounted for over half of the teams total goals this season.
But even with his best days occurring now, he has refused to let the past rest and continues to hate on his former team and manager Pep Guardiola. His recent release of his autobiography last year gave a bit of insight into how he perceived Gaurdiola: "I didn't have a relationship with the coach. He hardly looked at me. Messi wanted to play center forward and got his way."
Even today the two clashed when they met in the Champions League. Guardiola seemed to suddenly be supporting the officials when Ibra made some claims of foul play from the referee.
Like a soap opera with no end, this bickering between the two seems to never just go away. But as long as it goes on and Ibrahimovic keeps up this play we will all be watching and waiting to see who will present the next scandal.
3. Neymar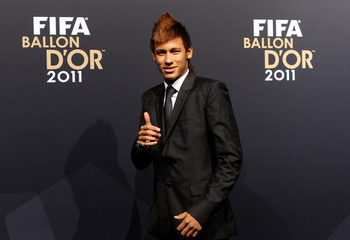 Scott Heavey/Getty Images
Not all the intrigue has to take place in Europe. As a matter of fact, some of the excitement that surrounds Neymar is the obscurity surrounding him. The other part is comprised of play that has earned him the title of being one of the top Brazilian prospects in a regeneration and an ego that would make even the biggest superstar jealous.
At age 20, many have already proclaimed him as some sort of perfect footballing pedigree, with the technical abilities matched only by the great Pele and the striking mentality of the real Ronaldo. He has been the star of Santos for four years now scoring an improbable amount of goals and in the most delicious of fashions.
He has constructed an aura around him that has fed his ego beyond belief, making the things his actions question his character. He has already rumored to have had a manager fired for disciplining him and can be dissenting to his opposition.
The worst part is that he has surrounded himself with enablers. Everyone from his agent who manipulates news and the youngster himself with questionable tactics of intimidation to Pele who has already proclaimed Neymar better than Messi, they have all fed into this incredible amount of false bravado that has led to the question of whether or not he is worth the money.
But like a curious dog entering a bush, what lies inside is too great for teams to resist. The siren like call of Neymar has had teams foaming at the mouth for the youngster, ready to take a leap of faith, hoping that it pays off with one of the greatest players in the games history.
That prospect alone keep us interested in what this kid will do next.
2. Cristiano Ronaldo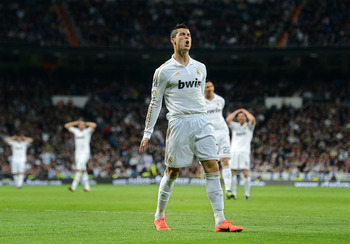 Jasper Juinen/Getty Images
Since Ronaldo had his breakout season in 2006, it became quite apparent that he would one day be one of the best players in the world. Since his move to Real Madrid, the footballing world has been infatuated with the struggle between him and Messi for who is the lone greatest playing.
This season has seen him fallen a bit back in that race as his incredible 52 goals in all competitions is not enough to match Messi's tally. But ironically enough as he seems to have diminished a bit in comparison, he finally has Real Madrid back a top Spain.
There is no shame to be found in Ronaldo's performance this season he will likely not win any major individual awards, but is well positioned to win the elusive Spanish and Champions League for Los Blancos, something the has been unable to do since he arrived.
The way he has gotten them there has been pedestrian for him, the kind of play that will just add to his catalog of career highlights, but would be the centerpiece for 95 percent of the players out there. Lasers from 35 yards at a standstill, breakaway speed that would make professional sprinters blush and the feet of a dancer, moving gracefully and with ease.
Though what makes him a truly remarkable player to watch is the ying he provides to Messi's yang, two opposing players, who's differences are fabricated more through the traditional rivalry of their colors than anything else.
It is ironic to see that they year Messi takes a definitive leap ahead of him as a player is the same year Ronaldo makes his biggest stride with the team. It beckons the question that keeps us all intrigued—how much does one player matter in this game?
Little for most, but for Cristiano Ronaldo he is an entity unto himself that defies any logic or explanation. Which is why we can only watch and be entertained.
1. Lionel Messi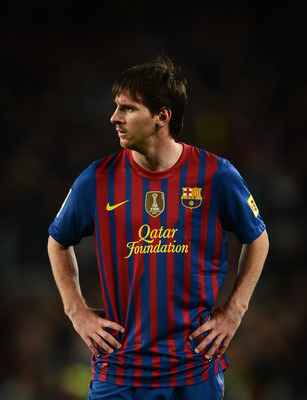 Jasper Juinen/Getty Images
Who else could it have been at one? It's almost becoming cliché to put Messi as the top player on any list of footballers, so normal is it that any challenge to the contrary is often met with ridicule and insults toward the one attempting a unique look.
Messi does nothing to bring in any extra attention off the field. He is not a super hunk like Ronaldo nor is he a head case like Neymar. He remains quiet and reserved by the standards of a superstar and lets his play be what motivates one to take interest in him. And that is really all he needs.
His historic 61 goal season is far from over. With Barcelona in the semifinals of Champions League and chasing Real Madrid for the La Liga crown, he will have to be even more brilliant in the coming weeks to make sure his unprecedented form is vindicated with silverware.
Messi is somewhat of an enigma to me. We all know what he is going to do and how he is going to do it, but yet we still indulge ourselves in its majesty. The incredible way the ball sticks to his feet as he darts around midfielders and bounces off defenders has become his calling card.
It is nothing new when he runs by an entire team by himself, but it never fails to leave us dumbstruck, like watching a magic trick over and over again. We know what the result will be, but we continue to look on, hoping that somewhere along the way we will finally see how the trick is performed. Unfortunately (or perhaps fortunately) for us Messi is the world's greatest magician, always keeping us in the dark, never daring to ruin the mystery thus always keeping us intrigued.
Who Do You Think Is the Most Exciting Player in the World?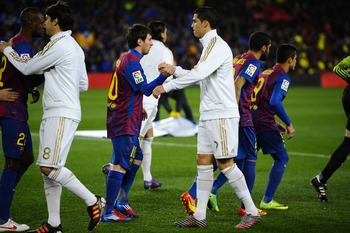 David Ramos/Getty Images
Remember, excitement does not always mean excellent footballer. On the contrary, those that keep us most engaged in their activities often have as much a presence off the field as on it. David Beckham was an excellent player, but his underwear ads did more for his status as a superstar than his free kicks.
Similarly, Claude Makelele was one of the best holding midfielders the game has ever seen, but the simplicity in which he played the game and lived his life did little to excite the fan base.
This list here was constructed out of my own prejudices and bears more resemblance to my personality than objective thought. But then again there is no way to be objective on something as subjective as ranking excitement. What does it for some may not do it for others.
So who do you think are the most exciting players in the game today? Do I have a glaring omission or is it spot on?
As always, please leave your comments below and thanks for reading!
Follow me on Twitter: @thecriterionman
Keep Reading