Philadelphia Eagles: From Dream Team to Team Delusional
December 26, 2011
Tom Pennington/Getty Images
Post-holiday depression is not something many people in Philadelphia are used to—at least not when it comes to Eagles fans.
Over the past 12 years—since the 2000 season when Andy Reid had his first-ever draft pick, Donovan McNabb, as a starter—the Eagles have made the playoffs nine times. The first seven playoff appearances of Reid's Eagles were particularly lengthy runs.
There seemed to be always be something to look forward to, in terms of a big playoff game in the new year. Families and friends would get together to watch the Eagles in the postseason.
But not this year. This year, the "Dream Team" was an absolute failure.
There were self-promoting players who talked of a Super Bowl appearance, front office members who stated that the team was "all in" and talking-head pundits who looked through the schedule and predicted that the team would be off to a 7-0 start. They are all now scrambling for excuses.
The lockout is a big one. The Eagles brought in a lot of new faces in a complete 180 from the franchise's philosophy every other year under Reid. They used to believe in building from within by using character people and character players. Not this time.
This time, they brought in mercenaries and "me-first" players. And the team played like mercenaries. The team never really gelled. They had guys like Jason Babin—who can literally only do one thing on the football field—express mixed emotions over a much-needed win against Washington earlier in the season. That was because, despite his team's victory, he had failed to record a sack.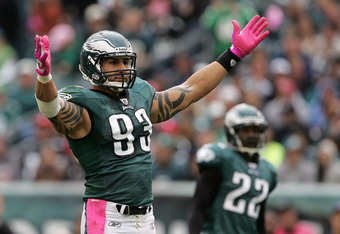 Rich Schultz/Getty Images
There was also DeSean Jackson. This is the player who let his contract become a distraction, who would run lousy routs, have short-arm passes and who spent a whole game in Seattle sulking on the sidelines (or getting chummy with the opposition) while his teammate, Nnamdi Asomugha, lay incapacitated with a stinger basically at DeSean's feet.
The team believed an offensive line coach could become a successful defensive coordinator in the NFL.
They believed they could run the "Wide Nine" defense with their pathetic line-backing corps.
They believed three star cornerbacks were a cure for all other shortcomings in the defensive backfield.
They believed a 31-year-old, inconsistent and oft-injured quarterback was the answer.
They pumped their chests in training camp.
They talked of a Super Bowl Championship as if the regular season and the playoffs were just inconvenient formalities en route to both their coronation and a parade down a green-lined Broad Street in February.
They started out a dismal 4-8.
A Team of Excuses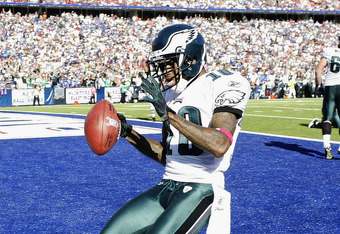 Rick Stewart/Getty Images
The excuses and spin have started. Both are extremely odd considering how team president Joe Banner promised last March that there would be no excuses.
If we don't win it next year, there'll be nobody here making excuses or saying we needed another year to get the team ready to go. We're not setting the bar any lower than going all the way and winning a championship.
Now we hear from Michael Vick that the team needed more time to build chemistry. Also, the lockout hurt them because of the new players and the changes they needed to make.
Let's look at some other teams in similar circumstances and see how they are faring.
The San Francisco 49ers underwent an enormous amount of change and—like every other team in the NFL—had no OTAs and a shortened training camp with which to prepare. San Francisco is 12-3. The 49ers play in a lousy division, but so do the Eagles.
(As a side note: The NFC East is no longer the class of the NFC, it's worse now than it has ever been. The Cowboys or Giants will win the division this coming weekend merely by default.)
The Green Bay Packers—a team that was coming off of a Super Bowl Championship—had a lot of players who returned to the team after missing a lot of time last season with injuries. They had no OTAs, a short training camp and they are 14-1. They also never once called themselves a "Dream Team."
The Carolina Panthers have new coaches, coordinators and a new quarterback. They are 6-9. They also play in a division that has the New Orleans Saints and the Atlanta Falcons (both of which have records that would've clinched the NFC East two weeks ago). The Panthers look to be going up, not down.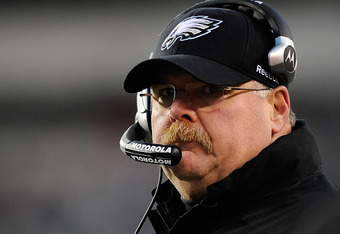 Patrick McDermott/Getty Images
Every team in the NFL has had some amount of change with which to deal. None had the OTAs or a regular-length training camp. Yet for some reason, the only team to suffer from this is the Philadelphia Eagles. The team that made it known to all who were willing to listen that they were the class of the NFL.
The excuses the Eagles players and coaches are making now are pathetic.
What Does Michael Vick Know About Winning?
Michael Vick actually said this:
I've been around a lot of teams and I know what it takes to win football games, and I know what type of team and what type of personality and character that you have to have. And we just lacked that early. That's the truth.
What?
This begs a few questions.
What does Michael Vick know about winning football games? He's won exactly two playoff games in his entire nine-year NFL career. He's only won 14 more games than he's lost. (Compare that to Tom Brady, who has 97 more wins than losses; Ben Roethlisberger, with 53 more wins than losses; or everyone's favorite whipping boy, Donovan McNabb, with 38 more wins than losses.)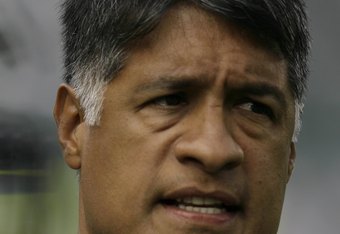 Chris Gardner/Getty Images
How much character does it take to defeat teams such as the Miami Dolphins, led by Matt Moore, the New York Jets—where the increasingly fraudulent-looking quarterback, Mark Sanchez, is in the midst of a career-killing meltdown—and the Dallas Cowboys. The Cowboys pulled their starting QB and leading running back and played the game on cruise control after the first quarter, once they knew that a win against the Eagles would do absolutely nothing for their playoff chances.
How can a team lose to a pitiful Arizona at home and the woeful Seattle Seahawks—not to mention blow four fourth-quarter leads and have absolutely zero come-from-behind victories (under Vick, at least)?
Who is to blame for that lack of character? Vick was hailed last year as an emerging leader on the team. He clearly took a gigantic step backwards in his role as team leader and quarterback, compared to last season.
Vick was inconsistent throughout the season. The offense never really clicked on sustaining drives or appeared to have a common purpose. The offense functioned in short bursts or explosive plays—both of which were few and far between.
Vick, of course, was injured again. His coaches begged, pleaded and finally demanded that he change his style of play in order to keep himself healthy. They wanted him to read defenses better, to get the ball out of his hands quicker and to slide when he took off with the ball. He promised to do all three; each promise he made, he failed to honor.
He can't slide because that's not how he played the game as a kid. Well, he's not a kid any more. Also, a kid would learn to slide. Youth baseball teams usually spend about a half an hour during one of the first practices of the spring teaching kids how to slide. They usually pick it up pretty quickly. Vick, for some reason, cannot.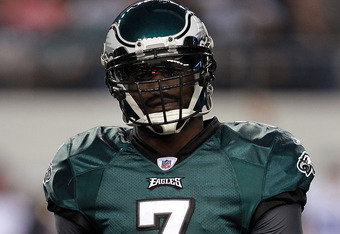 Ronald Martinez/Getty Images
His play this season, and the way he carried himself on and off the field, has to have the brass asking whether he's worth the six-year, $100 million investment they made in him.
The Problems in 2005 and 2007
Andy Reid has had, hands down, his worst year as head coach. The Eagles also missed the playoffs in 2005, but that was when Terrell Owens went from the hard working, dynamic receiver the city fell in love with, to a ego-maniacal, self-obsessed jerk who was hated by the rest of the league.
Also, that season was when starting QB Donovan McNabb suffered a gruesome sports hernia injury on opening night. McNabb struggled to play. Finally, when he tore his groin and hamstring on top the sports hernia, he was shut down.
The Eagles lost their best receiver and their franchise QB within weeks of each other. They had to rely on Mike McMahon and Reggie Brown instead. It was no wonder that the team failed to make the playoffs.
In 2007, the Eagles finished 8-8 and missed the playoffs. McNabb was also coming back from major knee surgery. He went out for three games midseason due to an ankle injury.
That team put together four solid efforts when McNabb returned from his ankle injury. They went 3-1 with three straight victories to close out the season. (During the 16-13 loss to the Giants, David Akers hit the goal post at the final gun as the team tried to force overtime.)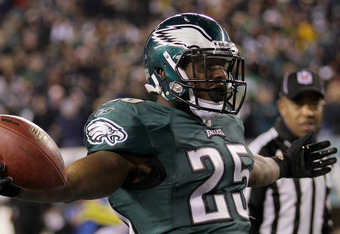 Rob Carr/Getty Images
That year, the team actually looked like they had something to build on. During the following season, they went to the NFC Championship and defeated the defending Super Bowl champion New York Giants at the Meadowlands along the way.
No Glimmer of Hope
This season there is no glimmer of hope. The Eagles have way too many holes to fill. They have an inconsistent quarterback who they are married to for at least another season. Their defense is still a mess.
If they go along with a more Jim Johnson-like approach, they will effectively eliminate the effectiveness of Jason Babin and will make Jim Washburn's position on the team superfluous. One of their three "elite" cornerbacks has to go.
The offensive line needs more depth. The head coach and offensive coordinator need to overhaul their pass-first philosophy (something they've needed to do for seven seasons now). They need to answer the DeSean Jackson question.
They will probably beat the Redskins this weekend. Then they can pump their chests again and talk about how the rest of the NFC is lucky they didn't qualify for the playoffs because no one would want to play such a lethal team that is peaking at the right time.
Then again, it's not hard to peak when the games are meaningless and the competition isn't that great to begin with.  
Just don't tell the Eagles that. They're too busy delusionally basking in how they came together on their way to a strong third-place finish.