Is Charles Oakley Justified in Ripping NY Knicks, Amar'e, Isiah & D'Antoni?
October 19, 2011
Alberto E. Rodriguez/Getty Images
Charles Oakley is one of the most respected former players in NBA circles. When Oak talks, people listen. This week, Oak decided to talk about the New York Knicks—specifically Amar'e Stoudemire and Mike D'Antoni, along with former team president Isiah Thomas. 
Before we get into whether or not Oak is justified in ripping the current and former brain-trust of his former team, let's take a look at what he actually said. 
At K1X in Soho, Oakley spoke with the New York Post, among other news outlets. Speaking about Amar'e Stoudemire, he said:
Amar'e's good, he's good in his way. He's a West Coast player trying to translate to the East Coast. And the longer he plays in the East, the more his body's gonna get damaged, because he's got to take a beating now.
I'm not really sure what Oakley means when he calls Amar'e a "West Coast player," but I'm assuming he means that he has a finesse game and he's going to get bodied and beaten up in the rough and tumble Eastern Conference.
While this might have been true in the 1990s when Oakley was a Knick, it's not really the case now. Yes, Amar'e does take a physical pounding, and we saw the effects of that with a back injury that caused him to miss parts of the opening round playoff series against the Boston Celtics. But the Eastern Conference and the NBA in general is not as physical as it was during Oakley's days.
If Oakley is trying to argue that Amar'e is soft, I just can't agree with the statement. Amar'e plays with as much power and force as any forward in the league. He can jump out of the gym and throws down some absolutely vicious dunks. Amar'e Stoudemire is far from soft.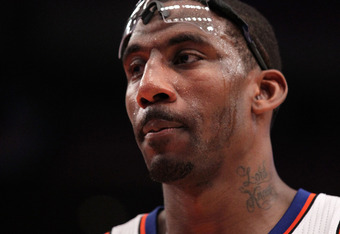 Nick Laham/Getty Images
About head coach Mike D'Antoni, Oakley remarked:
I don't think [it can be successful], but that's his coaching style. They knew when they signed him. ... When you go buy a Bentley, you know it's not a Volkswagen. When they signed him, they knew what they were getting. 

That conversation should be dead, because it's a West Coast offense playing in a hard-nosed city. 

You always give somebody a chance to prove themselves. I mean, this is his fourth year. He's had a lot of time. ... I think it's just more half-court offense, and they need the big, tough guy. He don't want to play that way, but finesse, it's not gonna work.
I'm not sure about the rest of you, but I'd rather have a Bentley than a Volskwagen—and that's coming from someone whose father's company sells Volkswagens (sorry dad). However, he obviously wasn't really talking about cars, he was talking about coaching styles. 
To say that Mike D'Antoni's coaching style can't be successful is simply a factually inaccurate statement. D'Antoni won 253 of 389 games in Phoenix, good for a 65.0 winning percentage. Various other teams that run similar systems to D'Antoni's—the Denver Nuggets, Orlando Magic and 2011 NBA Champion Dallas Mavericks come to mind—have been very successful as well.
As far as his perceived lack of success entering his fourth year with the Knicks, I have to defend D'Antoni a little here. He hasn't exactly had much to work with roster-wise in his first three years at the helm. The team has been subjected to midseason roster shakeups in each of his seasons with the team, and this was the first year that he really had even close to respectable talent to work with.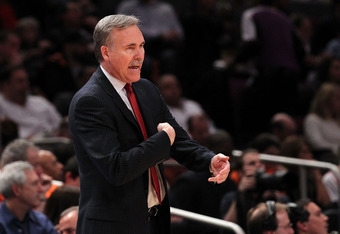 Nick Laham/Getty Images
If what Oakley means to say is that D'Antoni will never win a championship with the Knicks because he doesn't show a commitment to defense, I'm not sure I can rebut that. While his Suns teams were generally better than they were given credit for on the defensive end, a D'Antoni-coached team has never finished better than 13th in the league in defensive efficiency. 
Referring to Isiah Thomas, Oak said:
I don't understand how he even got a job with management. He had nothing to do with the Knicks, then he talked bad about the Knicks ... If I see him, he'd better turn around and go the other way.
I have no problems with any part of this statement. I hope I'm there the first time Oak sees Isiah. 
Oakley also expressed his frustrations with the Knicks organization in general:
"[The Knicks] don't want nothing to do with me," said Oakley, who played for the Knicks from 1988-98. "I don't know why. I tried to deal with them on several occasions. I'm not gonna keep trying.

"They don't like Patrick, either. They won't give Patrick a job, so I know they won't give me a job. Patrick should have a job before anyone. He's probably the best guy since [Walt] Frazier, [Earl] Monroe ... he's the main guy on the list."

Yet Oakley said he still would welcome the opportunity to return to the organization if one presented itself.

"My door is always open to the Knicks," he said. "I tell them all the time. They said something about I told LeBron to go to Miami. I was like, 'You all have to be one of the craziest organizations in the world.'

"Y'all should have tried to call me and talk to me, and maybe we could have gotten LeBron to New York. You went to Isiah [Thomas], and some of these other guys that don't know the guy."

Speaking of Thomas, Oakley did little to hide his feelings about the former team president.

"I don't understand how he even got a job with management," said Oakley, 47. "He had nothing to do with the Knicks, then he talked bad about the Knicks ... If I see him, he'd better turn around and go the other way."
It's extremely frustrating that Patrick Ewing is not a part of the Knicks organization in any capacity. The Knicks' Madison Square Garden roommates, the New York Rangers, have done a great job of bringing former players back into the fold in visible roles (Mark Messier and Adam Graves are in management, and Brian Leetch has provided guidance to the Rangers' young defense). And, like the Knicks, the Rangers are under the ownership by Cablevision's James Dolan.
Patrick Ewing's Knicks defined my childhood, so it is extremely unsettling to me that he has bounced around the league coaching other teams. He has shepherded the development of two of the best big men in the league since becoming an assistant coach—Yao Ming and Dwight Howard—and Ewing constantly asserts that he is more than just a big man coach. He should be given a chance to prove that, preferably in New York. 
I have to quibble with Oakley on the LeBron James thing though. He DID tell LeBron to go to Miami, or at least, he told the New York Post that he did. On June 7, 2010, the New York Post ran this quote from Oakley:
I can't tell him to go to New York. New York treated me bad.... When I go to the Knicks games, do you know that they have somebody that follows me around to see what I say to the press? I said maybe Chicago or Miami. I think him and (Dwyane) Wade would be great together.
The Knicks' public relations policy is infamous and infuriating. No one affiliated with the organization can speak their mind without a PR official hovering over their shoulder, censoring what they say. Still, Oak advising LeBron to stay away from New York and to join the Heat was simply unnecessary and gratuitous. 
I can't agree with everything Oakley said about the Knicks, but he's certainly right on some things. D'Antoni hasn't proven he has the necessary commitment to defense to win a championship; Patrick Ewing needs to be a part of the organization in some way—as does Oakley himself; and Isiah Thomas never should have happened.