Los Angeles Clippers: Can Chris Paul and Lamar Odom Co-Exist in 'Lob City'?
July 1, 2012

Ronald Martinez/Getty Images
Chris Paul and Lamar Odom are polarized individuals wearing the same Los Angeles Clippers uniform. 
In an interview with Los Angeles Times reporter T.J. Simmers, Lamar Odom stated that his life long philosophy is to "kill them with kindness." 
Chris Paul's competitive philosophy, on the other hand, is not as subtle.  In an ESPN commentary entitled "Killer at Heart," senior writer Howard Bryant of ESPN asked Paul how he "could be a stone cold killer one minute and a buddy with a megawatt smile the next?" 
Paul's response: "I've been this way since day one."
The 6'1" All-NBA point guard has a voracious competitive appetite and is a scrappy, lockdown defender. He goes after every 50/50 loose ball as if his life depends on it. 
Like many other players who believe that their extreme effort and obsessive competitiveness are the reasons for their success, Paul—the Clippers' undisputed team leader—demands nothing less from his teammates. 
Odom, on the other hand, has one of the most effortless games in the league.  He's a 6'11" stretch forward with a smooth, versatile game that is a marvel to watch.
Odom is a gifted passer, inside scorer, rebounder and defender.  He can play small forward, power forward and center when necessary. 
On paper—in this case as a Clipper (his fifth team in 11 years)—a lineup of Odom, power forward Blake Griffin and center Deandre Jordan could be the most athletic and dominant in the NBA.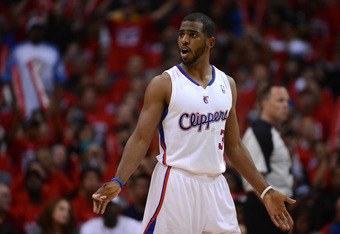 Harry How/Getty Images
The problem with Odom is that his splendid play is intermittent.
At times, pure talents (even by NBA standards) tend to lack competitive flare.  The game comes easy to them.  Odom has been reputed as being one of those players. 
Both due to Odom's mercurial reputation and his litany of basketball gifts, Odom has been the NBA's most talented and enigmatic nomad.  His last team—the Dallas Mavericks—cut Odom due to a poor regular season performance predicated on depression from various off-court issues. 
Odom's depression has reportedly been rooted in several tragedies suffered both during his youth and more recently as an adult.
Simers notes that Odom has suffered an onslaught of harrowing experiences throughout his life:
As happy as a candy-eating athlete can be, too often Odom finds himself tortured. He loses his mother to cancer when he's 12, his grandmother raises him, she passes and then his 6 1/2-month-old son, Jayden, dies of Sudden Infant Death Syndrome in 2006, on the two-year anniversary of his grandmother's death.
The 2011-12 season did not treat Odom kindly.  As summarized by ABC News, his 24-year-old cousin was murdered last July.  Only days later, Odom witnessed up-close the death of a 15-year-old pedestrian when a car in which Odom was a passenger collided with a motorcycle. 
In Odom's interview with Simers, he stated that he was receiving professional help for depression related issues when he was on the Dallas Mavericks last year.  
Understandably, some of the Odom-Paul divide is due to off-court issues. 
Paul's off-court media coverage is pretty much still on the basketball court.  They center on winning a championship, be it on the Clippers or elsewhere.  After the 2012-13 season, Paul will be a 28-year-old free agent.  
The above contrasts between Paul and Odom are not to imply that Paul is not a compassionate, caring individual.  Although his performance dropped last year, it is admirable that Odom has competed at a high level in the NBA given his tortured past. 
However, in a bottom-line, results orientated NBA, Paul's approach to maximizing results on the court may not be conducive to Odom's personality.
NBA stars have different ways of leading their teams, and much of how far a team goes depends on whether the players surrounding each star responds to that player's leadership style. 
For instance, two-time NBA champion Isiah Thomas of the Detroit Pistons was a ferocious if not dirty player.  It behooved the Pistons to surround Thomas with a "bad boy" squad of players who emulated Thomas's cagey style. 
Tim Duncan, on the other hand, is a quietly expressive leader who leads by example and encouragement.  Many of his teammates—particularly Tony Parker—flourished under Duncan's soft-paternalistic regime. 
Lamar Odom's ideal leader may have already come and gone.  Under Los Angeles Lakers coach Phil Jackson, Odom's game blossomed. 
Jackson is known to have perhaps the best understanding of player psychology in NBA history.  Nicknamed "The Zen Master," Jackson was the perfect coach to guide an enigmatic player like Odom.
As the Lakers' sixth man, Odom was integral to the Lakers' attainment of NBA titles in in 2009 and 2010; in both years, he averaged close to a double-double in the playoffs. 
The Clippers young coach, Vinny Del Negro, does not have the same mediation skills as Jackson. 
More importantly, Chris Paul falls a lot closer in competitive spirit to the "Isiah Thomas" school of thought than to the "Tim Duncan" one.  In the 2011-12 season, Paul had plenty of players who shared that mentality.
Small forward Caron Butler played with a broken finger in the 2011-12 playoffs. Blake Griffin's competitive tenacity and love for the game is felt in his rebounding and monstrous dunks.  Role players like Reggie Evans and Kenyon Martin's intense physical play were integral in the Clippers' first-round playoff win against the Memphis Grizzlies.
All the players, you may say, are "stone cold" killers like Paul.  They already speak his language.  Paul should not expect Odom to do the same, particularly if Odom comes to the Clippers saddled with more off-court issues.
Having said that, perhaps the onus is on Paul to guide Odom into the twilight of his career.
One of the distinguishing qualities of a great team leader is the ability to speak to each teammate differently—to know just how far you can push them before results head south. Does Paul have those leadership skills? 
Odom may have a fragile competitive persona, and it will be up to Paul to learn how to get inside Odom's head and get the very best results.
Of course, Odom will have to meet Paul halfway and show the desire to win that has been cultivated in "Lob City".
Can the "killer at heart" learn to compete alongside someone who seeks to "kill with kindness"?  The Clippers' season, and for that matter, Paul's willingness to remain a Clipper beyond 2013, depends on this unlikely duo to thrive.