Boston Red Sox: What Can Be Expected from the Team over the Next Six Weeks
June 20, 2012

Jim Rogash/Getty Images
The Boston Red Sox are a team in flux.
A barrage of injuries have pigeon-held the team to some degree. While supplementary players like Ryan Sweeny, Daniel Nava and Scott Podsednik have performed as well as one could hope for, in general terms, the team you see each night now is not the true Boston Red Sox.
As constituted, the team has lingered along to achieve a disappointing 34-33 record. This is good enough for fans to look up at three other teams in the American League East—a position rather unfamiliar to Red Sox players and fans alike.
Over the past decade, fans of Boston have been treated to two World Series victories, three Super Bowl victories, one NBA Championship and one Stanley Cup.
This is title town.
Or so it was.
The team taking the field does not have the appearance of champions. Nor does it boast the same prestige that the 2005 or 2008 Red Sox teams had. After all, they were defending champions at that point.
Yet, here we sit, perplexed as to what the team is really doing.
When the so-called "cavalry" (as Tom Werner labeled them) returns, will this team make a ceremonious dramatic turn for the better and fight their way to the playoffs?
What if when the "cavalry" returns, there is no return on the dividends?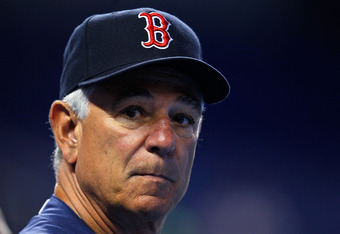 Sarah Glenn/Getty Images
Red Sox Nation awaits with baited breath for the return of the beloved Jacoby Ellsbury, who is slated to return right around the All-Star break.
As much fun as it has been watching Ryan Kalish develop—save for when he attempts to field a routine fly and drop it—into an important part of the future of this outfield.
Optimists are keeping their fingers crossed that Carl Crawford can put up numbers he did with regularity in Tampa Bay.
Would the nation not be elated to see him swipe 25 or so bags, adding 40 RBI from a .300 batting average to close out the season? 
Then there is Andrew Bailey.
Bailey is the man who was supposed to fill the shoes of the departed (pun intended) Jonathan Papelbon. In lieu of having Bailey, Alfredo Aceves has filled in admirably while the rest of the bullpen has been excellent. 
Since May 1, the Red Sox bullpen has been the best in Major League Baseball. They collectively own a 2.36 ERA and a 2.06 opponents' batting average.
Those players that have returned, like Cody Ross and Ryan Kalish, have provided a spark to the team that was noticeably missing.
More so in the case of Ross. He has been an offensive leader and clubhouse guy since joining the Red Sox. Neither was expected of him when he was signed on as their likely fourth outfielder, behind Ryan Kalish.
As the troops come back, others have gone by the wayside. While Dustin Pedroia is only slated to miss one game after reaggravating his thumb, it is hard to ignore the fact that he is injured and should be on the disabled list.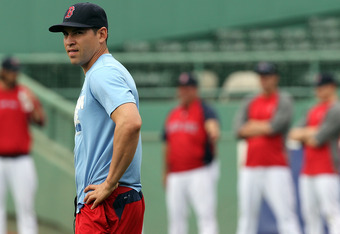 Jim Rogash/Getty Images
Pedey is batting just .269 this season with a .326 OBP. He was batting .321 back on May 12 before injuring his thumb for the first time.
Since then, it has been a steady decline.
With that in mind, as the trade deadline nears the team is faced with new, as well as preexisting, needs.
Questions about Pedroia's health cannot be overlooked. Outfield depth, while seemingly silly, is a concern with all of the health issues. Then, of course, starting pitching is always a need.
The Red Sox will have players available at the trade deadline or sooner. Kevin Youkilis goes without saying. I'd be surprised if he wasn't traded before I even finished writing this sentence, considering the aggressive nature in which general manager Ben Cherington has been shopping him.
Other names may come up in trade talks that are less popular among Red Sox fans, such as Jon Lester or even Jacoby Ellsbury.
It all boils down to the addition of a second Wild Card team for the playoffs.
Sure, they're 6.5 games out of the AL East division race, but they're only 4.5 out of that second wild-card spot. It doesn't seem all that impossible.
The next six week will define this ball club. They will be getting players back healthy, and will be able to assess what type of club they really are.
The road will not be an easy one. From now until the end of July, they'll be playing the Yankees twice, the Texas Rangers, the Chicago White Sox, the Detroit Tigers and the Toronto Blue Jays, to name a few.
All of which are thought to be serious contenders right now.
If there was a litmus test in baseball to see where a team stands, the next six weeks will be that test for the Boston Red Sox.