Peyton Manning Rumors: Updates on Redskins, 49ers, Cardinals and More
March 8, 2012

Joey Foley/Getty Images
Peyton Manning is no longer the quarterback of the Indianapolis Colts and, in other news, hell has frozen over.
Update: Tuesday, March 20 at 2:00 p.m. EDT by Alex Kay
Manning will reportedly wear No. 18 with the Broncos.
Mike Klis of The Denver Post reported that 1960's legend Frank Tripucka gave his blessing.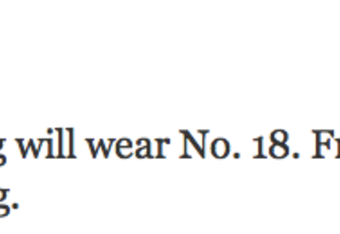 Update: Tuesday, March 20 at 12:12 p.m. EDT by Alex Kay
National Football Post's Andrew Brandt has the latest details on Manning's contract.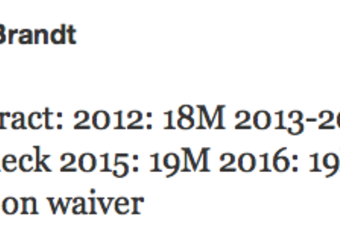 The Broncos are on the hook for $18M with no injury protection this year and then owe Peyton $20M guaranteed for 2013 and 2014 if he passes a physical prior to the start of next season. 
Update: Tuesday, March 20 at 11:12 a.m. EDT by Alex Kay
ESPN's Adam Schefter reported the financial details and length of Peyton's contract.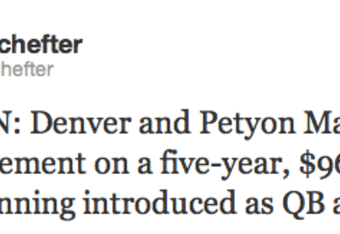 This is a solid deal for a future Hall of Fame QB and the Denver Broncos are expected to officially announce the signing at their 3 p.m. EDT presser.
Update: Tuesday, March 20 at 9:20 a.m. EDT by Alex Kay
ESPN's Adam Schefter is reporting Denver is planning to introduce their new signal caller at a press conference today after they put the finishing touches on his contract.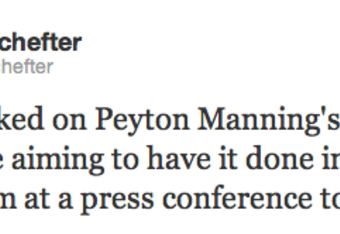 This is great news for Broncos fans as the franchise is finally are close to locking up the elite signal caller they have craved since John Elway retired.
Keep it tuned here for the latest news and updates on the contract when they become available. 
UPDATE: Monday, March 19 at 12:52 p.m. ET by Brandon Galvin
Peyton Manning is set to sign with the Denver Broncos, according to ESPN's Adam Schefter. 
More filed to ESPN: And now that Peyton Manning has directed his agent to get deal done with Denver, Broncos will try to trade Tim Tebow.

— Adam Schefter (@AdamSchefter) March 19, 2012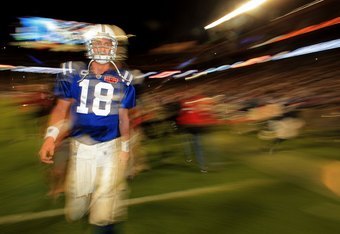 Donald Miralle/Getty Images
With his Indianapolis days now behind him, the only thing being talked about is where he'll play next.
There are rumors aplenty, most substantiated and a few unsubstantiated, but we can expect nearly one-third of the league to show interest in the quarterback.
UPDATE: Monday, March 19 at 8:25 a.m. ET by Adam Wells
Despite not making a decision about his future yet, Manning has taken a very hands-on approach to the free-agent process. 
According to Jason La Canfora of NFL.com, Manning has been the one controlling which teams he meets with and when he will sign a contract. 
Manning, not agent Tom Condon, is handling much of the arrangements and setups for workouts and is in personal contact with team officials. While some in the Manning camp have suggested a decision would come by Tuesday, Manning hasn't stated that himself to teams, sources said, and teams are waiting patiently to hear back from him following his workouts.
This news should not come as a shock to anyone. Manning has to feel like he is in control in order to be comfortable. He is going to dictate where he signs, when he signs and how long he signs for. 
The three favorites to get Manning are, in alphabetical order, Denver, Tennessee and San Francisco. Those teams anxiously await word from the four-time NFL MVP so they can get moving on more free agents. 
UPDATE: Sunday, March 18, 10:00 a.m. ET by Donald Wood
While Peyton Manning is expected to make his decision about which team he will play with next early this coming week, there have been reports that the decision could come as early as Sunday morning.
ESPN NFL insider Adam Schefter is reporting on Twitter about the status of Manning's decision:
ESPN's Chris Mortensen reports that Manning still has not informed any of the three teams when to expect a decision, according to sources.

— Adam Schefter (@AdamSchefter) March 18, 2012
Manning has not rushed anything so far during this process, so he will be taking his time picking where he will most likely spend the rest of his pro career. There is still a chance the news breaks this weekend, but Manning will likely wait until Tuesday at the latest.
UPDATE: Saturday, March 17, 12:30 p.m. ET by Donald Wood
While there have been many favorites in this race and every news station with a camera and an internet connection claims to know of the last two teams Manning is choosing between, a new favorite has emerged.
The San Francisco 49ers.
San Francisco worked out with the former Colts QB this week and had head coach Jim Harbaugh out on the field with Manning.
Former 49ers QB Steve Young told ESPN:
Trent Baalke laid low, he did the research, Jim Harbaugh threw with Peyton Manning. They didn't get in the front pages. They know that they are the best answer for Peyton Manning. They know they have the best defense in the league to offer. They know they have the offensive weapons. They know they have Jim Harbaugh. They know all the pieces in place for Peyton Manning. It is the best opportunity for Peyton Manning. They knew it, and they waited for the wannabes to exhaust themselves, and then they came in right at the end, and that's why I think they'll probably land him at this point. I know Peyton Manning is looking for a team to join now and win a division now and go to the Super Bowl now. That's the San Francisco 49ers.
This would be the ultimate move for both the 49ers and Manning, who are both looking for the same thing: more championships. If these two sides were able to hammer out the details, Manning would make San Fran the Super Bowl favorites.
Update: Friday, March 16 at 10:47 p.m. ET
Manning could very well have his mind made up as to where he wants to go, but we shouldn't expect to hear where the future Hall of Famer is going to sign in the near future.
According to NFL Network's Albert Breer, Manning plans on making a decision on his future on Monday or Tuesday.
Per league sources, Peyton Manning has informed clubs that he plans on making a final decision on his future on Monday or Tuesday. ...

— Albert Breer (@AlbertBreer) March 17, 2012
Update: Friday, March 16 at 2:10 p.m. ET by Adam Wells
There could be a reason that Alex Smith hasn't re-signed with the San Francisco 49ers. According to ESPN's Chris Mortensen, Manning worked out with the team and took a physical for them this week. 
Filed to ESPN: Third team in Manning race that has emerged is49ers - Manning worked out for Harbaugh &took physical this week #NFL32

— Chris Mortensen (@mortreport) March 16, 2012
This is quite the interesting development. Manning was believed to have narrowed his choices down Denver, Arizona and Miami, though the Dolphins appear to be turning to Matt Flynn. 
Considering that the 49ers finished a field goal short of playing in the Super Bowl, they could be a fit for Manning. The one thing that could hinder a potential deal, if the 49ers were to offer him one, is the personality of Harbaugh. 
Manning is very calm and controlled on the field, or basically the exact opposite of the at-times-animated Harbaugh. 
Update: Friday, March 16 at 10:55 a.m. ET by Tim Daniels
It appears Manning has eliminated another team from his short list. Mike Klis of the Denver Post reports the quarterback narrowed his choices to either the Broncos or Titans, with the Cardinals falling out of contention:
All signs point to Peyton Manning narrowing his choices to the Broncos and the Tennessee Titans.

Two other Manning candidates, the Arizona Cardinals and Miami Dolphins, are close to falling from pursuit. (...)

Manning is aware of the Cardinals' situation with Kolb and plans to notify them this morning about whether they are in or out. One NFL source says the Cardinals are out.
The news will be tough to swallow for the Cardinals, who would have received a significant boost by going from Kolb to Manning under center, but it leaves time for them to make some important contract decisions with Kolb.
I always thought Arizona was the best destination for Manning since he would have Larry Fitzgerald, a dome and an improving defense. That said, earlier reports of him wanting to stay in the AFC seem to be true.
Update: Friday, March 16 at 9:55 a.m. ET by Tim Daniels
CBS Sports passes along an interesting report that seems to suggest something is brewing between the Broncos and Manning:
According to @MileHighReport, "plane tied to Broncos" is headed to Raleigh-Durham. CC: @realfreemancbs flightaware.com/live/flight/OP…

— Eye on Football (@EyeOnNFL) March 16, 2012
It's important to remember there has been no confirmation that there's a direct link between the plane and Manning, but the development is intriguing. The next couple hours are a turning point in the Manning sweepstakes, so stay tuned.
Update: Thursday, March 15 at 6:30 PM EST
Outkick the Coverage blogger Clay Travis reported tonight that a source told him that Manning and the Titans were negotiating contract details, and that the former Colts star was set to join the Titans by Monday. 
Continuing to hear from source that Manning to Titans will happen. Hammering out contract details now.

— Clay Travis (@ClayTravisBGID) March 15, 2012
If true, this will bring an end to the Manning derby, with a team few thought had a real shot at landing the veteran passer. While no one knows what Tennessee offered Manning, clearly he was impressed by it. 
Update: Wednesday, March 14 at 10:30 p.m. EST
Tennessee's Fox affiliate let us all in on the fact that Manning's long meeting with the Titans had apparently concluded.
After meeting with Titan officials for more than 6 hours, Peyton Manning is leaving Baptist Sports Park.

— WZTV FOX 17 (@wztv_fox17) March 15, 2012
Tennessee sports radio personality Jonathan Hutton believes that they were just calling it a day on the meeting. 
Hearing Manning returning to NC tonight, will resume talks tmrw morning.#titans will not issue statement tonight.

— Jonathan Hutton (@hutton1045) March 15, 2012
This is all great news for any Titans fans hoping that their team lands the MVP QB. 
Update: Wednesday, March 14 at 8:15 a.m. EST
After a delayed meeting with the Titans on Tuesday, Peyton is scheduled to meet with owner Bud Adams a contingent of Titans coaches today.
ESPN reports:
Adams told WSMV-TV the Titans' contingent will fly out of Nashville on Wednesday and spend the day with Manning ... Adams told the TV station he thinks Manning really is interested in the Titans' offer, and he expects a quick decision from the four-time MVP.
A quick decision is one thing every involved team is hoping for. While Peyton owes that to nobody, there are ramifications for every team should they miss on the QB.
The list of finalists, which was once reported as small as two, is at least four deep now according to the Mike Klis of the Denver Post:
The Broncos, Tennessee Titans, Miami Dolphins and Arizona Cardinals are the finalists for his services, with a decision expected to be made soon, possibly today.
Like ESPN, Klis also believes there is a chance of decision coming as soon as today.
For better or worse, that would be the ideal situation for these teams so they can begin working on contingency plans. The Cardinals, Titans and Broncos all technically have quarterbacks, so they would be focusing on adding other talent to their rosters.
The Dolphins, meanwhile, could lose out on both Peyton and Matt Flynn if No. 18's decision takes too long.
We expect to know a lot more after the meeting with the Titans today.
Update: Monday, March 12 at 2:25 p.m. EST
It appears as if the Broncos and Cardinals are not the only teams still drawing Peyton's interest. It remains to be seen if he'll do any more than speak on the phone with the Dolphins, but rumor has it that he will visit Tennessee:
NFL Network's Michael Lombardi reports:
NFL sources tell me that the Titans are preparing for a Peyton Manning visit in the next day or two...

— Michael Lombardi (@michaelombardi) March 12, 2012
Peyton's ties to the Titans? Other than being the AFC South, not much, but he does have ties to Tennessee, where he played college ball.
The Titans have a solid defense, a young running back in Chris Johnson and a potential star receiver in Kenny Britt (if he can stay on the field).
They don't have as much to offer as the Cardinals, Broncos or even the Dolphins, but they do offer some familiarity.
What this does tell us, if the rumors are true, is that Peyton is doing his part to see almost everything that remotely interests him, and that means his decision could be a little further away then some would like.
Update: Sunday, March 11th at 11:55 p.m
According to a report from Vic Lombardi of CBS 4 in Denver, the Broncos are "95 percent" sure that Manning is going to sign with them. While he still needs to visit Miami before making an official decision, it's clear that the Broncos are the front-runner, given the reports out of Denver.  
Just heard from my peoples. Broncos now 95% confident he'll sign with Denver. Their number, not mine.

— Vic Lombardi (@VicLombardi) March 12, 2012
Update: Sunday, March 11th at 8:35 p.m.
The Chiefs and Seahawks were looking for a quick fix at the quarterback position, but Manning won't be blessing their franchises with his presence next season.

According to Mike Klis of the Denver Post,
"The Kansas City Chiefs and Seattle Seahawks are out. Each team tried to get Manning to visit. He declined."
Update: Sunday, March 11th at 6:50 p.m.
According to ESPN's Pedro Gomez, Manning has left the building in the passenger's seat of Ken Whisenhunt's SUV.   
6hours, 30 minutes. Peyton has left the building in the passenger's seat of Ken Whisenhunt's SUV.

— Pedro Gomez (@pedrogomezESPN) March 11, 2012
Obviously Cardinals' fans are hoping this is a sign that the meeting went so well, Whisenhunt is driving off into the sunset with Manning and kicking off the 2012 season with Manning riding shotgun. Broncos fans are hoping this is Whisenhunt bidding farewell to "the Sheriff".

Update: Sunday, March 11th at 6:06 p.m.
You can go ahead and add the Tennessee Titans to the list of teams that badly want Peyton Manning. According to the Tennessean, Titans owner Bud Adams wants to sign the legendary QB.
"He is the man I want. Period," Adams said. "And the people that work for me understand that. They know who I want. I want Mr. Manning with the Titans and I will be disappointed if it doesn't happen."
Update: Saturday, March 11th at 4:27 p.m.
While Manning may have had 12 suitors inquiring about his services, the list of likely landing places continues to dwindle.

According to ESPN's Chris Mortensen and Adam Schefter,
"The Denver Broncos and Arizona Cardinals, the first two teams Manning visited, are considered his two likeliest landing spots, according to sources familiar with the situation."
In fact, according to ESPN's Adam Schefter, 12 teams have already contacted Manning's representation.
We knew that was coming, though, and the most interesting part of the report was Manning's take on the process:
I have no idea who wants me, what team wants me, how this process works. ... I don't know if it's like college recruiting where you go take visits. I mean, this is all so new to me.
The teams rumored to be in the mix for Manning include the Miami Dolphins, Arizona Cardinals, New York Jets, Washington Redskins, Seattle Seahawks, Kansas City Chiefs, Denver Broncos and Tennessee Titans.
UPDATE: Saturday, March 10, 8:00 a.m. ET by Donald Wood
Peyton Manning Injury Update
While all of the talk about which team will be lucky enough to sign the four-time league MVP has clouded our judgment, we seem to be forgetting that Manning missed all of last season after having serious neck surgery.
There is no hard evidence that Manning in back to 100 percent, so the teams as well as Manning will be taking this process slow.
A source told Yahoo! Sports about Manning's injury and what teams interested in signing him are looking for:
"So far, so good. The question is still where is it going to stop, but the progress over the past month has been steady and that's what you're looking for. This is not a physical and he hasn't taken one with us yet. There are still a lot of questions to answer before you continue on, but this information is promising."
If a team that is interested is not only willing to look past the injury, they are willing to work with the star if he is still not ready to go from the start. If you're Peyton Manning, that shows just how much teams want your services.
Denver Broncos Interest Level
While Tebowmania ran wild over Denver last season, a reported six hour meeting between Manning and the Broncos could see the former Colt donning the colors of his AFC foe.
NFL Network field reporter Michelle Beisner is reporting about the meeting between Manning and the Broncos:
Manning has left the building. Police escort out of Broncos facilities at Dove Valley. Manning and Broncos Brass met for nearly six hours!!

— Michelle Beisner (@MichelleBeisner) March 10, 2012
The Broncos have a stellar offensive line that makes good usage of its zone-locking scheme, add in the already dangerous running game, and Manning has a very viable option in Denver.
Washington Redskins Interest Level
Despite the reports that the Washington Redskins mortgaged the farm to acquire the No. 2 overall spot in the 2012 NFL Draft, there is still a serious interest in Manning from the Redskins front office.
ESPN NFL insider Adam Schefter is reporting about the interest level from the Redskins despite news that they traded up in the draft to acquire Robert Griffin III:
Despite speculation Washington is a longshot, a Redskins official said team still will try to sign Peyton Manning and wants to speak with 18

— Adam Schefter (@AdamSchefter) March 9, 2012
As much as we complain about Mike Shanahan's QB grooming abilities (John Elway fell into his lap), the idea that the coach could have RGIII and Manning is a serious upgrade from John Beck and Rex Grossman.
Kansas City Chiefs Interest Level
Another team that has major pieces in place but no real direction is the Kansas City Chiefs. If they could lock up Manning to not only help the dreadful offense, but help develop Matt Cassel, the decision to sign him would benefit the team even when Peyton is gone.
Chiefs' owner Clark Hunt told NBC Sports Network in an interview about the team's interest in the future Hall of Famer:
"He's one of the greatest players in the history of the league. He's also an incredible person. We feel really good about the team we have in Kansas City going into the 2012 season, but we'll look for any opportunity to improve and, of course, that includes Peyton Manning. He's somebody that we'll talk to."
While the Chiefs have the least to offer in terms of being a team close to a Super Bowl run, the addition of Manning to an offense with plenty of weapons and Kansas City may be closer to the big dance than it appears
Peyton Update - Friday, March 9 - 2:35 p.m. EST
As rumors continue to fly around the NFL, there is no denying that the consensus favorites for Peyton are the Cardinals and Dolphins.
One beat writer, Armando Salguero of the Miami Herald, has heard much of the same:
I've been told Manning's decision is basically Arizona or Miami. Denver's John Elway would have to fashion a DRIVE type rally to get him.

— Armando Salguero (@ArmandoSalguero) March 9, 2012
This is nothing new. The teams have much of the same to offer and both give Peyton the chance to succeed immediately.
Denver, despite their rumored interest, is, and always has been, a long shot.
Chiefs Update - Friday, March 9 - 10:40 a.m. EST
The Broncos are not the only team in the AFC West chasing the future Hall of Famer, and reports out of Kansas City indicate that the Chiefs are more serious than just about every other team in the mix.
Broncos insider Brandon Spano reports:
BREAKING: Source says that the Chiefs were the ONLY team to offer a completed contract to Peyton Manning today. Says they are most prepared

— Brandon Spano Show (@BrandonSpano) March 9, 2012
This is surprising on only one level. Chiefs GM Scott Pioli is a Bill Belichick disciple and it is not surprising at all that he's the first to have everything is place.
What is surprising is that he's apparently satisfied with Peyton's health. That is a huge question mark for nearly every other team and even Peyton doesn't know how he'll respond.
However, this reported contract doesn't mean the Chiefs haven't written in medical stipulations of some sort.
Either way, while majority of the talk has centered on Miami and Arizona, it seems the Chiefs are wasting no time in getting their point across.
We shouldn't rule them out at all.
Broncos Update - Friday, March 9 - 10:30 a.m. EST
Any interest in Manning is bad news for Tim Tebow, but "desperate" rumors open a completely new can of worms.
Unfortunately, SI's Peter King is reporting just that:
Denver wants Manning "desperately,'' one competitor for Peyton tells me.

— Peter King (@SI_PeterKing) March 9, 2012
How much the "competitor" King cites actually knows of the situation is obviously open for interpretation, but the fact that the Broncos are still involved at all speaks volumes of how shaky the Broncos' confidence is in Tebow.
It is unlikely that Peyton would sign in Denver, but it apparent that it won't be for lack of trying on the Broncos' part.
Don't expect this to go away quietly.
Redskins Update - Thursday, March 8 - 8:20 p.m. EST
Despite a report to the contrary (see below), Pro Football Talk has reported that Manning hasn't ruled out signing with the Redskins.
Not yet, anyway.
There's not much to add. It sounds like Manning is keeping his options wide open at the moment, and that means he's keeping the Redskins on his radar.
Peyton Update - Thursday, March 8 - 5 p.m. EST
It has been a busy day for Peyton Manning rumors.
While we don't know which teams the QB legitimately favors, we know that he wants to choose by next week.
ESPN's Adam Schefter claims sources close to the Manning camp say he is:
aiming to make a decision within the next week on where he will play next season, according to sources, who add that while Manning prefers to stay in the AFC, he is open to playing in the NFC.
This is hardly surprising as Manning has already told one particular team, the Redskins (scroll down), that he has no interest in signing with them.
He hardly wants to waste anyone's time, especially his own. The sooner he signs with a team, the sooner he'll have the opportunity to make them better.
Get ready for a wild few days of speculation and chatter.
Vikings Update - Thursday, March 8 - 2:50 p.m. EST
Whoa, I stand corrected. After the Browns released some not so surprising news and Peyton reportedly told the Redskins "no" to the surprise of none (scroll down for the stories), the Vikings came out of left field to take the cake with the least surprising news of the day.
Jeremy Fowler at Pioneer Press informs us that the Vikes are not pursuing Peyton Manning:
The Vikings will not enter the Peyton Manning sweepstakes, according to a person with direct knowledge of the situation, opting to move forward with Christian Ponder and backup Joe Webb.
Fowler touched on the Vikings' recent propensity to sign aging big-name quarterbacks, but it isn't even worth discussing Brett Favre and Donovan McNabb at this point. After using the No. 12 overall pick in last year's draft on Christian Ponder, the Vikes sealed their fate at quarterback for the next few years.
And let's face it—they're not that good of a team right now anyway. Peyton wouldn't be jumping at the chance to sit behind a line that gave up 49 sacks a year ago with no true No. 1 receiver to speak of.
Thank you, Minnesota, for officially allowing us to cross your name off a list that you were already crossed off.
Redskins Update - Thursday, March 8 - 2:15 p.m. EST
And in no surprising fashion, there is word out of Washington that Peyton does not want to play for the Redskins. ESPN 980 Washington's Chris Russell talked with SportsCenter and said (via Rotoworld):
A couple of different sources inside the organization have told me that Manning's camp made it pretty clear to Redskins officials he doesn't want to come here.
Not only does this make sense, but it even sounds like Peyton to give the 'Skins fair warning that he doesn't care for what they have to say.
Washington has money, but it doesn't have a ton of pieces, and it plays in one of the toughest divisions in all of football.
Oh yeah, and there is some guy playing the same position in the division wearing the same last name on his jersey.
The Redskins were always a team with rumored interest, but it is not surprising at all to hear that it is completely one-sided.
Browns Update - Thursday, March 8 - 11:05 a.m. EST
In what is the least surprising news since Peyton was released yesterday, the Browns have pulled themselves out of the running for his services.
Let's be honest—they were never involved at all. Plain Dealer writer Mary Kay Cabot has the scoop, tweeting:
#Browns GM Tom Heckert said the Browns won't pursue Peyton Manning. "prob not a direction we're going to go.''

— Mary Kay Cabot (@MaryKayCabot) March 8, 2012
Cleveland is expected to focus on a landing a rookie quarterback or continuing on with Colt McCoy.
The Browns do have two first-round picks and could add two very dangerous weapons to their offense at Nos. 4 and 22.
Dolphins Update - Thursday, March 8 - 10:35 a.m. EST
It is awfully easy to make a case for the Dolphins in this race, and even easier when they've essentially shunned another free-agent option with direct ties to new coach Joe Philbin.
Jason Cole of Yahoo! Sports reports:
As for the Dolphins, the team has yet to express remote interest in free-agent quarterback Matt Flynn so far, even though Flynn just finished playing for new Miami head coach Joe Philbin. A team source said that's because Ross has told general manager Jeff Ireland to put the full-court press on Manning.
That full-court press was echoed by Mark Cannizzaro of the New York Post:
Internally, there has been a directive — George Steinbrenner style — from Dolphins owner Stephen Ross for his football people to get Peyton Manning.

His message: "Make it happen.''
They've got some chips to make it happen too. Cannizzaro also reports that Reggie Wayne, whom Peyton would love to bring along wherever he goes, is high on Miami, as he told WQAM Radio yesterday:
Me being in his trail going to Miami? I would love it. ... I am totally available. South Florida is already hot out here, baby, so you put us together, it'll be burning up. Now you got me visualizing it. I see it.
Playing in Miami would obviously give Peyton a chance to play his longtime rival Tom Brady twice a season. Can you imagine the storylines as their careers come to a close in the AFC East?
As Reggie Wayne put it, "I see it."
Titans Update - Thursday, March 8 - 10:30 a.m. EST
Tennessee was a curious choice for landing Peyton. One thing the Titans have going for them is that they play in the AFC South, but outside of that there isn't much to fall in love with.
The Titans also signed Matt Hasselbeck just last year and drafted Jake Locker at No. 8 overall in the draft. Springing more money on the QB position (although they can get out of the Hasselbeck deal for considerably less money) is questionable at best.
According to Titans beat writer Terry McCormick, they haven't reached out to Peyton's representatives:
Being told by a source that #Titans have not inquired about Peyton Manning.

— Terry McCormick (@terrymc13) March 8, 2012
It would be surprising to see them get involved at all.
Broncos Update - Thursday, March 8 - 9:15 a.m. EST
We know Denver isn't truly all-in with Tim Tebow just yet, and it may never be. While it would still be surprising to see Peyton show a ton of interest in the Broncos, Adam Schefter is reporting that there is more to it than people are willing to believe.
Via @BroncoTalk:
Adam Schefter talking Peyton Manning to the Broncos on ESPN right now: "It's more realistic than some people know."

— BroncoTalk (@BroncoTalk) March 8, 2012
The situation in Denver will continue to run neck and neck with the New York Jets as the most intriguing options in the chase for Peyton.
Peyton Update - Thursday, March 8 - 9:13 a.m. EST
Marshall Faulk said yesterday on NFL Network that Peyton wouldn't sign with an NFC team because he and his family didn't want to lose a chance at an all-Manning Super Bowl.
According to Adam Schefter, Peyton has cleared that up:
Peyton Manning prefers to stay in the AFC but is open to playing in the NFC.

— Adam Schefter (@AdamSchefter) March 8, 2012
Open and excited are two different things, though, and ultimately the conference in which he plays should be of little impact if he's seriously interested in a particular team.
Miami Dolphins
People will immediately point to Miami as the potential front-runner to land the future Hall of Famer because of a local home and the Dolphins' gigantic hole at quarterback. According to the AP report at CBS, however, there are no plans for Manning to meet with the Dolphins just yet.
We should expect to see Miami get heavily involved sooner rather than later.
Arizona Cardinals
ESPN's Chris Mortensen reported late Wednesday that the Cardinals reached out to Manning's camp a few hours after his release. Along with the Dolphins, Arizona is considered a top potential landing spot for the QB.
FOX's Adam Schein reports that there may actually be some mutual interest as well:
Manning, according to different sources, has put out feelers about the Cardinals. He is very intrigued by playing with Larry Fitzgerald and bringing (Reggie) Wayne along as his wingman. 
The Cardinals are no stranger to bringing veteran talents late in their careers. Aside from the obvious success they had with Kurt Warner, they also signed Hall of Fame running back Emmitt Smith and another former Colt, Edgerrin James, at one point.
New York Jets
Gang Green is a trendy choice because Peyton's former offensive coordinator and confidant, Tom Moore, is now an offensive consultant in New York. Jet fans are notoriously impatient and would easily oust the former No. 5 overall pick Mark Sanchez for a shot to bring Manning in the same fashion the Jets did with Brett Favre a few years ago.
Gary Myers of the New York Daily News, who believes Peyton in New York is a brilliant idea, reports, "According to a source, the Jets have inquired about Manning's interest in playing for them."
That isn't all, though.
As we expect to see from a number of teams, players are getting involved in the recruiting process as well.
Another future Hall of Famer and current Jet, LaDainian Tomlinson, was quoted by ESPN New York (while talking to NFL Network) as saying, "I do know one thing: This is a good fit for him."
As for what would happen to his current quarterback, Mark Sanchez, Tomlinson said (after making glowing remarks of why the Jets locker room would want Peyton), "I think he would probably go in and maybe ask to be released.... Rightfully so, he would be a little mad."
The Jets will be arguably the most interesting suitor to watch throughout this process.
Seattle Seahawks
Mortensen also reported that the Seahawks were one of the teams to reach out to Manning's representation late Wednesday.
The Seahawks are a feisty, young team under coach Pete Carroll and have a lot to offer the QB, including money.
ESPN New York's Rich Cimini hears Seattle owner Paul Allen will not be afraid to make a big move should Manning be interested in moving to the Great Northwest:
Hearing from a league source the Seahawks will come out, checkbook blazing, for Manning. #Jets

— Rich Cimini (@RichCimini) March 7, 2012
Peyton won't be swayed by dollar signs, but the Seahawks are one team with the potential to become a legitimate playoff threat with Peyton under center.
Denver Broncos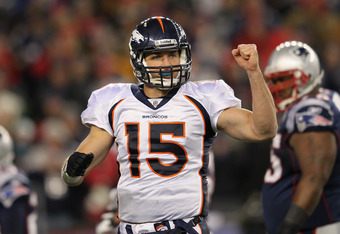 Jim Rogash/Getty Images
Is it surprising at all that this team is interested?
Of course not.
It took John Elway, Vice President of Football Operations, a surprising playoff run and then some to commit to Tim Tebow.
Now, with the first chance to back out, the Broncos are ready to go all-in if the interest is mutual.
ABC7 in Denver reports:
The Denver Broncos will contact the agent for Peyton Manning to gauge his interest in possibly playing in Denver, 7Sports Director Lionel Bienvenu has confirmed ... The sources tell 7Sports the Broncos will become a serious player in the chase for Peyton only if he expresses an interest in coming to Denver.
It is unlikely that Peyton will reciprocate the interest, but only time will tell.
Washington Redskins
Mark Maske of the Washington Post wastes no time saying the Redskins are willing to do whatever it takes for Peyton:
The Washington Redskins are poised to make an aggressive effort in coming days to sign quarterback Peyton Manning.... Several people familiar with the Redskins' plans said the team is comfortable with the risks associated with signing Manning, who missed all of last season with the Colts after undergoing a series of neck surgeries. The team will pursue him intently, they said. 
We'll waste no time either saying that it would be a huge surprise if Peyton were to join the NFC East and play brother Eli twice a year. It doesn't seem like it is something Peyton wants to do.
But again, only time will tell.
San Francisco 49ers
Landing Peyton was always a pipe dream for Niner fans, and Eric Branch of the San Francisco Chronicle puts that dream to rest quickly:
On Tuesday, general manager Trent Baalke said on KNBR that the front office hadn't had any internal discussions regarding Manning, whose release was hardly a surprise. A bluff by Baalke? Apparently not. The NFL Network reported Tuesday night that the Niners had a contract offer on the table to (Alex) Smith.
Baalke's reasoning essentially boils down to Peyton's health, but also Jim Harbaugh's ever-growing relationship with the 2005 No. 1 overall pick.
Expect the Niners to disappear from the rumors pretty quickly. 
We'll update every team with rumored interest every time it's worth talking about.
Throwing seven different kinds of smoke on Twitter too.