20 Greatest Soccer Backheel Goals Caught on YouTube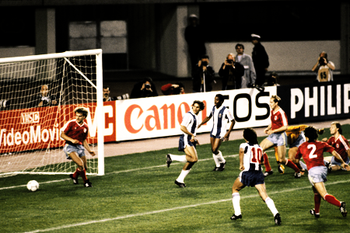 There is substantial risk in utilising the backheel to score a goal because you have your back to goal.
When you attempt one and muck it up, you're seen to be disrespecting your opponents and the game.
When Theyab Awana scored an outrageous backheel penalty, his manager substituted him and then berated him to the press.
The referee even booked Awana for unsporting behavior. The UAE FA even mulled over the idea of suspending Awana for bringing the game into disrepute.
Mario Balotelli suffered similarly when his botched backheel went hand in hand with his bib moment.
Anyways, to pay tribute to these daredevils, here are the 20 greatest football backheel goals caught on YouTube.
Kendi Kalesine
Kendi Kalesine reacted as if he missed from point-blank range.
Roberto Mancini
This is what Roberto Mancini said of Mario Balotelli after his failed backheel:
"If you are serious, you can play 90 minutes. If not, you can come and sit by me on the bench."
I guess Sven-Göran Eriksson should have benched Roberto Mancini for not being serious.
Rabah Madjer
Ali Bencheikh, Djamel Menad, Lakhdar Belloumi, Rabah Madjer and Salah Assad were part of an Algerian golden generation during the 1980s.
Madjer in particular gained fame for his success in Europe.
This backheel was in the European Cup final.
Matuzalém
If you didn't notice, Ciprian Marica catches Javi Navarro out of position with a backheel (0:02).
Matuzalém finishes with a backheel after an excellent cross from Oleksiy Byelik.
Since Matuzalém moved to Lazio, his career has been plagued with injuries, and I fear his tenure at Lazio may be coming to an end.
Leopoldo Luque
Created and scored by Leopoldo Luque.
Luque had a great partnership with Mario Kempes during Argentina's first FIFA World Cup triumph.
Remember, a then-17-year-old Diego Maradona was left depressed after being excluded from the 1978 World Cup-winning squad by César Luis Menotti.
Edinson Cavani
As great as Edinson Cavani is, he didn't mean to score with his backheel, because he was attempting a diving header.
Pause at 0:50 and you'll see a triangle of Cavani, Ezequiel Lavezzi and Marek HamŠík.
Thierry Henry
Look at Thierry Henry's strength in holding off Jonathan Fortune, who was manhandling the Frenchman.
Denis Law
Decades on and Denis Law is still regretful about his goal which gave Manchester United no chance in its relegation battle:
"I was inconsolable. I didn't want it to happen. How long did the feeling last? How long ago was the game? Thirty-odd years. There is your answer...I played with all those guys. They were pals. I didn't want them down. It was the last thing in the world that I wanted."
Zlatan Ibrahimović
If Christian Vieri was Zlatan Ibrahimović's height, then he would have headed that clear.
Ibrahimović is the most skillful big man I've ever seen.
What's more impressive is that this isn't even his best backheel goal.
Grafite
The commentary is just as good as the goal.
Rafael van der Vaart
Rafael van der Vaart's career was projected to be brighter than Wesley Sneijder yet it's been Sneijder who has achieved more.
Mancini
The second Mancini on this list.
In retrospect, his move to Inter Milan debilitated his career and I have no idea what the future holds for him after he was given a two-year jail sentence for sexual assault.
Iñigo Martínez
This goal still doesn't trump Iñigo Martínez's 60-yard goal.
Tony Popovic
I felt Tony Popovic's pain because that is something he will never live down and he was a better player than what the own goal suggested.
Zlatan Ibrahimović
This was the season where José Mourinho relied on Zlatan Ibrahimović week in, week out.
It's like Arsène Wenger relying on Robin van Persie this season.
Charles-Édouard Coridon
This was Charles-Édouard Coridon's only goal in his only season at Paris Saint-Germain.
Cristiano Ronaldo
Cristiano Ronaldo is the most complete forward in football.
Yet, he can't replicate goals like this against Barcelona.
Gianfranco Zola
Gianfranco Zola is my favourite footballer of all time and the reason why I support Chelsea.
This goal was sensational but my best memory is him humiliating Jamie Carragher, then going past the useless Bruno Cheyrou (oh my gosh, he's actually back to defend?) and Danny Murphy.
Matty Burrows
The Irish were robbed of a FIFA World Cup place and they were robbed of the FIFA Puskás Award.
Johan Cruyff
This is why they called it the "impossible goal."
What's the best backheel goal you've seen?
Which backheel goal is too low or too high on this list?
If there is a backheel goal I've missed, please comment below with a YouTube link to the goal.
Please read "Ranking the Top 32 Players Left in Champions League."

Keep Reading