Socrates Death: An Obituary to a Brilliant Footballer and Mind
December 4, 2011
David Cannon/Getty Images
This morning, legendary Brazilian footballer Socrates died after suffering an intestinal infection that developed into septic shock.
One of the members of the FIFA 100, Socrates was a legendary footballer with Corinthians and the Brazilian national team.
With Corinthians, Socrates won the Campeonato Paulista three times and scored 172 goals.
He also took a stand against the Brazilian government and military rule by protesting against the way they treated footballers. Socrates and his teammates went as far as to wear shirts saying Democracia after Corinthians won their state championship in 1982.
The brilliance of Socrates was visible in the 1982 World Cup, where Socrates was Brazil's captain. The side that Socrates presided over is considered by many to be the greatest side to never win a World Cup.
After that World Cup, Socrates would find his way to Italy to play for Fiorentina for a season before moving back to Brazil.
Socrates went on to play in the 1986 World Cup, where he ended his international career with a miss in the quarterfinal against France.
Socrates went on to play for Flamengo, Santos and Botafogo before retiring.
In retirement, Socrates continued to practice medicine after, going to school to become a doctor while he was a footballer. He went on to practice medicine in Ribeirao Preto following his retirement.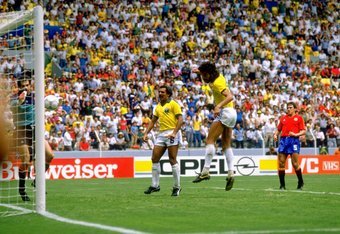 David Cannon/Getty Images
In 2004, Socrates made a memorable cameo for English amateur side Garforth Town for 12 minutes in front of a club-record 1,000 people at Wheatley Park against Tadcaster Albion in a 2-2 draw.
Socrates continued to smoke and drink after his retirement, both of which hurt his health tremendously. In the last four months, Socrates has been taken into intensive care three times, mainly due to his alcohol abuse.
Even though he had his personal problems, no one who ever saw Socrates play will forget how great of a footballer he actually was. He was a unique person who will never be forgotten and the world lost a real football genius today.
Follow me on Twitter @Andrew_Jordan