Manchester City's Carlos Tevez: Inter Milan Is the Only Option
November 18, 2011
Michael Regan/Getty Images
For Manchester City outcast Carlos Tevez, Serie A side Inter Milan are fast becoming his only option.
The striker has been priced out of a move to a calmer environment back home in Argentina with Boca Juniors, while a switch to Corinthians in Brazil is virtually off the cards after they jumped the gun with negotiations.
Meanwhile in Europe, a plethora of prestigious sides would ideally like to offer Tevez an escape route from the clutches of an increasingly angry Roberto Mancini.
However, having racked up some playing time in the UEFA Champions League this season (having actually come on as a substitute for the last nine minutes against SSC Napoli), the likes of Real Madrid and FC Barcelona would be wasting a significant part of their investment.
And since City only want to sell the forward, and for as close to his full £40 million asking price as possible, Premier League rivals Liverpool, Tottenham Hotspur and Arsenal have also been quoted out of a transfer, as have Napoli and AS Roma.
The only clubs in world football able to realistically bid for Carlos Tevez and offer him an agreeable contract would be the likes of Anzhi Makhachkala and Paris Saint-Germain or one of the sickeningly-wealthy clubs in the Middle East.
Then again, neither PSG nor Anzhi need a striker, let alone a marquee one who would demote huge investments Kevin Gameiro and Samuel Eto'o to the bench.
And any club in the Middle East can only offer Tevez money, having no prestige or any of the other non-tangible rewards that come with playing top-level South American and European football.
Should the 27-year-old make the switch to the Middle East, the attention he craves would disappear, just like it did with Sunderland striker Asamoah Gyan, on loan at Al Ain in the United Arab Emirates.
So it seems his only option in all reality is Serie A strugglers Inter Milan, who need him, can afford him and can offer him all the right conditions.
Because one thing the Nerazzurri need, and have been desperately lacking this season, is goals. And people shouldn't forget that what Tevez provides, more than most strikers in world football, is goals, and a lot of them.
Diego Milito and Diego Forlan between them have scored just five goals this season, while Inter's second-best goal scorer (behind Milito) is defensive midfielder Esteban Cambiasso, who has scored two goals in nine games.
It's clear Claudio Ranieri's men need new impetus in their team, both in attack and defence—Bolton Wanderers star Gary Cahill is another player the Nerazzurri need.
Carlos Tevez would provide the boost up front Inter desperately require to save their season, not least of all because he's such a prolific goal scorer and one of the best players in world football for getting a shot on goal despite close attention from several defenders—a situation that happens more in Serie A than any other league.
The Argentine is a player well-suited to Italy's top-flight, and to Inter Milan in particular, as he prefers trying his luck on goal as many times as possible, as opposed to waiting for the perfect chance like an Arsenal or Barcelona player.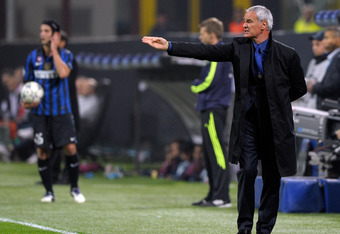 Claudio Villa/Getty Images
And what he can also provide Inter, apart from goals, is a power engine in attack, a player who's willing to run channels and track back defensively, even if he won't put the effort in during training.
It's yet another thing Inter have been lacking, and such a work rate in attack can help pull opposition defenders out of positions and create openings for players like Forlan, Milito and Wesley Sneijder.
The only thing that could put Inter off signing Tevez is his ineligibility in the UEFA Champions League, but seeing as the team are 17th in Serie A, a whopping 13 points off the top, having only earned eight points in nine games, the league is undoubtedly their biggest priority.
On the flip side, the Nerazzurri can offer the man himself a package nobody else can—sun, prestige, money, attention, the delights of Milan (which one might say is a slightly nicer place than Manchester) and an environment most like home.
And a deal could well be on the cards, with Inter captain and Tevez's compatriot Javier Zanetti admitting the City striker could be on his way to the Stadio Giuseppe Meazza in January.
He said: "In January, some big players will come. The club is working towards January, and they have always offered support when we needed it."
"He (Tevez) is having problems with his club, but he is a great player."
So while it seems Inter Milan are working towards a deal for Carlos Tevez, it would appear last year's Champions League winners are the best, and only, option for the Premier League's biggest villain.
Unless, of course, he wants to join Wayne Bridge as another Manchester City contract rebel and pick up his £250,000 weekly wage to sit on the bench. Then again, he'd need to show up to training to do that.