Liverpool
Liverpool FC Player Ratings vs. Norwich City: Reds Rue Missed Opportunity
Grant Holt's 60th minute header secured a point for Norwich City in the team's 1-1 draw with Liverpool at Anfield on Saturday.
Richard Heathcote/Getty Images
October 24, 2011
Kenny Dalglish was left bemoaning his squad's profligacy in front of goal after seeing Liverpool squander yet another lead, this time allowing Norwich City to steal a point at Anfield on Saturday.
Liverpool started the match on a very positive note, creating 29 shots on goal, and forcing the brilliant former Everton backup John Ruddy, into eight saves. Twice within the first 11 minutes Liverpool hit the woodwork, first off a header by Martin Skrtel in the 3rd minute, then when Luis Suárez forced Ruddy to parry his shot onto the post.
Norwich soon enough took the sting out of the game however, crowding Liverpool in possession and being patient and composed, yet daring, with the ball.  They did not play for the draw, quite the opposite. They attacked with confidence and forced Liverpool keeper Pepe Reina into six saves himself.
Craig Bellamy eventually scored in first half stoppage time, his first Premiere League goal since returning to Anfield on transfer day deadline.  José Enrique sent a long ball over the top to Suárez, who collided with a Norwich defender, allowing Bellamy to pounce on the loose ball and getting a deflected goal.
Norwich failed to let the goal deter them, and fifteen minutes into the second half got a goal of their own from substitute Grant Holt, who came on only minutes earlier.  Charlie Adam was dispossessed in midfield and the ball eventually found its way to Anthony Pilkington.
Pilkington's cross was met powerfully by Holt, who got to the ball between Glen Johnson and Jamie Carragher, and just ahead of the advancing Pepe Reina.  Reina came a long way to get the ball and in the end never so much as got a finger onto it.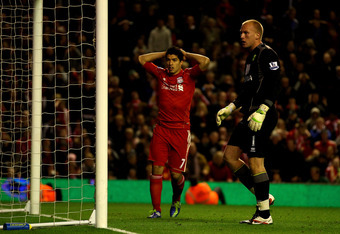 Luis Suárez was a study in frustration as the striker's wasteful display was emblematic of Liverpool's struggles against Norwich.
Richard Heathcote/Getty Images
It was a disappointing play by the Spaniard, and a disappointing result for Liverpool, who squandered a golden opportunity to keep pace with Manchester City and gain points on both Manchester United and Chelsea, who lost their weekend encounters.
If the win against Everton was delightful and the draw against United was promising, this result can only be seen as a step backwards and Dalglish must now have a few moments of introspection to contemplate his tactics and the play of his team.
As always, player ratings are presented by position (back-to-front) below, along the following guidelines:
10: Exceptional— superlative performances only.
9: Excellent— outstanding performance.
8: Impressive— very influential game.
7: Very good— eye-catching game.
6: Average— good game, but nothing overly impressive.
5: Below Average— decent performance, but with some faults.
4: Poor— many faults, performance stands out for all the wrong reasons.
Additionally, any performance which affects the outcome of the game will increase or decrease a player's rating by half a point (.5)
Reina— Has to be disappointed for yet again failing to record a clean sheet when one was there for the taking. Unlike in other games, however, this time he shares the responsibility for the goal.  Was otherwise kept busy by Norwich, rising to the occasion each time.   Grade 6
Johnson— Did very well to get past three Norwich defenders to square a ball into the box, which was cleared by the defense. Allowed Holt to get in front of him to put home Pilkington's cross for Norwich. 6
Carragher— A factor in Holt's goal but only because he happened to be in the frame, he hardly could be faulted on the play. Had a very solid game in central defense otherwise. 7
Skrtel— Has had an indifferent start to the season but to his credit he continues to give a good effort and may be starting to turn his play around.  Almost got Liverpool off to a fantastic start by getting onto Charlie Adam's a well-taken corner kick in the 3rd minute, only to be denied by the crossbar.  Was solid in central defense all game. 6.5
José Enrique— Started the game on a shaky note by first forcing Skrtel into a back-pass which earned him a talking to from countryman, Reina.  Moments later he lost a 50-50 challenge that he should have easily won, allowing Bennett to turn the ball on goal for a comfortable save by Reina. In the end he deserves some credit for his long pass to Suárez which fell to Bellamy for the Liverpool goal. 7 
Dirk Kuyt (Daniel Agger 91')— created a couple opportunities in the first half, seeing a shot cleared in the box, then sending Suárez through in the 35th, before the ball was cleared for a corner.  His intelligent runs, along with those of Suárez did stretch the Norwich defense at times, but once more he has nothing to show for it.  6.5
Steven Gerrard— 3rd minute corner should have been dealt with by Suárez.  Popped up at odd parts of the match but really failed to put his mark on the game.  6
Adam— Started the game brightly by almost getting an assist on his first touch with Skrtel's near miss and had other decent moments, but it was his giveaway in midfield that lead to the Norwich goal.  6.5
Stewart Downing (Andy Carroll 80')— Started on the right side and seemed to struggle to find his bearings, first cutting inside onto his favored left foot (and into the path of a defender) when there appeared to be options to cross with his right.  Later, he seemed caught between shooting and passing, eventually lofting the ball too high for Suárez, and into touch. A very disappointing game for him… his third straight subpar effort. Grade 5
Suárez — had two early opportunities go begging when he failed to connect with Gerrard's early cross, then two minutes later scuffing a shot in the box wide of the net. Did much better with his third opportunity in the 11th minute, though that too was denied by John Ruddy and then the post. Continued to create numerous opportunities and when he wasn't foiled by the brilliant goalkeeping of Ruddy, was foiled by the framework. Failed to get the benefit of the whistle of Peter Walton, and one can only surmise that Manchester United's criticism that he goes to ground too easily might be finding resonance with the officials. Needs to remonstrate less with the official and do more with his opportunities. 7
Bellamy (Jordan Henderson 69')— started the game very brightly by sending in a terrific cross to Suárez who was denied by fate and John Ruddy. Continued to cause concern on the left side and was well rewarded for his activity and effort on the goal. 8
Substitutes
Henderson—failed to make an impression after replacing Bellamy with 20 minutes left.  Grade 6
Carroll— came off the bench for the second straight game since scoring in the Merseyside Derby three weeks ago and somehow managed to put a header wide from six yards out.  Hardly had any service with Dalglish opting to replace both Bellamy and Downing on the wings. 6
Agger— saw his first action since fracturing his ribs against Spurs a month ago, but not enough time to make an impression.  N/A
Not used: Alexander Doni, John Flanagan, Jay Spearing, Maxi Rodriguez
Like the new article format? Send us feedback!