Arsenal F.C.: Former Manager Voices Opinion About Wenger's Two Starlets
October 21, 2011
Clive Rose/Getty Images
It is no secret that Arsenal's manager Arsene Wenger has a knack for cultivating young, unproven talent.
From Patrick Viera to Thierry Henry to Cesc Fabregas to Jack Wilshere, Le Professeur can take credit for developing some of the biggest talents in the world.
Although the club has endured a trophy "dry spell" the past few seasons, the influence of Wenger is undeniable.  Without the instruction and guidance of the Frenchman, plenty of players would not be where they are today.
This season has been no different, with Wenger bringing in a host of unknown youngsters. Names like Carl Jenkinson, Joel Campbell and Ryo Miyaichi will hopefully make a name for themselves in a short time.
One name in particular is viewed a bit different though.
Alex Oxlade-Chamberlain was brought to Arsenal from Southampton for £12 million, and this fee could rise to £15 million, pending performance incentives and add-ons.
Just 18 years of age, the tricky winger was brought to the club amidst a fury of hype. He spent just one season in the Southampton first team and was voted to the League One Team of the Year for his efforts.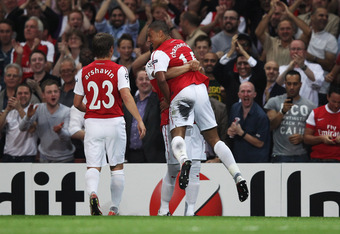 Clive Rose/Getty Images
He is also the second youngest player ever to play for the Saints' first team, only behind current teammate Theo Walcott.
In fact, Theo and Alex share a lot in common.
Both came out of the famed Southampton youth system en route to playing with the first team.
Each had breakthrough seasons with the Saints that put them on the map as up-and-comers.
Both caught the eye of Arsene Wenger, and both were brought over to the club by the Frenchman on very short notice.
That being said, many of the comparisons stop right there.
Theo Walcott was brought to the club in 2006 after he was shockingly included in England's World Cup squad. He experienced a relatively successful first season with the Gunners, yet he wasn't able to bag his first goal until February of 2007.
When Oxlade-Chamberlain was brought over, he took a lot less time to make his mark on the club. Wenger did not employ the young winger immediately but when he did, he was repaid for his faith.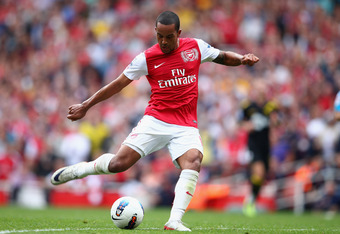 Clive Mason/Getty Images
He scored his first goal for the club in the League Cup on September 20th, and then became the youngest England international to score in the Champions League only eight days later.
With that goal in the Champions League, he eclipsed—you guessed it—Theo Walcott.
With so many shared similarities, it makes you wonder why you don't see the two of them playing together for Wenger's side.
Just last week, former Southampton boss Lawrie McMenemy came out with a few choice words regarding both players in the UK paper The Telegraph.
McMenemy had the opportunity to coach both youngsters while they were at Southampton, and when evaluating the two, to him there really is no comparison.
The 75-year-old coach believes that Oxlade-Chamberlain is not only better than Theo at his age, but his place in the first team is threatened by the Arsenal new-boy as well. 
He feels Oxlade-Chamberlain has benefited from his father being a professional, and believes that he has greater capabilities to secure a spot in Arsenal's starting XI than does Theo.
Don't let McMenemy's admiration of Oxlade-Chamberlain deter the facts; he still feels Theo has the potential to be world-class and has amazing abilities himself.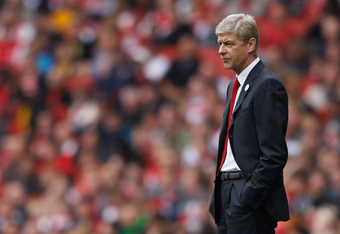 Paul Gilham/Getty Images
Wenger wants to groom Theo to be the future center forward of Arsenal, whereas Oxlade-Chamberlain is more comfortable coming forward from deeper parts of the midfield. This already merits the notion that they aren't exactly the same type of player.
I truly believe they both have bright futures with the club. It is amazing to think that their accumulated appearances playing top-flight football, specifically Theo's, come out to a very respectable number.
Some argue that Theo has experienced a plateau of sorts. The biggest knock on the young man was the fact he didn't have as intelligent of a footballing brain as some of his colleagues, a claim disputed by McMenemy in the above link.
When I watch Walcott, I can see where McMenemy might be coming from. He is blessed with blistering pace, speed and the innate tendency to find the back of the net. But his movement is delayed at times and it makes McMenemy's accusations seem less farfetched.
Theo has time to develop, and I think this claim about him is one of the biggest reasons Wenger brought him over. A quality coach can develop raw prospects into elite players, and Arsene still has time to do that.
Oxlade-Chamberlain is a joy to watch given his limited opportunities, and fans of the Gunners cannot wait to see how he turns out.
So, with the revealing input of McMenemy and having been able to see both play for the Gunners this season, I would like to address a few questions:
Is Oxlade-Chamberlain taking over Theo Walcott? Do you believe the fact that Theo is experiencing a plateau?
Can Arsene get them both to play on the pitch together? And if so, how quickly do you think that can happen?
Comments, responses and inquires are welcomed, so please voice your opinions! Thank you, and VAMOS YOU GOONERS!