Cristiano Ronaldo, Lionel Messi and the Worst Misses of All Time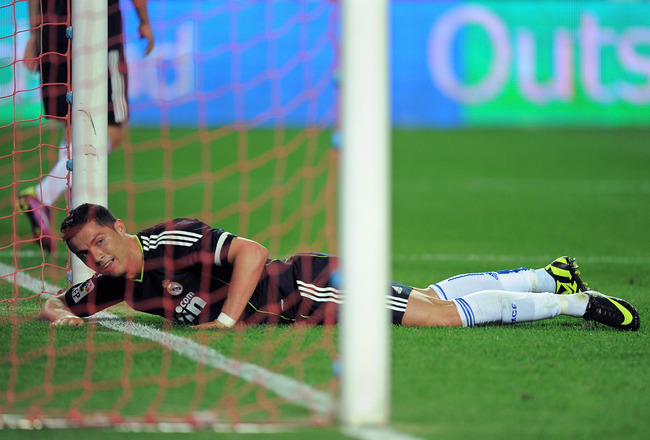 Denis Doyle/Getty Images
It happens often in the world of soccer.
A player is through on goal—just themselves and the goalkeeper (sometimes not even that)—and somehow, the planets align, the player's balance is thrown off and they shoot the ball over or wide of the net.
We've all seen it or experienced it.
Even multimillion-dollar professional soccer players have this happen.
Cristiano Ronaldo's done it. Fernando Torres has done it. More recently, Robin van Persie has done it.
It happens rather often. The more chances you have, the more likely you are to score, yes. It's also equally as likely that you will miss.
Here are some of the most unfortunate and memorable misses in the soccer world.
Cristiano Ronaldo
No words can accurately describe the disappointment Ronaldo felt after he blasted this over the bar.
A brilliant job by Rooney to hold up play. A brilliant run into the box by Giggs.
And then Ronaldo. That one man you could almost bet your house on to score a goal like this, a sitter like this, and he skies it over the bar.
Quite embarrassing for the Portuguese international.
Atsushi Yanagisawa
Excellent clearance out of the box to play this man through.
One-on-one with the goalkeeper and he outfoxes the goalkeeper to win the ball and then shoots it wide.
I would not want to be in his shoes going into the locker room at the end of the game.
Mirko Vucinic
Mirko Vucinic is one of the more recognizable names in Italian soccer.
The AS Roma player is sent an excellent cross towards the top of the six-yard box, right where any poaching striker would want it...and he misses.
Wide. To the left.
Truly a terrible touch by a very talented player.
Unknown Russian League Player
Words can scarcely describe how he does this.
Did he completely miss the ball and just land on it, or was it just the worst missed kick ever?
Jakub Błaszczykowski (Aka "Kuba")
This is a brilliant play from Borussia Dortmund with a terrible ending.
The ball moves up the left flank, the player goes in against the defender and goalkeeper, winning the ball AND crossing it across the box to the open forward, Kuba.
What does Kuba do? Blast it into the second tier of the stands.
David Villa
The mercurial Barcelona and Spanish national forward making an appearance on this unfortunate miss list.
Yes, that is a brilliant ball played in.
Yes, that's a fantastic volley by Capdevila.
No, that is not a fantastic finish by David Villa. Wait, what?
Yes, it seems this prolific goalscorer got a little too enthusiastic when going for the easy tap in. Better luck next time, David.
HM: Unknown
This video reached viral status a few years ago and even reached a few sports reports for just how bad of a miss it was.
Not sure who it is, but as with Villa's miss before, he just got a little too enthusiastic with the finish.
Kanu
Kanu has been one of those slow-moving but effective strikers that has been in and around the English game since he played for Arsenal back in the early 2000s.
This simple finish for him turned out to be not so simple and was costly for the West Bromwich Albion side he was playing for as time passed.
Lionel Messi
Lionel Messi, at the age of 24, is arguably one of the best players of this generation, if not of all time.
He is a prolific goalscorer for Barcelona, recently moving into second place on the all-time scoring list for his FC Barcelona side with 196 goals in all competition.
However, Messi's performance has been questionable for the Argentine national side, as he has not been the same prolific scorer that he is when he plays for Barcelona.
In this clip against Colombia, Messi lives up to his poor national form with this bad miss, wide of the goal.
Diego Forlan
Diego Forlan, the former Atletico Madrid and current Inter Milan star, had a brief stint at legendary English side Manchester United.
For those of you wondering why he never became famous for the Red Devils, this is one of the reasons.
A legendary miss during Manchester United's United States tour eventually led to the Uruguayan moving on to other clubs.
Ruud Van Nistelrooy
Of course there is going to be an entry involving Manchester United and Arsenal. Probably the most infamous incident between the sides, as well.
This was a match between the two strongest sides in England. The undefeated Arsenal versus a very powerful Manchester United squad.
This hotly contested match was a key marker for an Arsenal side that would win the Championship that year.
I'll let you formulate your own opinion on the miss itself. Needless to say, Van Nistelrooy certainly had a lot of power behind that strike.
To see the miss, skip forward to 2:00.
Keep Reading