Newcastle United vs. Tottenham: 5 Lessons Learned from Sunday's 2-2 Draw
Michael Regan/Getty Images
Tottenham Hotspur's winning ways came to an end this Sunday, as Newcastle United put up a valiant fight to steal a point at home.
Jermaine Defoe's goal looked to be enough to take all three points, but Shola Ameobi's lighting bolt strike across goal allowed Newcastle to equalize in the 86th minute and take away a point from the game.
The game was actually fairly evenly split with no team really dominating. In fact, by the end of the game, some could argue that Newcastle deserved to win, having had 55% of the possession, to Tottenham's 45%.
Still, Spurs fans will feel aggrieved that their winning streak did not continue in a game that many Spurs fans believed was very winnable.
Let's take a look at some of the lessons Redknapp and Co. should learn from and incorporate into next week's game plan.
Do NOT Bench Jermain Defoe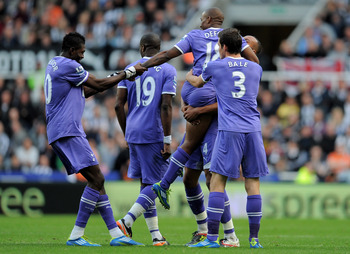 Michael Regan/Getty Images
I've said a million times now. Do. Not. Bench. Jermain. Defoe.
It kind of annoys me how many people and websites have credited Harry Redknapp with the "masterstroke" of subbing off Rafael van der Vaart for Jermain Defoe. That wasn't a masterstroke; Defoe should've started the game!
Van der Vaart is a great player, but with each game it becomes clear that he is incompatible with what Tottenham needs to be successful. The facts are very clear on this: When he starts, Emmanuel Adebayor does not score, and our margin of victory is never greater than one.
On the other hand, when Defoe starts, not only does he score, but so does Adebayor, and on a whole, Tottenham as a team look significantly more convincing. Luka Modric can control play as he does best, Scott Parker can spray passes across the field, etc; everything goes as planned.
Van der Vaart does too much, and its especially frustrating for Tottenham because he does what other players can do very well. On top of that, he refuses to play defense, which is one area that Tottenham still struggle with (more on that later).
Van der Vaart can be an excellent super sub, or right midfielder if he straightens his act out and starts playing defense. But he should not start ahead of Defoe. He may be the better player, but Defoe is without a doubt the better fit for Tottenham, especially when Adebayor is fit.
The sooner Redknapp realizes this, the sooner we can win these mid-table games on a regular basis. If he continues to struggle with this concept, our challenge for the top four could seriously be derailed.
Gareth Bale Is Best as a Left Winger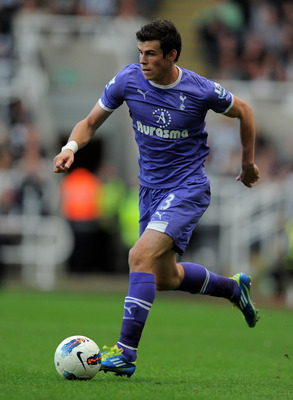 Michael Regan/Getty Images
This is just one of those days where I cannot help by think: "Redknapp, what @#$% were you smoking prior to this game?"
In recent years, Gareth Bale has established himself as one of the best left wingers in football. Sure, many think he's overrated, but his quality is undeniable. Why on earth would you put him on the right wing then, especially since you've never had him play in that position before? To accommodate Jake Livermore?
Bale was fairly ineffective prior to switching back to the left flank and never really got into the game. Meanwhile, Livermore put in a good effort, and arguably created the chance for Adebayor that lead to Tottenham's penalty, but he did little else of note.
Moral of the story: Redknapp, PLEASE stop messing with things that work! You're 0/2 on this game.
Ledley King Is Still Injury Prone
Michael Regan/Getty Images
"If it's too good to be true, it probably is" is a saying that almost everyone is familiar with. Here, it most definitely applies to Ledley King.
After five consecutive games without any injury concerns, Tottenham fans were beginning to get comfortable with the idea of seeing King regularly in the starting lineup after so many years of injury after injury. But today, that dream was broken once again.
His knees flared up for the hundredth time today, and he had to be withdrawn in the 30th minute with what is being reported as an abductor muscle injury. Reports indicate that he faces "several weeks" on the sidelines.
As usual, King was an absolute wall in his time on the pitch, and it is no coincidence that Newcastle had hardly any chances on goal while he was still playing.
For now, we wait for an official time line of return for the Spurs captain, but in the meantime, Spurs fans would be wise to lower their expectations and hopes of a 30-40 game season for King back down to 20-30, if we're lucky.
Luckily, Younes Kaboul Has Shown Great Improvement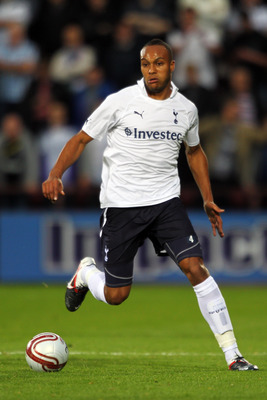 Dean Mouhtaropoulos/Getty Images
Although the news of King's injury is very disheartening, Younes Kaboul is continuing to show signs that he is learning a lot from his center back partner.
Against Newcastle, Kaboul put in a hard-working, all-action display, and could not be blamed for either of Newcastle's goals. His tackling and positioning were on point, and things could've been much worse for Tottenham if he were not present.
Spurs fans will be hoping that Kaboul will be able to pass on the lessons he's learned from King to Sebastien Bassong, who will likely feature heavily in the coming weeks, as William Gallas remains out with a long-term injury. Also, Michael Dawson still looks to be at least a few weeks away from being match fit.
Bassong continues to complain about his lack of playing time, and so he'll have his chance to prove that he actually deserves to get playing time now that he's one of the only fit center backs at Tottenham.
His performances have not been very reassuring lately, but he did his job adequately against Newcastle, and hopefully, he'll be able to get even better in the coming weeks.
Kyle Walker Is the Cuplrit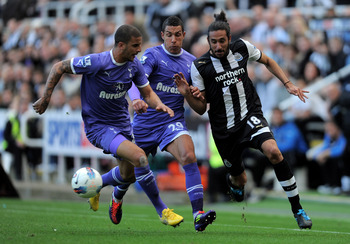 Michael Regan/Getty Images
I hate to slate the guy who was a hero for me and so many other Tottenham fans against Arsenal, but personally this defeat falls almost entirely on Kyle Walker's shoulders.
For a right back who is being projected as England's right back of the future and who did very well defensively and offensively last week against Arsenal, he was very poor against Newcastle.
It was Walker who was unable to adequately defend the cross that led to Demba Ba's equalizing goal, and against Shola Ameobi, Walker was completely out of position and gifted the striker way too much room to score.
He most likely does not have to worry about Vedran Corluka or anyone else taking his place in the team anytime soon, but he will definitely need to work on his defensive intensity if he is going to improve and become a regular for club and country.
Otherwise, Tottenham could find themselves regularly in trouble defensively, and his England call-ups could very quickly dry up.
Are there other points that you can think of to take from Tottenham's game against Newcastle? Leave your ideas and feedback below in the comments section and I'll make sure to check them out as soon as I can.
Keep Reading

Tottenham Hotspur: Like this team?