Liverpool 1-1 Manchester United: Red Devils No Longer EPL Favourites
October 15, 2011
Clive Brunskill/Getty Images
Manchester United looked anything but Premier League favourites after their 1-1 draw with Liverpool. This happened on a day where Manchester City took over the reigns as league leaders.
The result leaves United second behind City, who thrashed Aston Villa 4-1 to go two points clear at the top of the Premier League table, with Chelsea having closed the gap between to United to just one point after beating Everton at Stamford Bridge.
It follows from their less-than-impressive performances before the international break, in which they struggled to a 2-0 win against Norwich City at Old Trafford after surprisingly throwing away a 2-0 home lead to draw 3-3 against FC Basel in the UEFA Champions League days earlier. They also struggled to a draw at Stoke City the week before.
And it was a game at Anfield in which Liverpool dominated throughout, reflected by the match statistics.
The Reds were full value for their lead (even if it did come via Ryan Giggs preferring to protect his testicles instead of staying strong in the wall for Steven Gerrard's free kick), and should have won the match easily.
They had a longer time of possession than United, seeing 55.9 percent of the ball compared to 44.1 from United.
They created more chances, more shots on target, won five more corners, made more tackles, gave away less fouls and had a better pass success rate despite spraying around 80 more passes.
The visitors only managed two shots on-target throughout the whole game, courtesy of Ashley Young and Javier Hernandez, who scored the equaliser. They had to rely on David De Gea many times to keep the score level.
De Gea made five saves during the game, including two at point-blank range, further re-affirming his status as statistically the best-performing goalkeeper in the league this season. He's made the most saves and has the best saves-to-shots ratio.
And when a team's goalkeeper is the best performing keeper in the league, it's clear there are defensive issues which need sorting out.
This was most certainly evident in the game against Liverpool, with United's laid-back approach in defence almost costing them dearly.
As the statistics show that not one Red Devil defender had a clearance efficiency rate over 50 percent, with most clearances not making it out of the final third.
The two centre-backs, Rio Ferdinand and Jonny Evans, were the worst, with Ferdinand only efficiently clearing three of his nine attempted clearances and Evans only effectively clearing four of his 12 attempted efforts, both at an efficiency rate of 33 percent.
Liverpool's two central defenders however, were much more efficient, despite having less to do.
Martin Skrtel only had two clearances to make, and did fluff his lines once, but Jamie Carragher was much more solid, efficiently clearing six out of his seven attempted clearances.
And it's not just their defence in which United need to improve.
Famed for their passing, Manchester United were just not with it today.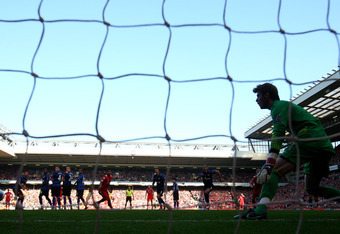 Clive Brunskill/Getty Images
Darren Fletcher had a good game, accurately passing 90 percent of his 61 attempted passes, but the next best in midfield was Phil Jones with an 82 percent accuracy rate. No other midfielder achieved a pass success rate of 80 percent or over.
Ashley Young had a dire game, with a success rate of just 67 percent.
Compare that to the home team, who had four midfielders with a pass success rate of over 80 percent, including Stewart Downing who had an 87 percent accuracy rate, and man-of-the-match Steven Gerrard who had an 81 percent success rate.
And it's not just the accuracy of the passing in which United were poor, but also in how clinical their passing was compared to Liverpool's. The Reds made 10 key passes, while United could only manage seven.
Overall it was not a good day at the office for Manchester United, with Sir Alex Ferguson's team lucky to come away from Anfield with a point.
With loads to work on at Carrington, and with Manchester City and Chelsea in cruise control in their respective matches this weekend, it seems the Red Devils are no longer favourites to lift the Premier League trophy come the end of the season.