Liverpool vs. Manchester United: Why Red Devils Have the Better Young Talent
October 12, 2011
Alex Livesey/Getty Images
Manchester United vs. Liverpool is not only one of the marquee matches of the season, it's also a clash between two of the best young sides in the league.
Both teams harbor a reputation for producing excellent young players, whether it is through the process of developing them in their academies or their scouts finding them at a young age and bringing them in. Liverpool lore is filled with names such as Michael Owen, Robbie Fowler and Steven Gerrard; world-class names brought up in their system and then unleashed on the world.
Liverpool has also been home to young greats such as Fernando Torres and, now, Jordan Henderson and Luis Suarez: world class talents well scouted and brought into the fold.
Manchester United, on the other hand, is legendary for their devotion to youth. From the great Busby Babes of the '50s to the Fergie's Fledglings of the '90s, United has seen some of the greatest players in the world ply their early years at Old Trafford. Homegrown talents like Ryan Giggs, David Beckham, Paul Scholes, and Gary Neville would be joined by scouted youngsters like Ole Solskjaer, Cristiano Ronaldo, Wayne Rooney, and now Javier Hernandez, Phil Jones, and David de Gea.
So, despite all the antagonism that exists between the two sides (and their supporters), they are remarkably similar in their pedigree, their philosophy, and their youthful vigor.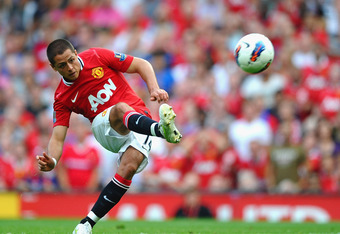 Laurence Griffiths/Getty Images
But despite the fact that this year's Liverpool side contains young greats—under 25 years of age, such as Luis Suarez, Jordan Henderson, Andy Carroll, and Martin Kelly—it's clear that Manchester United has the better young talent.
Even setting the cut-off age at 25 and older, which excludes world class almost-youngsters Wayne Rooney, Nani, Ashley Young, and Antonio Valencia, Manchester United still boasts a roster that is lethal and of high quality in both attack and defense.
Javier Hernandez and Danny Welbeck up front are legitimate goal threats and, at 23 and 19 respectively, are still growing. Tom Cleverley and Anderson form a formidable central midfield pairing, and a backline of Rafael and Fabio da Silva, Phil Jones, Jonny Evans, Chris Smalling and David de Gea are already on the brink of world class.
Each of United's first team youngsters is capable of starting for their national teams, and some of them already do, and they all form the core of what is shaping up to be a dominant Manchester United team.
But regardless of the talent, for it can be argued that Suarez, Henderson, Carroll and Kelly all have comparable talent to Hernandez, Cleverley, Welbeck and Jones, there is one overarching reason as to why United has the better young talent: Sir Alex Ferguson.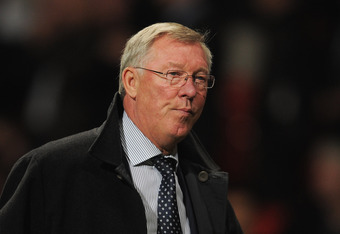 Michael Regan/Getty Images
Love him or hate him, Sir Alex has ruled over Manchester United for 24 years. Ruthless as he is cunning, this means that he has managed to shape the team's philosophy and culture in a way that ensures a constant cycle of youth and renewal.
Sir Alex is ruthless, and well aware of the mortality of both himself and his players. He is constantly looking to the future, knowing that no matter how good Wayne Rooney is at the moment, he will fade in time and his replacement must be ready. It's how he's always done things, from Ryan Giggs supplanting Andrei Kanchelskis to Cristiano Ronaldo replacing David Beckham. For Sir Alex, it's all about the youth and the future.
But unlike Arsenal's youth philosophy, which is admittedly hampered by financial issues, Sir Alex always ensures that the youngsters on his team are not thrown into the lion's den willy-nilly, but shepherded into the league alongside veterans strong in craft, guile, and leadership.
It's about balance.
When Sir Alex brings a star youth player into the side, he does so while ensuring that he is partnered or mentored by a veteran. For example, Paul Scholes was brought into the side at a very young age, but he had the strong veteran presence of Roy Keane beside him and Eric Cantona ahead of him. Wayne Rooney, when first included in the lineup, never had to shoulder the burden alone. He had Ruud van Nistelrooy, Ryan Giggs and Paul Scholes to mentor him.
Today's crop of youngsters is well balanced by veterans. Javier Hernandez and Danny Welbeck have Wayne Rooney and, occasionally, Dimitar Berbatov. Tom Cleverley is partnered with Anderson, who, although a youngster himself, has been at United long enough to be called a veteran. Phil Jones and Chris Smalling have Rio Ferdinand and Nemanja Vidic to learn from.
Balance.
It's how Sir Alex has run United for decades, and it's the philosophy that will shape the club for years to come. It's how new stars will be made and championships will be won.
Liverpool's youth setup and youthful first team is to be commended and admired, especially in the face of the multimillion splurging going on in the blue halves of Manchester and London. But until someone like Ken Daglish stamps his authority on the club the way Sir Alex has on his for as long as he has done, then United will always have the better young players in some way, shape or form.