AC Milan: 10 Best Goals of the Last 20 Years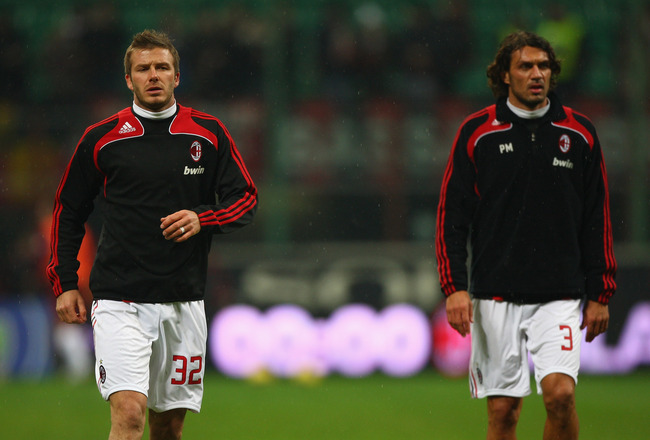 Paolo Maldini is one of Milan's greats. Did Beckham make the list?
Michael Steele/Getty Images
One of the most storied professional soccer teams in Italy's history, AC Milan has had their fair share of amazing, incredible and, most importantly, clutch goals.
Past and present squad players like Andriy Shevchenko and Thiago Silva have produced some of these memories. One of the most popular European soccer clubs, the Rossoneri and their storied history cannot be justifiably praised without noting the 10 greatest AC Milan goals of the past 20 years.
You'll see goals from legends like Ronaldinho and Ronaldo, and brilliant strikes from Milan favorites like Zlatan Ibrahimovic and Fillipo Inzaghi. So, without further adieu, here are the top 10 AC Milan goals of the past 20 years.
Alexandre Pato's Impressive Strike
A young and promising player for Milan, the Brazilian-born Pato is a fan favorite in Milan. Although often injured, Pato is a timely goal scorer for AC Milan and provides a spark on Milan's top line of strikers.
In this video, Pato receives a good rebound and pounces on the opportunity for the goal. Expect much more from Pato in the following years, as he helped the Rossoneri to another Serie A Championship crown in 2010-2011.
Thiago Silva's First Champions League Goal
The young and upcoming center back for Milan, Silva will be a force for years to come on the Rossoneri back line, as his contract has been extended until 2016.
This goal proved memorable: It was Silva's first goal for the Red and Blacks, while he tied the game in an important Champions League group match against their European rival, Barcelona.
After taking a beautiful corner-kick cross from Clarence Seedorf, Silva elevates high into the air and cleanly handles the pass with his head to cruise the ball past the great goalkeeper, Victor Valdez.
A goal like this from Silva proves that he belongs on Italy's biggest stage.
Ronaldinho's Amazing, Sailing Strike
Over the past 20 years, there have been many soccer greats; Ronaldinho is one of them.
It was Milan's pleasure that he laced his cleats with the Rossoneri from 2006-2008. Of his 20 Milan goals, this is his greatest.
An absolutely electric player with a super boot, Ronaldinho proves this with this free-kick goal against Portsmouth back in 2008. After being fouled before the play, he quickly sets up his shot and picks his placement.
Just watch—the ball sails.
Andrea Pirlo's Outside Strike
Much like Ronaldinho's goal, former Milan favorite Andrea Pirlo absolutely crushes this one. Pirlo played the best of his career for Milan, scoring 32 goals in 284 caps for the squad. More known for his passing and rhythm, the "Metronome"—as he was called—Pirlo is widely regarded as one of the best midfielders in the world today.
This goal from 2009 shows a hidden side of Pirlo—his powerful kick. From over 30 meters away, he easily beats Real Madrid goalkeeper Iker Casillas, another world-class goaltender.
Although Pirlo had been a fan favorite in Milan for over a decade, he signed a free agent contract with Serie A arch rival Juventus, which will keep him locked there until at least 2014.
David Beckham's First AC Milan Tally
Hey, why not? Although he only played 29 games with the team, Beckham's impact was made.
Seen as a marketing move by Milan, many people did not expect much from Beckham, but he provided a good spark as both a playmaker and passer.
Yet he tore his Achilles tendon in a league match and was forced to miss the 2010 World Cup, which devastated him.
The following is a replay of Beckham's first of two career AC Milan goals. At least he looks amazing when he plays—right, ladies?
Ronaldo's Amazing Inside-out Footwork Strike
Brazilian striker Ronaldo became a household name back in 2002 for his performance on the Brazilian national team.
In that year, he brought his nation a World Cup championship, and is regarded as one of the greatest strikers of our era. He is one of two men to win FIFA's Player of the Year award three times.
Unfortunately, at only 35 years old, his career has been cut short due to ongoing thyroid problems.
Having only played one season for AC Milan, he was only able to record nine goals in the Milan jersey.
This one, though, tops them all. In a match against Serie A team Empoli, Ronaldo shows his footwork: He goes inside-out multiple times on the hapless defenders, and makes this goal look awfully easy.
George Weah's Amazing Individual Effort
The 1995 FIFA World Player of the Year with AC Milan was George Weah. A controversial player, Weah once broke an opponent's nose for allegedly making racist comments against the African forward. Yet, he won two Italian leagues—in 1996 and 1999.
Again, in 1996, Weah scored a simply amazing goal while providing one of the great individual efforts in soccer history.
This goal is that play, and you will no doubt be amazed. The goal, against Verona, will be remembered by Milan fans for centuries to come.
Filippo Inzaghi's 300th Career Goal
All-time Milan favorite and great, Filippo Inzaghi cracks the top three with a historic milestone goal. He has over 300 career goals, and is the Serie A's all-time leader in hat tricks.
He's won two Champions League medals and has led Milan to two Serie A titles. More commonly known as "Super Pippo," Inzaghi has provided countless memories for Milan and its faithful.
The following video is a replay of Super Pippo's 300th career goal. The 300-goal club is a very respectable club that Inzaghi is proud to call himself a member.
Andriy Shevchenko's Champions League Winning Kick
One of the most important goals scored in Milan history was scored by one of its all-time high scorers, Andriy Shevchenko.
In 2003, Rossoneri were on the verge of their sixth Champions League title, playing rival Juventus. The game ended with a 0-0 tie, and the match was eventually decided by penalty kicks.
"Sheva" kicked for Milan's final attempt and won the European title for Milan. He became the first Ukrainian-born player to win the title,
Shevchenko has been inducted into FIFA's 100, and was also awarded FIFA's European Player of the Year in 2004 with Milan. He is widely regarded as one of the world's most consistent and underrated players.
Zlatan Ibrahimovic's Amazing Goal Against Lecce
The current AC Milan striker, Swedish-born Zlatan Ibrahimovic is one of the squad's most outgoing and incredible players.
A recent addition (he joined Milan in 2010), he has already made an impact on the team. Having scored 15 goals in 30 games, he has already proven that he belongs on the team for a considerate amount of time. He has a monster boot and surprising speed, despite his 6'5" frame.
In this video, Ibrahimovic shows his electric speed and expertise, on and off the ball. Just watch—your jaw will be on the floor soon enough. The placement of his kick is impeccable.
Keep Reading

AC Milan: Like this team?