Arsenal's 10 Possible Successors for Manager Arsene Wenger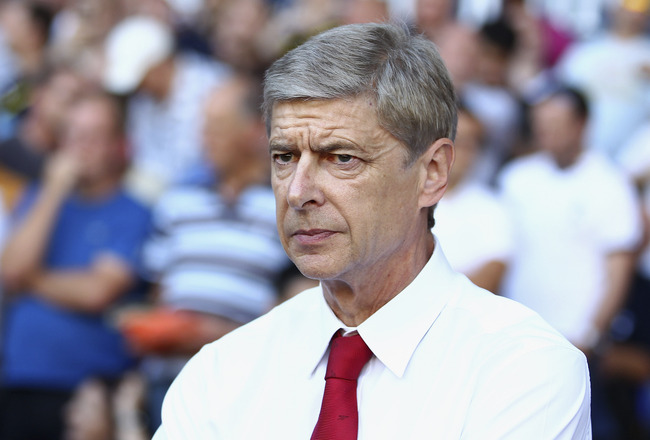 Julian Finney/Getty Images
He's the most successful Arsenal manager in history, leading the club to three Premiership titles (including the illustrious "Invincibles"), four FA Cups and many strong runs in international competition during his 15 years as manager. His cerebral, forward-thinking managerial style earned him the nickname of "Le Professeur."
Although there have been signs of improvement as of late and young players like Alex Oxlade-Chamberlain and Francis Coquelin indicate a promising future for the Gunners and their boss, the present looks a little bleaker. Le Boss has expressed a desire to stay at the Emirates, and as of now, he has the club's support. But should the Gunners continue to struggle this season, Wenger may be looking at an exit, and you can be sure the club will look to him in choosing a successor.
Speculation has also recently emerged about Wenger being tapped to leave Arsenal for another job opportunity. Sven-Göran Eriksson has recommended the manager as a possible replacement for Fabio Capello when he leaves the England squad at the end of Euro 2012, citing his adaptability and passion for the game. This may prove to be a bit of a long shot, though.
This isn't about whether or not Arsene Wenger will leave the Emirates, or whether or not he should. But in the event he does, the club will have a pretty difficult task in replacing him. Here are 10 possible successors who could take over for the club upon the departure of Le Professeur. If you have any suggestions you'd like to share, please tell us in the comments.
(As always, a nota bene for fans: "Possible" in no way means "probable.")
Carlo Ancelotti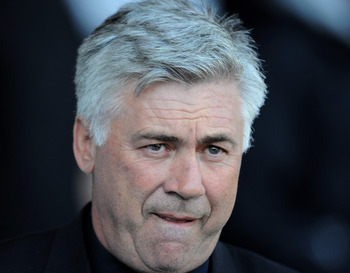 Chris Brunskill/Getty Images
The former Chelsea boss, who was sacked rather swiftly at the end of the 2010-2011 season, has made his availability known and expressed a desire to work in England again, with Arsenal shaping up to be his first-choice destination.
As he told Rome-based newspaper La Repubblica:
"Wenger has had a shaky spell at Arsenal in the last few months, and for the national team Capello will be replaced by an Englishman, which will free up a place at a club."
And Carletto has the record in England to back up his desires. Prior to the disastrous end of his time at Chelsea and sacking by the board, he led the Blues to their first double ever in his first season managing an English side and becoming only the second non-English manager to do so (the first, of course, was Wenger).
His track record with other clubs is impressive as well. While manager of AC Milan through the better part of the '00s, he led the Rossoneri to a Scudetto, two Champions League titles and two UEFA Cup titles and he was named UEFA Manager of the Year alongside José Mourinho for his work in the 2002-2003 season.
Guus Hiddink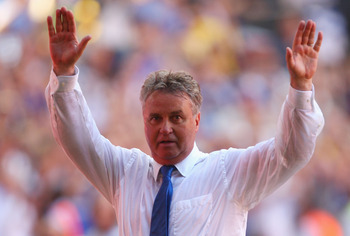 Mike Hewitt/Getty Images
One of the more popular choices of the rumored field and never afraid of a challenge, Turkish national team manager Guus Hiddink is like some kind of football managerial superhero who takes floundering or otherwise under-the-radar sides and turns them into serious contenders and then rides off into the sunset or whatever.
His impressive track record at PSV Eindhoven made him the most successful Dutch football coach in history, but it's Hiddink's ability to be a rejuvenating force for struggling, middling or otherwise unnoticed sides that is of particular significance. He led an unlikely South Korea to a fourth-place finish in the 2002 World Cup and commanded an on-fire Russia to the 2008 Euro semi-finals.
After Chelsea sacked Luis Felipe Scolari, Hiddink took over and in a matter of months, revitalized the club, finishing the season with a 71-percent win record, only losing once and leading them to an FA Cup victory.
Hiddink may be the the antidote the Gunners are looking for. The only question is whether or not he'd be willing to leave Turkey.
Dennis Bergkamp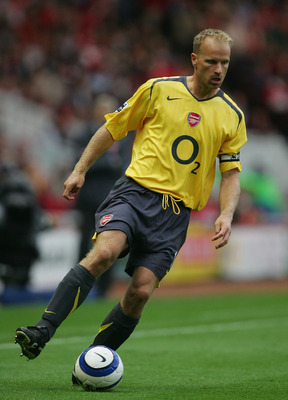 Laurence Griffiths/Getty Images
The former Gunners star would be an interesting choice, and like many former stars-turned-managers, he would be a likely fan favorite.
Bergkamp is definitely less experienced than some of the other choices, but he studied coaching under Wenger and therefore has some experience with Le Professeur's coaching style. And last month, Wenger mentioned the possibility of bringing Bergkamp, now an assistant manager at another one of his former clubs, Ajax, to the club in a youth development-related capacity similar to what fellow former Gunner Patrick Vieira is doing at Manchester City.
He's untested, but he served Arsenal well as a player and is willing to learn the trade. Perhaps he should join the club as an assistant coach first and see how that goes.
Dragan Stojković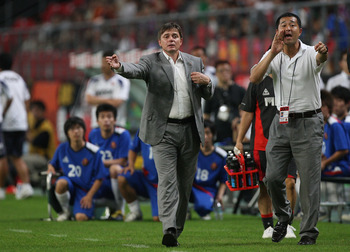 Junko Kimura/Getty Images
One of Wenger's likely top choices for his successor is Dragan Stojković, the former Red Star Belgrade striker who replaced him as manager of Japan J. League side Nagoya Grampus when Wenger left the club for the Arsenal job. He certainly has Wenger's confidence, which will give him some pull with the club board.
Wenger has named Stojković as his first choice for a successor before, telling a Serbian newspaper back in February:
Our ideas are the same and we both strive for perfect football. I knew he was going to have teams playing attacking football with many passes.

He has done that, showing he will be a great coach.I told him that if he could transmit his football imagination to his players he would fly high.
Stojković is coming off his most successful season with Nagoya Grampus, having led the club to their first J. League title last season and their first Japanese Super Cup since Wenger's departure, and he was named the J. League Manager of the Year for his efforts.
Frank Rijkaard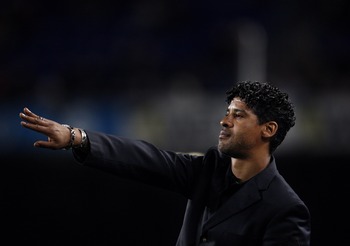 Jasper Juinen/Getty Images
A legend at Ajax and later a spark of life that turned AC Milan around alongside Marco van Basten and Ruud Gullit, Saudi Arabia manager Frank Rijkaard had a successful run as a player and then went on to repeat his triumphs as a manager.
His leadership got the Netherlands national team to the 2000 Euro semifinals, but where his greatest successes came was at Barcelona. His no-nonsense, total football-espousing style, not to mention a string of key acquisitions like Deco and Samuel Eto'o, helped turn a struggling side into two La Liga titles, a 2006 UEFA Champions League title and two Supercopa de Españas.
Steve Bould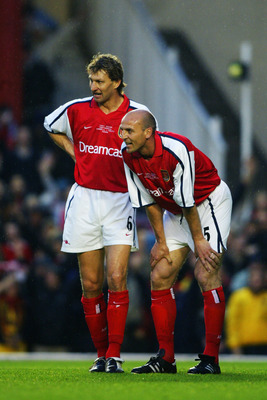 Ben Radford/Getty Images
One possibility that has emerged from within the Arsenal organization is Steve Bould, a former legend at the club who currently coaches the youth team. He led the U18s to two Youth Premier League titles in recent years, as well as an FA Youth Cup in the 2008-2009 season.
It's a move that makes sense, as Bould's position shows off one of Arsenal's greatest strengths: its youth prospects. As an academy coach, Bould has helped mold and develop some of the Gunners' most promising young players, among them Jack Wilshere and an improving Kieran Gibbs.
He has experience as a defender and with developing young talent, not to mention institutional knowledge of the organization. But with Arsenal's academy youth team also in the bottom half of its league table (in sixth behind Crystal Palace's), there may be some reservations.
Jürgen Klopp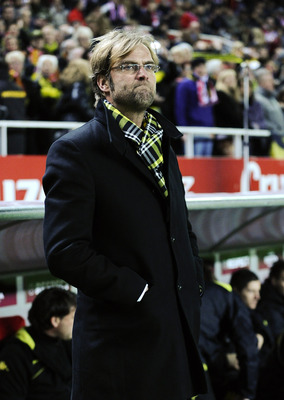 David Ramos/Getty Images
He's a bit of a long shot in comparison to some of the other names of this list, but Arsene Wenger has expressed his admiration in the past for the Borussia Dortmund manager, and he's emerged as a potentially popular option with the fans.
The "mad genius" of Dortmund has a more than 50-percent win ratio with BVB and took the club to a Bundesliga title for the first time in nearly a decade, winning the Bundesliga Manager of the Year title in the process.
Wenger has called the manager a younger version of himself, and says he is a "man with personality who has done extremely well in the German football temple." And with the Gunners and Borussia Dortmund facing each other in the Champions League group stage, Klopp and Wenger will have a lot of time to get to know each other and establish a rapport.
David Moyes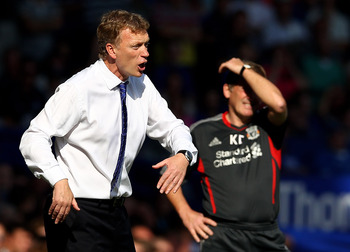 Clive Brunskill/Getty Images
The Everton manager has had a start to the season he might like to forget, with his club sitting in the bottom half of the Premiership and a disappointing 2-1-3 record. Although he's become something of an institution at at Goodison Park, he has reportedly tried to leave in the past, having been linked in recent years to moves to Celtic and Aston Villa.
One thing Moyes has going for him is the respect of his contemporaries in the field. His name has come up in the search for the next England manager and Sir Alex Ferguson has called Moyes the "perfect candidate" to take over at Manchester United when he leaves. That's not to say Wenger doesn't command respect, but it's an important consideration to make when choosing his successor.
Moyes has also been praised for his financial management, an attribute that may sit well with Arsenal's board. In a recent study, Everton was listed as the club with the lowest "price-per-point" ratio: that is, the Toffees have spent the least amount of money with the highest level of return.
Pep Guardiola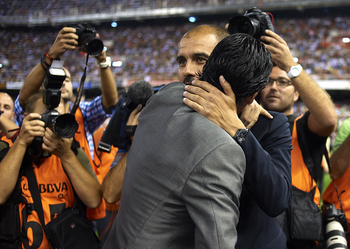 Manuel Queimadelos Alonso/Getty Images
One rather surprising front-runner that has emerged in the hunt for a potential new Arsenal manager has been Barcelona brain Josep Guardiola.
With Barcelona's success last season, Guardiola eclipsed Johan Cruyff as the Blaugrana's most successful manager in history in terms of silverware. In three years, he's won 12 trophies with the club: three La Liga titles, a Copa del Rey, three Supercopas de España, two UEFA Super Cups, two Champions League titles and a FIFA Club World Cup.
Guardiola and Wenger actually have a fair amount in common. Both were inspired by the "Total Football" style of play developed by Ajax and Barcelona star Johan Cruyff. Both have a keen eye for young talent, as Wenger has shown throughout his career (most recently with the likes of Jack Wilshere, Alex Oxlade-Chamberlain and Francis Coquelin) and Guardiola demonstrated by bringing on Pedro and Sergio Busquets and developing them into first-team players.
But with a track record and history at the Camp Nou like he has, Barça may not want to get rid of him.
Rafa Benitez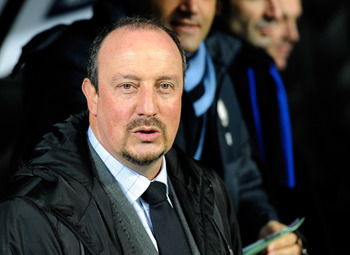 Claudio Villa/Getty Images
He's certainly in need of work after leaving Inter Milan in 2010, and prior to his departure, the fiery, itinerant manager, most famous for his stint at Liverpool, has had a few successes under his belt.
After a rough start to his managerial career, he led Extremadura and Tenerife to promotion and the top of the Segunda División, respectively, and then went on to lead Valencia to two La Liga titles and a UEFA Cup.
He made some spectacular signings (and a few not-so-spectacular ones) while at Liverpool and led the Reds to a 2005 Champions League title, a UEFA Super Cup and an FA Cup, and his tenures at Valencia and Liverpool earned him the UEFA Manager of the Year award twice.
His haul at Inter wasn't too shabby either: he won the Supercoppa Italiana and the FIFA Club World Cup with the Nerazzurri in 2010.
Keep Reading

Arsenal: Like this team?