Arsenal Transfer Prospect: 10 Players Gunners Fans Desperately Desire in January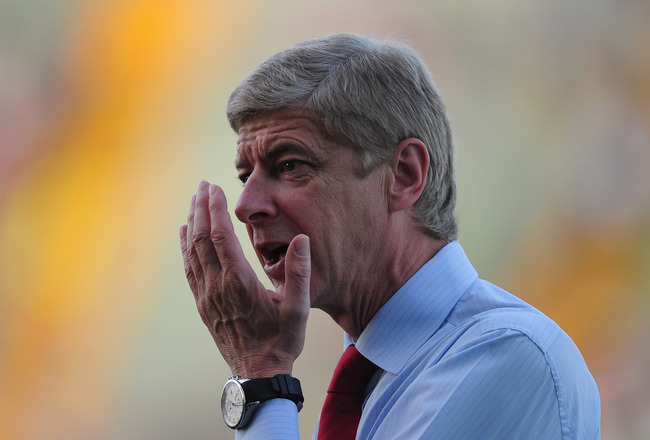 Jamie McDonald/Getty Images
The harsh European winter is looming as the only safe haven in sight for Arsenal fans thanks to their horrific start to 2011-2012, the Gunners' worst start to a Premier League campaign since it began.
Arsene Wenger's squad have conceded four losses, including a 8-2 humiliation by Manchester United, a 4-3 loss to a frail Blackburn and recently a 2-1 defeat to rivals Tottenham in the North London derby.
Furthermore, just two wins have emerged.
The Arsenal squad has evidently take a step back in quality and calibre from last season with expert playmakers Cesc Fabregas and Samir Nasri both departing to Barcelona and Manchester City, respectively, and were relieved by experienced midfielders Mikel Arteta and Yossi Benayoun, whilst veteran left-back Gael Clichy also transferred with Brazilian Andre Santos arriving alongside Ivorian forward Gervinho.
The Gunners faithful will now look to January with the hope that Arsene Wenger will secure quality reinforcements to ensure the North London giants can maintain their UEFA Champions League presence and their diminishing respect.
The Frenchman has funds as his disposal, but will be wary that, should the Gunners become out of reach to secure a top four English Premier League place, then money will need to be maintained.
Wenger is certainly not a manager to make rash, expensive purchases and is unlikely to break his ways just because of a form lapse.
However, the Arsenal fans are adamant that reinforcements are desperately required. The defensive line still possesses its lingering frailty and is particularly fragile from set pieces and crosses. Furthermore, the Arsenal midfield lacks energy and a general playmaker. Robin van Persie, Alexandre Song and Theo Walcott are all approaching precarious stages in their Arsenal contracts and Wenger may look to January in order to secure replacements to ensure a repeat of the recent summer fails to occur.
Nonetheless, Bleacher Report establishes the top 10 players Arsenal fans would love to see in January.
10. Moussa Sissoko—Toulouse FC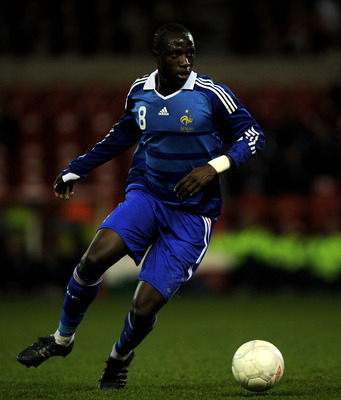 Shaun Botterill/Getty Images
The 22-year-old has thrived in the French Ligue 1 for a number of seasons now, amassing over 150 appearances in four seasons, and at such a tender age has become a composed, mature midfield force.
Sissoko is blessed with a devastating combination of speed and strength alongside an imposing figure. The Frenchman is equally powerful from a defensive and attacking midfield point of view and has all the traits to become a typical Arsene Wenger signing.
The Toulouse playmaker has drawn serious comparisons to former Arsenal captain and legend Patrick Vieira, a player Wenger has insufficiently failed to replace since 2005, coinciding with Arsenal's six-season trophy drought.
Sissoko is a combative figure in the midfield, but has routinely impressed with his playmaking abilities, thus enabling the French international to become increasingly versatile as a midfielder. While currently linked with Inter Milan, Liverpoool, Olympique Lyonnais and Manchester United, Arsene Wenger has a penchant for young Frenchmen and possesses great admiration for Moussa Sissoko.
Furthermore, it could cost as little as £11 million.
9. Fernando Llorente—Atheltic Bilbao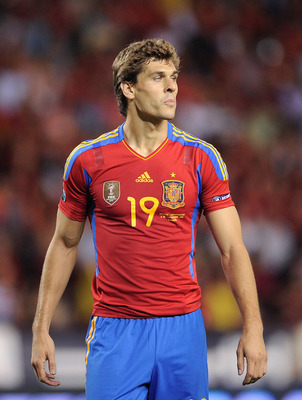 Denis Doyle/Getty Images
With Gunners captain Robin van Persie increasingly hinting that he would prefer to depart the Gunners rather than extending his Arsenal contract, Arsene Wenger will be keeping one eye on strikers in the market, particularly as deputy forward Marouane Chamakh is enduring a huge form demise.
One player who would greatly mitigate van Persie's potential transfer and enhance spirits in January is Spanish striker Fernando Llorente. A powerful, quick and clinical forward, Llorente is blessed with a superb work ethic alongside skill and finesse.
The 26-year-old has become one of the most lethal and consistent strikers in La Liga, outside of Lionel Messi and Cristiano Ronaldo. Llorente's last three seasons have boasted 18, 23 and 19 goals, respectively, alongside remaining a strong performer for Spain.
The Spanish international has repeatedly maintained his loyalty to Athletic Bilbao, but with the lure of UEFA Champion League football and potential silverware, many expect Llorente to make a move shortly.
Real Madrid, Tottenham, Valencia, Barcelona and a number of other clubs are interested in the impressive forward, but Arsenal could easily loom as a destination—particularly for around £18 million.
8. Moussa Sow—OSC Lille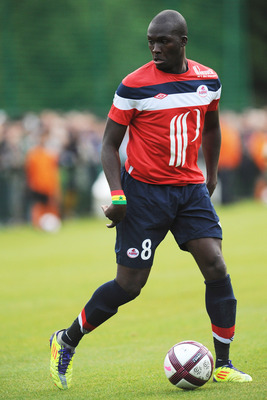 Valerio Pennicino/Getty Images
Arsene Wenger holds the Senegalese striker in the highest regard as the OSC Lille striker has established himself as one of the of the most efficient strikers in France after a stellar debut campaign. The 25-year-old commanded 27 goals in 42 appearances for the Mastiffs after transferring from Stade Rennais, ensuring Sow was named Ligue 1 Top Scorer.
A tenacious and powerful forward who excels through his pace and composure, the Senegal international would be a superb replacement for Robin van Persie, should the Dutchman depart. Furthermore, Sow can make up for the disappointing Marouane Chamakh and is capable of fulfilling roles on the wing.
Arsene Wenger is heavily interested in Sow whilst Inter Milan are also showing a strong interest alongside Manchester City and Tottenham. Nonetheless, the Arsenal manager could be able to secure the OSC Lille striker for around £15 million.
7. Alex—Chelsea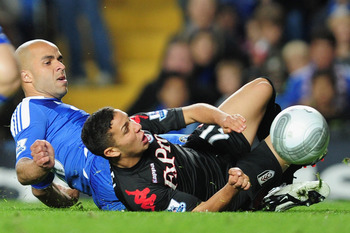 Jamie McDonald/Getty Images
The Arsenal defensive line is fragile. It lacks strength, leadership, composure and experience alongside general direction. However, Chelsea enforcer Alex has the ability and respect to greatly enhance the Gunners' defensive woes, if Arsene Wenger can acquire the Brazilian.
The 29-year-old has become one of the most toughest and respected defenders in the English Premier League after several strong seasons with the Blues, amassing over 120 appearances. Arsene Wenger was closely linked with a move for the former PSV Eindhoven defender and there is a high chance one could materialize in January.
Juventus are also eager on Alex, particularly as the Brazil international could be acquired for as little as £8 million.
6. Javi Martinez—Athletic Bilbao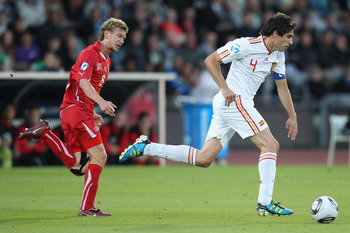 Michael Steele/Getty Images
Former Arsenal captain Cesc Fabregas departed in the recent summer and his lack of presence in the Gunners midfield is clearly evident. There is a distinct lack of power and creativity alongside energy and willingness.
Highly rated Bilbao midfielder Javi Martinez has emerged as a superb replacement for Fabregas as the 23-year-old has become one of the most efficient and creative midfielders in the La Liga, alongside establishing himself as a regular of the Spain national squad.
In the recent summer, whilst Fabregas was signing to Barcelona, Martinez captained the Spain U-21 to their third European Championship alongside making the Team of the Tournament. A natural leader and powerful playmaker, the Spaniard has a devastating passing range and is a tireless worker who could thrive in Wenger's style of play.
However, a number of clubs are vying for the midfielder, including Manchester United and Liverpool. Furthermore, Athletic Bilbao demand close to £20 million for their dynamo. Nonetheless, it would be a tremendous January acquisition for the Gunners.
5. Sami Khedira—Real Madrid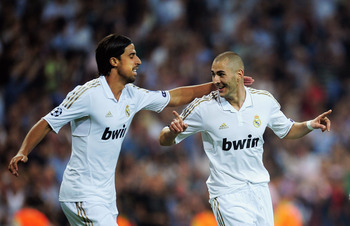 Denis Doyle/Getty Images
After a stellar 2010 FIFA World Cup, Sami Khedira became one of the hottest prospects in World Football, with a number of clubs, including Arsenal, eager to sign the midfielder.
The German eventually signed with Real Madrid, but has since endured a precarious relationship with manager Jose Mourinho despite a strong debut season in 2010-2011 where the 23-year-old amassed 40 appearances.
Khedira is likely to be on the move in January with Chelsea and AC Milan both heavily interested in the former VfB Stuttgart midfielder. Blessed with a tireless work rate and no-nonsense, combative midfield approach, the German would implement lacking physicality and energy into the Arsenal midfield.
Furthermore, Khedira is a natural leader who is expected to thrive in the tough English environment. However, Jose Mourinho could demand over £15 million.
4. Giorgio Chiellini—Juventus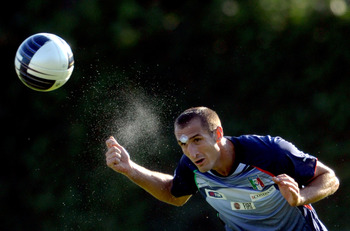 Claudio Villa/Getty Images
The 27-year-old is considered one of the best defenders in the Italian Serie A thanks to his efficient, tough and quick approach to defending. An imposing, tenacious figure who is devastating in the air and exhibits all the ability to thrive at Arsenal and in the English Premier League.
Arsenal fans would love to see the acquisition of the Italian due to his strength and aerial tenacity, which would greatly improve Wenger's defensive line. Chiellini has over 160 appearances for Juventus and is considered a leader at the Zebras.
Juventus would likely to demand upward of £13 million, but it would be a deal that would be immensely beneficial for Arsene Wenger.
3. Yann M'Vila—Stade Rennais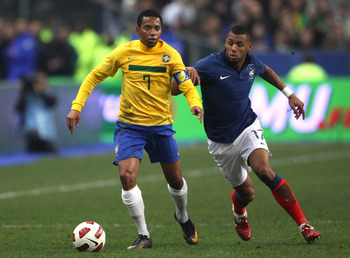 Alex Livesey/Getty Images
Regarded as one of the best midfielders in France, Yann M'Vila has enjoyed a rapid rise in development following superb performances for Rennes in the last two seasons. The 21-year-old amassed 39 appearances in his debut season before securing 40 appearances and three goals last season.
A tough, efficient and balanced midfileder, the Frenchman is both strong and quick alongside possessing natural attacking creativity. Arsene Wenger highly rates M'Vila and was eager to secure the France international during the recent summer.
The Rennes enforcer can add strength and steel to the Arsenal midfield alongside the lacking energy and attacking spark.
Furthermore, at such a tender age, the Frenchman has much development to fullfil. Yann M'Vila is said to be worth £16 million.
2. Gary Cahill—Bolton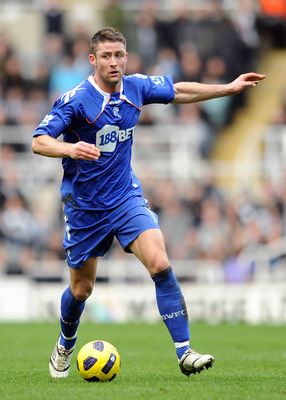 Chris Brunskill/Getty Images
Arsene Wenger has worked tirelessly in recent years to attempt to secure Bolton defender Gary Cahill. The Englishman, who has become one of the Premier League's most consistent and strongest defenders, has long been linked with a move to higher clubs, with Arsenal routinely a destination.
However, a deal has failed to materialize as the Trotters' manager desires close to £17 million for the 25-year-old. Cahill is a superb defender whose tenacity and composure is second to none. The former Aston Villa centre-half is sufficiently experienced in the English Premier League with over 115 appearances and is considered a key leader at the Reebok.
Cahill is certainly a presence who could aid Arsenal's defensive woes and Wenger is certain to reignite interest in the England international during January, much to the Gunners fans' appeal.
1. Eden Hazard—OSC Lille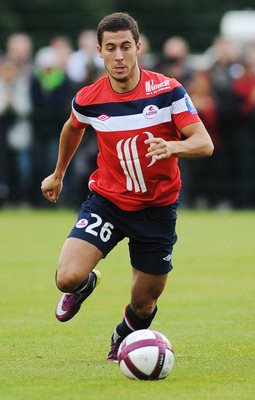 Valerio Pennicino/Getty Images
At the age of 20, OSC Lille dynamo Eden Hazard has amassed over 150 appearances for the Mastiffs, achieved the UNFP Ligue 1 Player of the Year, UNFP Ligue 1 Young Player of the Year on two occassions, achieved the Coupe de Francais and the Lique 1 title, gained over 20 appearances for Belgium and become one of World Football's most lethal attackers.
Hazard is currently the most chased prospect in Europe after becoming the leader of Lille's dynamic attack, which has achieved much success. The youngster is immensely fast and clinical alongside boasting an array of tricks and flair.
A smart attacker and touted as a player who can rival Lionel Messi and Cristiano Ronaldo in the coming years, Hazard is one of Wenger's main targets. Though it would cost the Frenchman more than £30 million, it would be wll worth the price.
Keep Reading

Arsenal: Like this team?