View from the Victory, Volume Three: Reddy Steals Show in Scoreless Draw
October 8, 2011
Quinn Rooney/Getty Images

Mehmet Durakovic's Melbourne Victory FC began a long and arduous 2011-12 Hyundai A-League campaign at Etihad Stadium against Sydney FC. The preparations were in place at the training grounds.
Match referee Peter Green was already under scrutiny from the Melbourne manager, who implored for protection of international marquee player Harry Kewell as well as Sydney's counterpart Brett Emerton.
"Special players need special attention because the last thing you want is for them to get hurt on the pitch," Durakovic told David Davutoovic of the Melbourne Herald Sun. "You'll always have guys who have got that special quality, get that more attention from opposition players as opposed to just marking. These guys are superstars and they really need to be protected. We're all about playing good football so hopefully there's nothing untoward."
As a result of Kewell and Emerton entering the A-League, membership in all of the 10 clubs have been on the up-and-up. The news cameras have been swirling around both Emerton and Kewell, and the local media in Australia's two largest markets have proceeded to hype up the match.
From the Age to the Back Page Lead, every corner of the country had the Oct. 8 contest in their crosshairs.
Defensively, Sydney FC were led by Dutchman Pascal Bosschart, Jamie Coyen and Michael Beauchamp. They had a tough assignment on their hands in stopping weapons not named Kewell.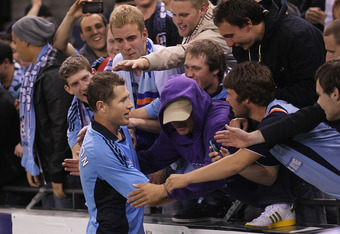 Hamish Blair/Getty Images
Those weapons: Archie Thompson. Jean Carlos Solorzano. Danny Allsopp. Carlos Hernandez and Marco Rojas.
Still, Sydney were unfazed by the stars Victory placed on the table.
"I came home to play for Sydney FC to put something back into the game but also to win something," Emerton told reporters on Tuesday. "We start the season full of hope and hopefully after last year we can get some good results and win the Championship."
Sydney FC were getting some good looks early on, but Danny Allsopp responded with a volley in the fourth minute to test Sydney goalkeeper Liam Reddy. Allsopp had another chance on the transition a minute later but only managed a mishit.
Scott Jamieson had a great chance to get a look in the 13th minute but sailed it wide right for Sydney. Kewell's first legit chance came in the 19th minute, but his shot went wide left from the Archie Thompson delivery.
Jamieson tried to find Mark Bridge in the 23rd minute, but only found the arms of Victory netminder Ante Covic. Melbourne's Matthew Foschini was cautioned in the 28th minute for a harsh challenge on Shannon Cole.
 Bridge nearly capitalized on the rebound, forcing a corner that was collected by Covic.

Covic was at it again on a 34th minute penalty save on Emerton. The penalty attempt came after Fabio was cautioned a challenge inside the box.
Thompson tried his luck in the 37th minute, but his shot sailed horribly wide right of the far post.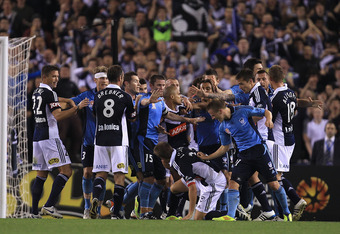 Hamish Blair/Getty Images
Sydney FC were dominating possession late in the first half, forcing the Victory to get physical defensively. Reddy made a point-blank save on Kewell in the 45th minute, forcing a corner that was collected by the Sydney goalkeeper. Jamieson was cautioned in the second minute of first half stoppage time for a handball.
This was a half for the netminders, as both teams ended scoreless.
In the second half, a Kewell corner in the 46th minute was cleared. A few minutes later, Sydney captain Terry McFlynn's attempt went high and left in the 50th minute of play.
Kewell's next attempt in the 56th minute was collected point-blank by Reddy. Archie Thompson was injured in the 60th minute but was able to get back into action a few minutes later. Michael Beauchamp was cautioned for the challenge.
In the 66th minute, another shot from Kewell just went over the top right corner. Thompson nearly got another chance to go in another minute  later but just sent it wide right.
In the 74th minute, Bridge was sent off for throwing an elbow on Roddy Vargas, triggering a wave of scuffles between both sides. Kewell tries his luck in the 76th minute but it was cleared. The ensuing corner didn't have much in it.
Allsopp had his next chance in the 78th minute but Reddy was there to make another save. Jean Carlos Solorzano has a chance in the 87th minute, but Reddy made another stop. Nick Carle was cautioned for delaying a restart in the 90th minute.
Solorzano had another chance in the second minute of stoppage time but skied his attempt from close distance. The match would end in a scoreless draw.
Up next for Melbourne Victory is a match with Adelaide United at Hindmarsh Stadium. Kickoff is scheduled for Oct. 14 at 7:30 p.m. AEST/Oct. 13 at 1:30 a.m. PT/4:30 a.m. ET.