FC Bayern: A Thorough Review of the Manchester City Game, Hoffenheim Preview
September 30, 2011
It's funny how English fans underestimate Germans and Bayern. What is strange is that Roberto Mancini underestimated the strength of the Bayern attack—this is something that even the English don't underestimate. What one has to realize is that the 11 players fielded by Bayern weren't their best 11. It was the best 9 or 10 depending on how you look at Toni Kroos.
On the eve of the match, Bayern was greeted with the news that Holger Badstuber, their young German defender and the constant starter in defence was left out of the squad due to the fact that he had the flu and was lying in bed. Daniel Van Buyten was his replacement for the game. Despite having a fit Arjen Robben at his disposal, coach Jupp Heynckes refused to play the Dutchman and left him on the bench until the 90th minute. Robben was substituted in at the end in order to allow Franck Ribery to get a standing ovation he definitely deserved.
Bayern started the match nervously and was put under pressure by Manchester City's fantastic attackers. The full-backs and wingers came at Bayern and Micah Richards shut down Franck Ribery. Bayern just about stayed composed. Jerome Boateng almost gave away a penalty in the opening minutes. As Mario Gomez later confessed, Bayern was nervous in the opening half an hour. Bayern started growing in confidence and stature from then on and attacked City. Bastian Schweinsteiger, who gave everything on the night, missed a glorious chance to open the scoring.
After Joe Hart made two glorious saves, one from Ribery's shot and one from Thomas Mueller's rebound, Gomez scored in the 38th minute. At the end of the half, Van Buyten's effort from Toni Kroos' fantastic free-kick was blocked by Hart. Gomez, ever the poacher, scored for a 2-0 lead. In the second half, Bayern toyed with City. They had no answers as Bayern searched for a third goal and was only denied by Joe Hart.
To me, it seemed that Bayern had another gear to step up to. The performances against Villarreal and City were good ones, not great ones. It will be interesting to see how Bayern reacts at a time when they concede early. In 2009-10, even a three-goal lead by the opposition wasn't enough to send off Bayern.
Many fans seem to think that Bayern lacks depth in their squad. To be able to leave Robben on the bench for the excellent Kroos might prove otherwise. Kroos' movement troubled City to no end. Bastian was all over the pitch, from defence to midfield to the wing and even in the penalty area. Anatoliy Tymoschchuk replaced Kroos for the final quarter of an hour and yet Bayern wasn't in trouble.
Van Buyten seems to have improved under Heynckes. Jerome Boateng put in a fantastic display. His tackle on Sergio Aguero was the most impressive one he put in the match. If City had a penalty claim, so did Bayern when Ribery was simply blocked from reaching the ball. The defender as far as I remember was Vincent Kompany.
The only complaint I have is that Bayern should have taken more of their chances and scored at-least three goals. Philipp Lahm and Rafinha were excellent in the game. Rafinha just needs to be a little careful with his tackling. Brazilians are always fun to watch and Rafinha is no exception. Also, his discipline, something he was oft-criticized for in his Schalke days, has seemingly improved.
The feeling in and around Germany prior to the match was that Bayern had not faced tough opposition despite the fact that they had already taken on and beaten Villarreal, Leverkusen and Schalke. Well, now they have and came away unscathed.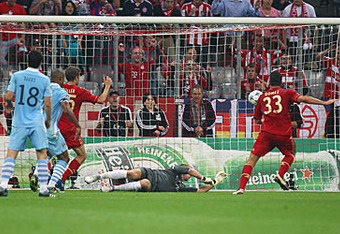 Praise should also be reserved for Manuel Neuer. He had few saves to make but his command of the penalty area is highly impressive. He made a few tricky situations look like simple ones as he came away from the goal to clear the ball. If Neuer does not concede for 72 minutes in Hoffenheim, he will reach the 1000 minute mark in terms of clean-sheet minutes.
What surprised me was that Mancini attacked Bayern from the get-go. I thought he would take Gladbach's approach and play on the counter-attack. He substituted Edin Dzeko, who was taken care of by the Bayern defence despite causing some trouble in the early minutes, for Nigel de Jong in a move he referred to as "damage limitation." If nothing else reflects Bayern's dominance, these two words should.
Moreover, Bayern should be pleased that the Carlos Tevez saga overshadowed the win. There is nothing better than flying under the radar and catching big sides out in a season in which the final is held in one's own stadium. Nonetheless, the goal remains the domestic double and not the Champions League even though Ribery and a few players might feel differently about the matter.
So, Hoffenheim has their crack at Bayern next. In terms of figures in the Bundesliga, Bayern has played seven matches and won six. They have scored 21 goals and conceded once, which leads to a goal difference of plus 20. They have eighteen points. Klaus Allofs from their nearest challengers Bremen is asking all German sides to not wave the white flag when they play Bayern. Robin Dutt would disagree with this view.
Holger Stanislawski has molded Hoffenheim into a good side which can play with plenty of flair. Under Stanislawski's tutelage, the Hoff sits fourth in the table with four wins and three losses. They lost their previous match to Koln. Hoffenheim has already beaten Dortmund this season. Even last season, they caused no end of trouble to Dortmund as they came away with a win and a draw against the Ruhr side.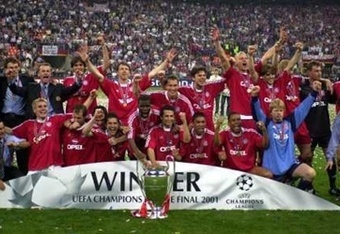 Last season, Bayern scraped past Hoffenheim, 1-2 early on in the season. In the second half of the season, they absolutely demolished the Hoff thanks to Robben. Gomez and Mueller scored once each in that match while Robben grabbed the other two. This match will be David Alaba's first match against the club he played for on loan from Bayern.
Their are plenty of players to watch out for. Vedad Ibisevic is always good for a goal. Sejad Salihovic is just brilliant at times. One player I happen to like is Andreas Beck, the right-back. One can only wonder why Joachim Loew refuses to try him out in the national side. He won the Bundesliga in his Stuttgart days in 2007. Another player who knows how to utilize the ball with flair is Gylfi Sigurdsson.
Despite the good things about Hoffenheim, one has to wonder just how much resistance they will put up against Bayern. The last time their coach played Bayern, he lost 8-1. That was in his St Pauli days. Stanislawski will hope for better luck this time. Bayern will have a full squad to choose from with the exceptions of Ivica Olic and Breno. Who is being held in custody as he is suspected to have lit fire to his own house. Badstuber will return to the squad.
So, will Neuer keep another clean-sheet? Here is my prediction:
Hoffenheim 0-3 Bayern