Arsenal: 5 Reasons the Gunners Need to Focus on the Carling Cup
Pete Norton/Getty Images
Arsenal has had a shaky start to the season so far. On Saturday, however, Arsenal played Bolton at home and won 3-0. It was a decisive and desperately needed win for the Gunners.
Saturday was also the drawing date for fourth-round draw picks in the Carling Cup. Interestingly enough, Arsenal and Bolton were drawn together. The sides will meet again at the Emirates one more time this season on Oct. 26.
The Carling Cup is usually regarded as a lower priority competition, but winning the contest still yields a notable trophy. With Arsenal looking to end their silverware drought, the Carling Cup may be the place to start.
Keep reading to see five reasons why Arsenal needs to focus on winning the Carling Cup.
Arsenal Actually Have a Chance of Winning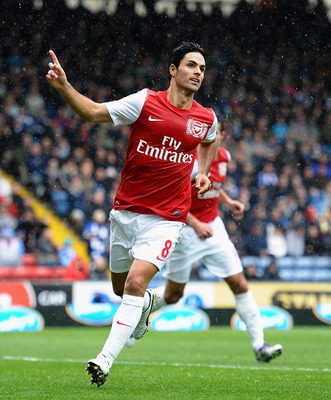 Laurence Griffiths/Getty Images
Arsenal is in a rebuilding phase and has not yet reached top form. The team wants to challenge for trophies, but unfortunately for the Gunners, strong teams like Manchester United and Manchester City have already pulled away from the rest of the competition in the Premier League. Even the routinely confident Arsene Wenger expressed his worry about the Red Devils' undefeated start to the 2011/2012 season. In the UEFA Champions League, powerhouses such as Barcelona and Real Madrid have become early favorites.
In the Carling Cup, however, it is difficult to pick a front-runner since so many teams field a weaker squad for the matches. Last year, Manchester City was defeated by W.B.A in the third round and United was upset by West Ham in the fifth round. Teams like Aldershot and Crystal Palace could potentially upset larger names in the single elimination rounds this year. Arsenal has a chance to win the competition and a trophy if the squad takes the competition seriously.
Arsenal Need to Make Up for Last Year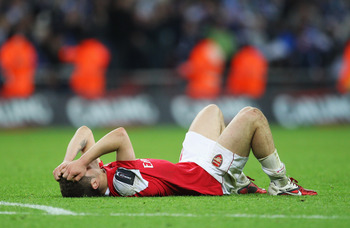 Alex Livesey/Getty Images
When Obafemi Martins scored for Birmingham City in the 89th minute of the Carling Cup final last year, the Arsenal community watched in disbelief. We lost to a team fated for relegation and kept our trophy drought intact. Arsenal put on a poor showing in the 2010/2011 final, and the squad should amend that performance. The team is capable of winning when it counts; it just needs to prove that it can.
A Trophy Would Help Keep Key Players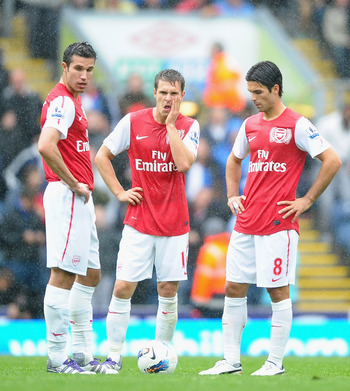 Laurence Griffiths/Getty Images
Arsenal must prevent any more talisman players from leaving the club. Cesc Fabregas, Samir Nasri and Gael Clichy all left so they could win silverware while they are in the prime of their careers. Preventing Theo Walcott, Robin Van Persie and Alex Song from signing with rival teams next year will require Arsenal to become contenders in major competitions.
The Carling Cup is no Premier League title, but it is a stepping stone in the right direction. Winning a trophy, no matter how small, could break Arsenal's continued misfortune.
Winning Would Help End of Season Form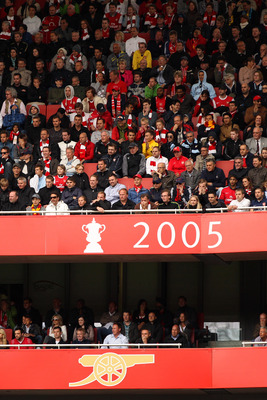 Richard Heathcote/Getty Images
With Arsenal having an unsteady start to the season, the final few games in the Premier League season will be crucial. If the Gunners want to maintain a top four position, they cannot afford to crumble in April and May. Last year, Arsenal managed only two wins from the final 11 Premier League matches after losing to Birmingham.
With the Carling Cup ending three months before the Premier League, a win for Arsenal could heighten the squad's confidence going into decisive EPL, UEFA and FA cup matches.
Winning Would Help Silence Critics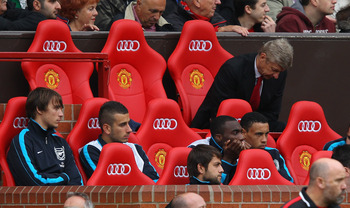 Alex Livesey/Getty Images
It is tough to rebuild a team when people consistently question the squad's ability and tactics. Arsenal's fan support has been waning with every defeat, and people are looking for people to blame.
Wenger and the board have come under intense scrutiny lately because they are the decision-makers of the Arsenal organization. Wenger could make a bold statement by winning the Carling Cup and showing that his mysterious master plan is starting to come to fruition.
Keep Reading

Arsenal: Like this team?