Sir Alex Draws First Blood Against Andre Villas Boas: Master vs. Pretender
September 21, 2011
Paul Gilham/Getty Images
Manchester United - 3
Chelsea - 1
Sir Alex - 1
André Villas Boas - 0
So the Scottish master has met the young Portuguese pretender.
And it's first blood to Ferguson.
André Villas Boas is the latest in a long line of men who have tried to knock the king of British managers off his perch. Since Ferguson came south from Aberdeen in 1986, Chelsea has had 16 different managers.
That list includes some illustrious names: future England manager Glenn Hoddle, international greats Ruud Gullit and Gianluca Vialli, World-Cup winner Luiz Felipe Scolari, not to mention universally respected football men like Guus Hiddink and Carlo Ancelotti.
They are all gone.
Sir Alex is still chewing his gum and still watching Ryan Giggs and company tearing opponents apart.
Of course, the man the latest Blues coach is most comparable with is Real Madrid maestro José Mourinho. Both brought unfancied teams from Portugal to European glory. Both caught the eye of Chelsea owner Roman Abramovich while still young in coaching years.
It's easy to see the new Chelsea boss as Mourinho Mark II, a Mini Mou.  Easy that is until the first goal went in last Sunday.
As half the Chelsea defenders moved forward at the in-swinging free kick, the other half moved backwards. So much for the offside trap. By contrast, Mourinho was meticulous in his preparation for such dangers: a sheet went up in the Chelsea dressing room every week with a list of who was marking who.
Who can ever forget Mourinho's first visit to the Theater of Dreams?  That famous slide down the touchline as his Porto team knocked United out of the 2003-2004 Champions League is football legend now.
In contrast, Villas Boas, cut a frustrated figure last Sunday. Yet he retains the egoistic swagger of his fellow countryman: he squats at the edge of the technical area; he points; he screams; he whistles. But as Fernando Torres tried to face down his mental menagerie of demons, Villas Boas was left whistling Dixie.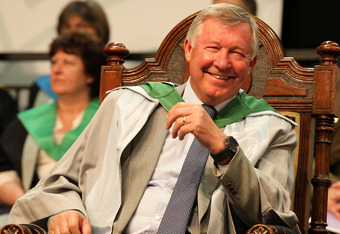 WPA Pool/Getty Images
Sir Alex was recently the subject of a New York Times Style Magazine profile celebrating "25 years of Manchester United."
As if the club existed only in the Ferguson era.
It is a tribute to his achievements that readers from Manhattan to Malibu don't really need an explanation of: The modern Manchester United is Sir Alex Ferguson. This is a club that consistently fields teams molded in the image of his fierce will to win.
Can André Villas Boas match that desire? 
His bold half-time substitution of Frank Lampard on Sunday suggests he won't shirk a challenge. But first he must become his own man. By Tuesday, Mini Mou had resorted to the old Mourinho tactic of blaming the referee, and redirecting the media spotlight away from his men. 
Mourinho has made an art of this at Real Madrid, but it isn't working. Mini Mou would do well to learn to "take his medicine" and prepare his team better next time.
He has a way to go before the wise old owl of Old Trafford falls off his perch.