Liverpool FC: 3 Things Liverpool Must Massively Improve to Challenge for Top 4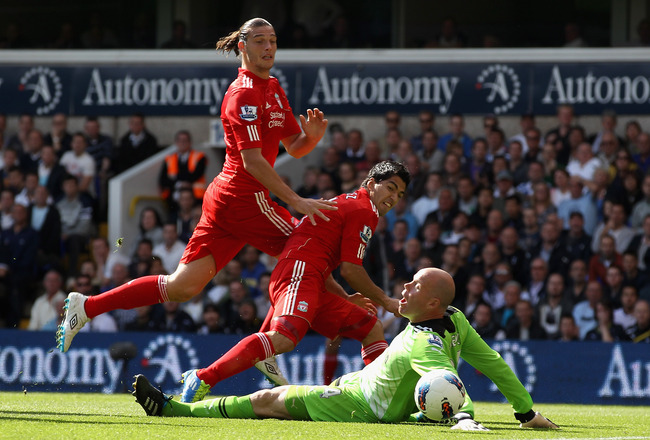 Clive Rose/Getty Images
The timing of this article may suggest that it is just after one bad match that I have chosen to criticize my club of support. The truth couldn't be any further.
It is true that this was one of the most exciting summer windows for Liverpool in a long time and if Kenny Dalglish and Damien Comolli can be believed then we did get most of our targets in the window.
John W Henry, Liverpool's new owner, also backed the moves by providing the requisite cash.
The way the new look Liverpool begun the season also had its share of optimism until some abysmal misses by the players and dodgy refereeing decisions at Stoke left some disgruntled.
Then came the Tottenham match at the Lane and this time the Reds had only themselves to blame.
Now, my observation is that Liverpool needed to improve on various fronts even before they started the season, and although some of them may not take much doing, they sure need improvement.
In the following slides I am going throw some light on some major areas where I think Liverpool needs improvement.
Improve Defensively, Putting Skrtel Everywhere Is Not the Answer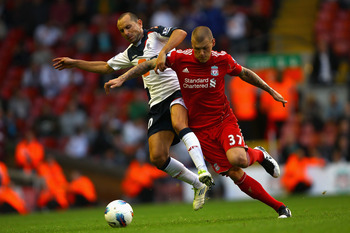 Clive Brunskill/Getty Images
Although the problem had its roots for the past few seasons now and needed sorting out in the last transfer window, it was a little ignored.
However, now with Glen Johnson unfit (almost emulating Fabio Aurelio), Liverpool have again gone back to their stop gap solutions so well exhibited by in the Hodgson times. That time it was Daniel Agger now its Martin Skrtel. Last time it was with left backs now its with the right back.
What I find amazing is that almost every pundit on the stage claimed that Skrtel would struggle against Bale, that Carragher could struggle and yet Liverpool went in with the same combination. The result was there for all to see.
The problem that Liverpool has this season after the busy summer is that they need to ensure a top four finish. Games like Tottenham and Stoke won't pop up everyday so to give a new excuse for every new opponent won't do much in solving the issues.
What I mean is that Liverpool obviously believe that this team would take them to the top four, which automatically means they are not looking at some major overhaul soon. So if it comes to lack of pace one match, or physical attributes another, there will be plenty more when we face United or Chelsea.

Lets discuss the Tottenham encounter as it is fresh in the minds of the fans. Top teams like Chelsea and Manchester United also played matches without their best defenders against Tottenham, even Bolton did right after the San Siro hattrick by the Welshman, Bale was literally absent against them. Even with Glen Johnson in place, Liverpool struggled to keep up with Bale even last season.

For all his abilities, Adebayor managed to score two goals against Liverpool, one was from a rare fumble from Reina, the other was when Liverpool was waiting for the final whistle and playing nine against 11 and there was too much empty space to cover. Nothing bar that Modric goal was really sensational in those Spurs goals, just plain bad defending.
Liverpool will surely have to take a look at who their best defenders are and be strict in the way they use them. Now, with Agger out for a month though we may again have a patchwork in defense, all of whom must take a lesson or two from the Manchester United back line and be up for the task.
No Hoof Ball Please...Even If Carroll Plays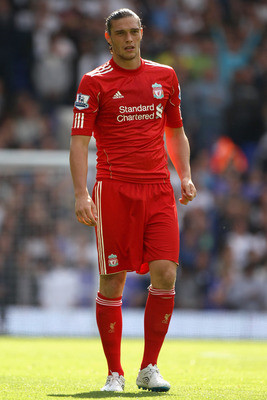 Clive Rose/Getty Images
It is now pretty obvious that the radical change of strategy to hoof ball from "pass and play" is not helping the club.
As a matter of fact, a mere glance at any social networking site or any punditry session before a Liverpool match would be enough to give you an indication as to the nervousness that settles into Liverpool fans when Andy Carroll is due for a start.
Most take it for granted that if Carroll plays Liverpool will revert back to the Hodgson-esque hoof ball approach albeit with better resources. Carroll and Co. has done little to remove the apprehensions.
Carroll's price tag shouldn't be the reason why he plays, and with Kenny Dalglish, I don't think that it is really the reason the former Newcastle player plays.
The reason he does play is because Kenny has apparently huge faith in the lad and expects him to step up his game. Carroll should do better to keep up with this faith put in him.
Shooting Needs Desperate Betterment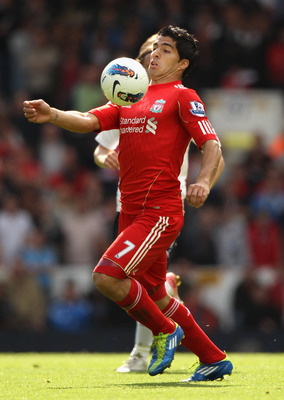 Clive Rose/Getty Images
It is amazing how top class shooters have almost forgotten the art.

Charlie Adam and Luis Suarez, both of whom had a pretty mixed season so far, have been even more ordinary when it comes to shooting long-range.
At the risk of being too harsh, I would like to say that it is pretty bewildering that Charlie Adam, who was a menace from free-kicks last season, has been found wanting this season. Yes, Adam was up to the mark in the Bolton game, however even then, we, the Red fans, are yet to see those killer free-kicks from the Scot.
Luis Suarez has been Liverpool's most outstanding player in this calender year, however, his shooting, free-kicks and sometimes even receiving of long balls has been below expected levels if compared with his performances for Ajax.
I agree though that with less than one-seventh part of the season over, a lot remains to be seen, but thus far we have surely missed that moment of genius which top teams tend to have even when things are down, something we have see Manchester United and Chelsea manage.
Sometimes just a moment of magic changes the momentum of the game rapidly and significantly and Liverpool have had free kicks at critical moments in matches they have played, but they never even came close to taking any advantage from them. Surely practice can better those.
Never mind two consecutive losses, barring a game against Wolves next week, Liverpool have encounters against arch rivals Everton and Manchester United, away and home respectively. Time to pull up the socks.
Keep Reading

Liverpool: Like this team?